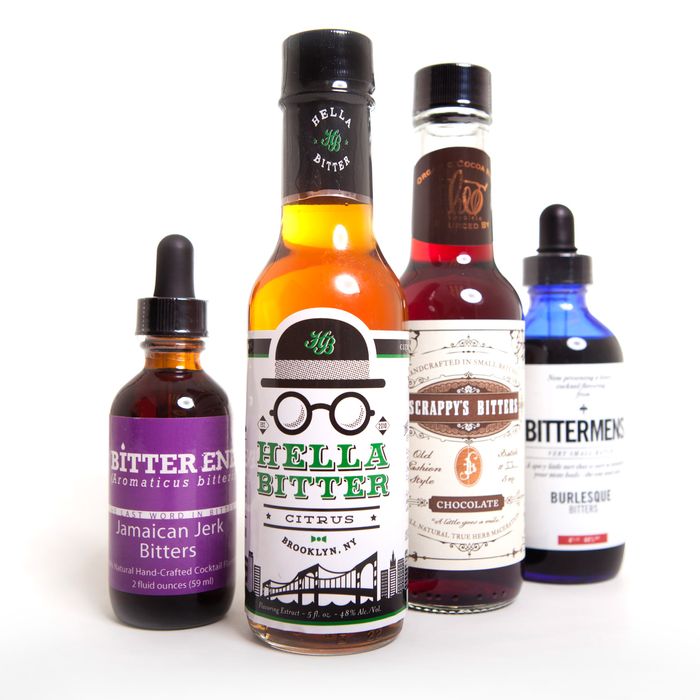 These pretty bottles make for great gifts, too.
Photo: Konstantin Sergeyev
Welcome to the Great Age of Bitters. For a while, the world has had Angostura, Peychaud's, and even newer brands like Regan's Orange Bitters. But in the past couple of years, start-up companies have begun to use local and sometimes even organic ingredients to handcraft and produce the potent cocktail flavorings. Some bitters 101: They're made by infusing high-proof spirits with concentrated herbs, fruits, vegetables, roots, and spices — and new businesses are experimenting with exotic flavors like Jamaican jerk, coffee, and even black-and-white (as in the cookie). The stories behind these start-up companies are interesting: There's a Violet Hour alum making cherry-bark-vanilla bitters, a husband-and-wife team experimenting with Mexican mole, and a Hawaiian duo using local chocolate. Check out all of our favorite small-batch bitters, straight ahead.
Hawaii Bitters
One of the co-founders, Mike Prasad, is the digital strategist behind Kogi BBQ's food truck, and the other, Kyle Reutner, an award-winning craft bartender in Hawaii. They handcraft each bottle in Honolulu using locally sourced ingredients like Manoa Chocolate.
Bittermens
Avery and Janet Glasser, a couple living in San Francisco, made an extract of the traditional Mexican mole cooking sauce back in 2007, and it became their recipe for Xocolatl Mole Bitters. Now they produce all their products in New Orleans using organic ingredients, offering exotic flavors like Burlesque Bitters (hibiscus, açai berry, and long pepper), the super-spicy Hellfire Habanero Shrub, and even Peppercake-Gingerbread.
Brooklyn Hemispherical Bitters
If one of the roots, vegetables, fruits, or herbs goes out of season, the company no longer produces the flavor. Currently, it's offering Mission Fig, Meyer Lemon, Rhubarb, and Sriracha — just in case you forgot that this is a Brooklyn-based venture.
Urban Moonshine
A small family business in Burlington, Vermont, produces these bitters, which are rooted in the founder's study of herbal medicine. The company emphasizes the many health benefits of its Maple, Citrus, and Original bitters.
Bitters, Old Men
"Get Bit Slapped" is the best slogan ever, and it's fitting for cool flavors like Smoke Gets in Your Bitters, made with Lapsang Souchong tea and Asian pear, and Gangsta Lee'n, a mix of bitter orange peels and house-smoked almonds that pairs nicely with bourbon.
The Bitter Truth
This German bitters company makes flavors that are inspired by Prohibition-era cocktail recipes, like Old Time Aromatic, Creole, and Celery.
Scrappy's Bitters
This company, which launched in 2008, prides itself on being the first to commercially produce small-batch, handcrafted bitters. It's a debatable claim to fame, but Scrappy's is ahead of the curve by developing experimental flavors like Coffee and Peach.
A.B. Smeby Bittering Co.
Favored by New York's PDT, this Brooklyn-based company has a rotating roster of seasonal, limited-run variations like Black and White (as in the cookie — and made with Mexican chocolate, Tahitian vanilla, and raw cinnamon) and Licorice-Nectarine.
Bittercube
Good pedigree: Founder Nicholas Kosevich is the go-to cocktail guy in Minneapolis, and his partner, Ira Koplowitz, worked for years developing bitters, tonic, and syrups for the Violet Hour in Chicago. Together, they've created a line of "slow-crafted Midwest bitters" that are developed in Milwaukee. They avoid extracts and oils, and only use "raw ingredients" to make Cherry Bark Vanilla, Jamaican #1 (spicy, with hints of ginger and black pepper), and Jamaican #2 (bright, with grapefruit and hibiscus).
Cocktail Kingdom's House Brand
This booze haven in New York's Chelsea neighborhood has concocted two of its own products. Wormwood is a traditional flavor: It was used after the ban on Absinthe to mimic the beverage. The other variation is Falernum, which Cocktail Kingdom developed with Blair Reynolds, the founder of Trader Tiki in Portland.
Bitter End
The Sante Fe-based company makes small, all-natural batches of bitters in exotic, worldly flavors like Curry, Jamaican Jerk, Memphis Barbecue, Thai, and Moroccan.
Bob's Bitters
Bob's takes a unique approach to bitters: Instead of mixing spices and herbs together to create a multifaceted flavor, the company focuses on one single ingredient (products include Lavender, "Liquorice," and Coriander). They're all handcrafted in England.
Hella Bitters
This Williamsburg, Brooklyn-based company started in the aughts, but took off after a successful Kickstarter campaign in 2011. There are only two flavors: Citrus and Aromatic. The latter is sweetened with beet juice.
Bar Keep
Greenbar Collective, a producer of organic, handcrafted spirits, collaborated with bartenders around the country to make a small line of bitters. Josh Loving, of Austin's Weather Up, assisted in making Chinese Bitters, and Chicago's Adam Seger helped with Swedish Herbs Bitters.