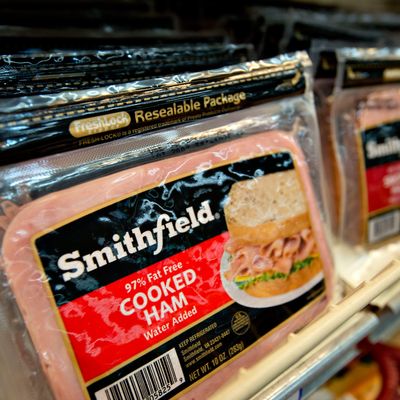 The revolution will arrive in resealable bags and be pumped up with delicious sodium.
Photo: Daniel Acker/Bloomberg via Getty Images
DealBook reports that the world's largest producer of pork has been purchased by an enormous Chinese company called Shuanghui International (or "Shineway Group," as it's sometimes know) for $4.7 billion. The deal, which is the largest China-U.S. acquisition of its kind, still needs regulatory approval and even may be scrutinized in particular for "issues of national security," but really, these guys are perfectly suited for each other: One processes 27 million pigs a year, while the other gets up to 30 million. Then there's this: Smithfield dispatched 4.7 million gallons of porcine fecal material into North Carolina waters, while Shuanghui is still getting over a clenbuterol-related contaminated meat scandal from 2011. In other words, we cannot wait to see what's for breakfast this time next year.
What direction will Smithfield's new owners — which at one point included the Singapore government-owned Temasek Holdings and, why yes, Goldman Sachs — expect to take the company? "This is an export deal, and they are very interested in exporting products out of the U.S.," Smithfield's CEO C. Larry Pope tells the Times. In other words, there's no indication, for now at least, that Smithfield intends to import any pork or other meat products from China.
Meanwhile, we could see China benefiting from the involvement of Smithfield's best-known cultural advocate Paula Deen, who's been pushing the company's hams and various other sodium-pumped improvised explosive devices for years. In an effort to overcome any lingering perception of its environmental record or its sketchy record with food safety, the Virginia-based company has made a huge transparency push in the last few years by launching ecological initiatives, reducing its use of gestation crates, and even opening a flagship, family-friendly restaurant. Waging expensive ad campaigns to change one's image and "reeducate" the public is one thing. With the long list of their past transgressions in tow like a demented bridal train, here's hoping Shuanghui and Smithfield also treat their showy new union as a learning experience.

Smithfield to Be Sold to Chinese Meat Processor [DealBook/NYT]