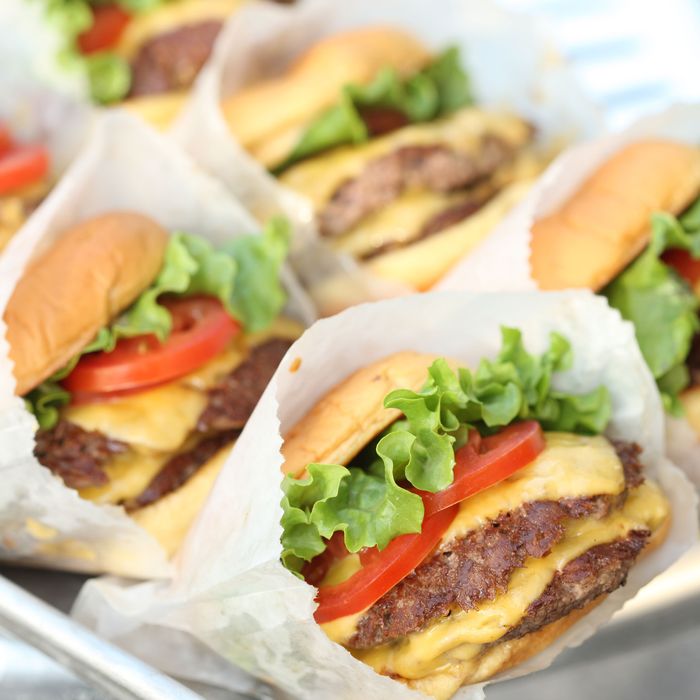 They're just as delicious in Dubai.
Photo: Melissa Hom
Last month, Shake Shack opened its 25th location, an outpost in Boca Raton, Florida. (It's the Sunshine State's third Shake Shack.) Five days before that, Shake Shack also announced plans for a location on the Las Vegas strip in 2014. Tomorrow, Shake Shack's first American airport branch will open at JFK's Terminal 4. What had been steady growth is now a full-fledged explosion, as Danny Meyer's burger-and-custard chain is on track to triple in size this year alone, from a dozen locations last summer to at least 33 in six countries by the end of 2013. The appeal of Shake Shack has been obvious since it started as a hot-dog cart in Madison Square Park in 2001: It's upscale fast food that beats the megachains on food quality and service without a major price hike. So now that it's becoming a mini-chain, it's fair to ask: Does Shake Shack's rapid expansion threaten the very qualities that make it appealing?
Explosive worldwide growth raises questions in the minds of customers about a business's identity, consistency, and brand dilution — unfamiliar territory for Meyer, a Manhattan luxury restaurateur who "has created new restaurants as though they were each his first and only" and who preaches a mantra of "slow down." That's at least in part why Meyer and his team make a point to refer to Shake Shack as the "anti-chain" chain. Shake Shack rebuts comparisons to direct competition like In-n-Out, Five Guys, and Smashburger. Shack CEO Randy Garutti summed up the Shack mind-set on its competition last year to industry mag QSR: "We love their concepts, we think they do fabulous things, but we're different than that. We're on the outside of that, because our goal isn't to franchise domestically. Our goal is not to do hundreds a year. That would dilute what we do."
Darren Tristano, a vice-president at the market research firm Technomic, says the "anti-chain" label combats brand dilution by telegraphing independence and higher quality. "You don't want to be a 'chain,'" he says. "The Cheesecake Factory is seen as a 'chain,' in the negative sense, despite doing practically everything from scratch."
For now, it's still easy for Shake Shack to frame itself as David to those other better-burger chains' Goliaths, with fewer than three dozen locations. There are over 1,000 Five Guys, In-n-Out has 283 outposts, and Smashburger is moving well past 200 locations. But where does Shake Shack's growth stop? What happens when they get to 50 locations, then 100? It's hard to believe Shake Shack would actually just halt their expansion before they got too big.
Global expansion has already caused Shake Shack to rethink its core product: While ShackBurgers are seen as high-end burgers at fast-food prices, there's only so much high-quality beef to go around. In Shake Shack's early years, all burgers were made from a Pat LaFrieda specialty blend. However, when the chain expanded to Florida, Garutti says the team went looking for "a great, small, Pat-like guy," which he says they found in a Miami purveyor called Bush Brothers. "It's the same cuts, the same process, the same overnight fresh shipment." (And to make sure, LaFrieda came down and personally trained the newbies.) In London, the Shack got a local butcher of Aberdeen Scottish beef, and Turkish law requires Turkish meat, "so we set up a full supply chain over there." And there's yet another system in place for the chain's quickly expanding portfolio of Middle East restaurants: Because the region doesn't have local beef, the Kansas-based purveyor Creekstone Farms makes, freezes, and ships Middle East Shacks their burgers. Using local beef fits the Shake Shack brand, of course, but no intrepid critic has compared all these burgers yet — last year, Times critic Pete Wells found the offerings at various New York branches so variable, they're not "even consistently inconsistent."
Growing also requires franchising, and despite Garutti's claims that domestic Shacks will all be run by Union Square Hospitality, Shacks overseas are already franchises. That's not really a secret, but there's irony in the fact that Middle Eastern locations are operated by M.H. Alshaya, the retailer that also runs big-time chains (not anti-chains) like Starbucks, Pinkberry, IHOP and, yes, the Cheesecake Factory. Domestically, however, the two Shacks headed to JFK won't be run by Meyer's Union Square Hospitality Group, as the other U.S. locations are, but by the food-service provider SSP America. (The baseball stadium locations, in CitiField and Nationals Field, are run by Union Square Hospitality's catering division and staffed with employees from the food-service giant Aramark).
Another issue: Maintaining the idea that a trip to Shake Shack feels like a special occasion, something that's difficult to do if there's a location on every block (think about how un-special it feels to get coffee at Starbucks compared to smaller shop like Stumptown or Blue Bottle). "Superfans are key," says Miguel Miranda, head of the brand-consulting firm One Degree Hospitality. "You need people that are fanatical about your brand and go tell their tribe all about it."
And here's where Shake Shack's focus on international expansion might prove to be paradoxically savvy: Spreading out across the globe, rather than packing American cities with franchises, means each outlet still feels somewhat unique. Shake Shack's brand is built on the idea that it's a small operation that cares about the details other chains overlook, and it's an idea that needs to be reinforced to the public every time a new Shack opens, an increasingly common event. But it's unlikely that a customer excitedly waiting for her first Shackburger in Boston even realizes, or cares, the very same Shackburger is being served at a mall in Kuwait.
In fact, by 2014, almost a third of all Shake Shacks will be overseas: One in London, two in Turkey (one mall, one not), six in Middle Eastern malls, and one at the Dubai airport. That's not all: A quick dig into foreign intellectual-property registries shows the Shack is also trademarked in the E.U., Israel, Russia, Australia, even Singapore — a standard corporate move, but it also means the Shack name is ready for deployment around the world as soon as Meyer thinks the time is right.
Even with this model — franchising in high-visibility areas in foreign countries and running domestic spots in desirable, upscale neighborhoods — there are only so many places that will be able to house a Shack Shack. Tristanto, the market-research-firm VP, says Shake Shack's biggest problem is that "there are not that many upscale, affluent trade areas in any market." However, other fast-casual chains like Chipotle and Five Guys appeal in nearly any trade area (downmarket and upmarket areas alike). Tristano argues for the Shack model to work, there's a third area that offers a sort of Faustian bargain: further expansion into airports. "Even if it's less upscale, you get huge name recognition, because a location in an airport serves one purpose, and that's to build brand awareness." JFK and Dubai International are the world's seventeenth and tenth most-trafficked international airports, respectively, which means a lot of exposure.
For the moment, it appears Meyer and his team are betting the most success will come not with a dozen Shake Shacks in every city in America (New York City is the only geographic area to house more than three Shacks), but instead with a few locations in nearly every country, and airport, in the world. Meyer himself says he looks for cities that can support "a couple Shacks," thereby upping the word-of-mouth factor. The growth continues, but customers don't actually "see" it, thus keeping each new Shake Shack something of a novelty. It seems the Shake Shack better-burger vision ultimately boils down to a framed motto that's hanging on the walls of USHG's New York offices: "The bigger we get, the smaller we need to act."