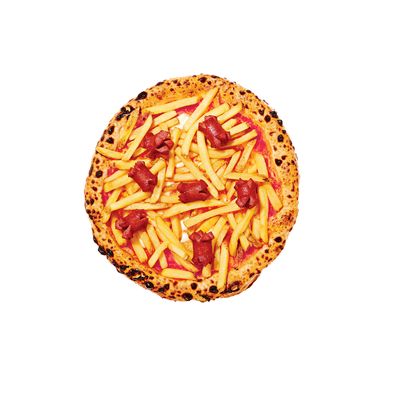 Ribalta's Americana pizza.
Photo: Bobby Doherty
When you think of true Neapolitan pizza, or "la vera pizza Napoletana," as the orthodoxy refers to the stuff, it's unlikely you think of a pizza topped with hot dogs, French fries, and mozzarella. Yet that is what you'll find on the menus at many pizzerias in Napoli—at least according to Rosario Procino and Pasquale Cozzolino, both Naples born and bred, with San Marzano tomatoes practically coursing through their veins. Pizza geeks might know Procino as the former co-owner of the West Village pizzeria Kestè and Cozzolino as the pizzaiolo who last stretched the dough at midtown's Pizzarte. Now, in their new roles as operating partners and cultural ambassadors at the year-old Ribalta in Greenwich Village, they would like to address some common misconceptions, including (a) Neapolitans are rigid and dogmatic in their views regarding toppings, and (b) taking a pizza to go in Naples is tantamount to selling drugs to schoolchildren. "Naples, like New York, is ­creative and open-minded," protests Procino. "And New Yorkers have gotten the wrong idea about our pizza." To set the record straight, he and Cozzolino are overhauling Ribalta's menu, adding their own "Americana" hot-dog pie, featuring Hebrew National frankfurters no less, and empowering customers to follow their own topping bliss by ordering a half-and-half pizza, or customizing orders with everything from hard-cooked eggs to grilled chicken. There's takeout and delivery, too, and a designated oven that will soon be used for gluten-free pies. All of which is not to say that Ribalta won't source its mozzarella di bufala from Campania, or that Cozzolino's crust won't conform to time-honored standards; in fact, he even makes his naturally leavened dough with a century-old starter he smuggled back from Italy. No pineapple on the pizza, though. This might be the beginning of a more enlightened Neapolitan-pizza era, but even the most broad-minded pizzaiolo has limits.
48 E. 12th St., nr. Broadway; 212-777-7781.
*This article originally appeared in the May 20, 2013 issue of New York Magazine.