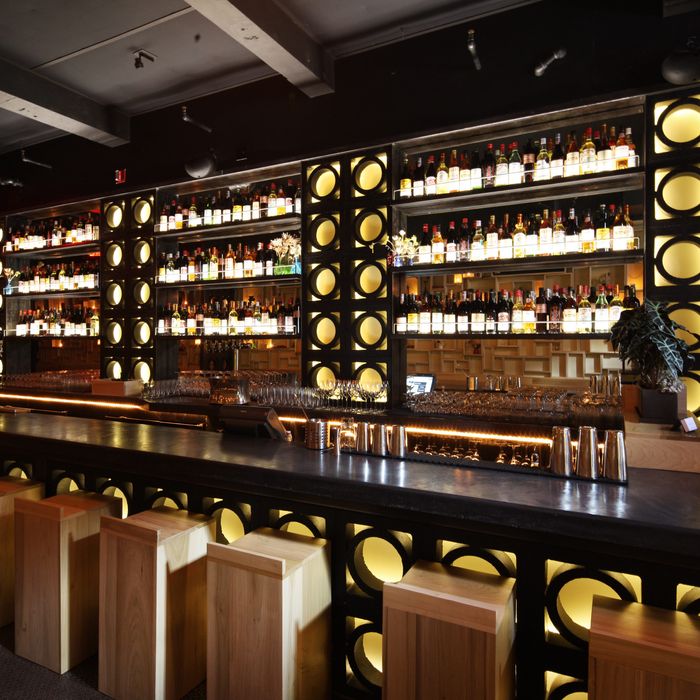 Two stars for Pearl & Ash.
Photo: Melissa Hom
In the latest issue of New York, the Underground Gourmet tried two inventive italian restaurants. At Soho's Bar Ciccio Alimentari, expect "deceptively simple" Tuscan grandma cooking that includes a "pretty much perfect" (and made-up) strisce pasta, while Forno Pizzeria e Trattoria in Queens serves a cleverly blow-torched pizza. Three stars for the former and two for the latter. Where did the other critics dine? We serve that up straight ahead.
Pete Wells headed to Pearl & Ash on the Bowery, finding "a very high-functioning wine bar that offers one of the best values in the city." Most of the menu complements the wine and is good in his book, namely the berbere-sprinkled scallops, "supernaturally creamy" fried sweetbreads, and "wildly tender" skirt steak. Come here for an "exuberant range of tastes," but don't leave without drinking that vino.
Ryan Sutton also reviewed Pearl & Ash this week. He vouches for the wine as a suitable accompaniment to the spices chef Richard Kuo uses, and recommends the octopus and a fried quail that's a "supreme poultry punch for $15." Still, the restaurant overcompensates: "Doubling ($25) the heady punch of soft lamb belly and lean lamb heart is overdoing it when a $13 portion is exactly right."
The New Yorker's Ariel Levy also tried Pearl & Ash and discovered some pleasant surprises. Mirin-poached octopus is "deep" and "beguiling," while green beans are a "sensuous shocker." Despite classifying it "haute hipster fine dining," she says there's less preciousness here thanks to mellow rock music, excellent service, and an ambience that's perfect for a first date.
Tejal Rao is disappointed by Feast, the group dining restaurant in the East Village where "nose-to-tail" doesn't seem to include offal and servings are "often prepared in single-size portions." Lamb here reminds her of a "two-bite appetizer you'd wash down with cold champagne at a holiday cocktail party" and a so-called "vegetable garden" is a "single miniscule carrot." No feast here, folks.
Stan Sagner dropped by Wylie Dufresne's East Village gastropub, Alder, "a more democratic, lower-priced approach to his eye-popping" molecular gastronomy. He finds most dishes inventive and satisfying, including clam chowder, salmon tartare, and rye pasta. Only the Mediterranean bass "missed its mark as it got hijacked by an overwhelming Nori-infused salsa verde." Four stars.
Joshua David Stein also reviewed Alder, which was "worth the wait" given the "scarce and pricey" work of Beard-winner Wylie Dufresne. He makes an exception for Dufresne's use of air quotes in the menu, where items like "potato chips" and "oyster crackers" are "more delicious, more inventive, more mind-blowing than their original, impoverished traditional selves." From an Egg McMuffin–looking foie gras discus to rye pasta over pastrami, expect "a turn or an expert touch or a surprise — often all three."
Jordana Rothman dined at Bill's Food & Drink in midtown and found it distastefully overpriced, especially given its "everyman" barroom past. At least the "quality of the food has certainly improved." Beyond meats like a "textbook tender" bacon chop and a "pink and musky" 28 day-aged rib eye, however, "there's not much worth eating." Two stars.
Steve Cuozzo visited Carbone, and it didn't live up to its Godfather-ly expectations — or justify its prices. From a $50 veal Parmesan that "isn't twice as good as the norm" to $53 dry-aged T-bone that's "short on filet," "Carbone flickers like a teasing moon through billows of pomp." At least the tomato sauces "deliver on the goods, from dreamy meatballs to pillowy tortellini al ragu." Two stars.
Robert Sietsema adores Astoria's Kopiaste Taverna for its spice-ridden Cypriot cuisine: "Pig reigns supreme." He recommends the "Cyprus Meze," a $22 tasting menu that best demonstrates the "eclectic cooking of the island" and its "laid-back eating habits."