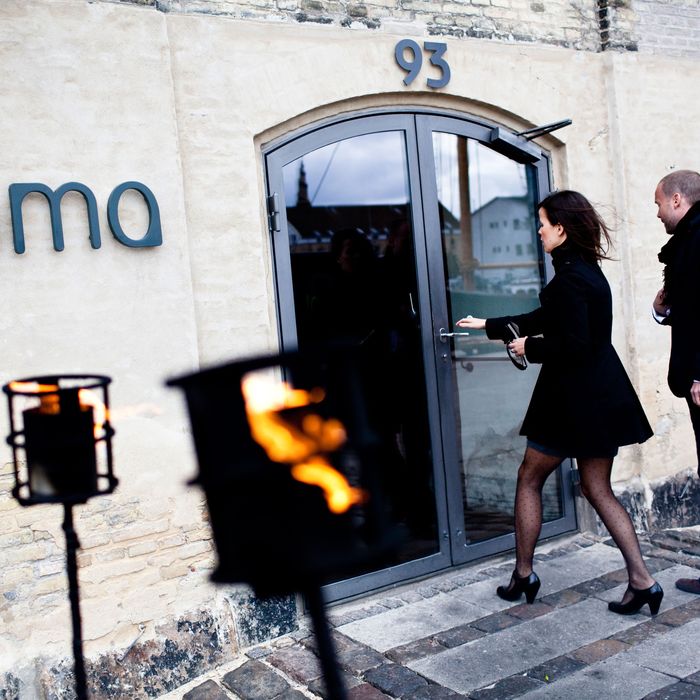 It's slipped out of the top spot this year, down to #2, but should we really trust this list?
Photo: Casper Christoffersen/AFP/Getty Images
The latest update to the World's 50 Best Restaurants list, as compiled by the U.K.'s Restaurant magazine, just dropped last week, and once again there's the usual rumblings about the list's integrity. The ranking is decided by an "Academy" of 936 food industry types — including chefs, critics, journalists, restaurateurs, and self-appointed "gourmands" — who cast votes for their seven favorite dining experiences of the last eighteen months. It's subjective to be sure, and doesn't even boast the rigor of the Michelin Guides, whose inspectors return systematically to reassess a restaurant's quality over time. Today we find that William Drew, editor of Restaurant, is attempting to defend the list in a French magazine, but all he ends up doing is making it seem that much less reliable. And needless to say, the French aren't happy.
Below, the five criticisms that Drew fails to defend.
The voters use no specific set of criteria. He admits, "There are no criteria" given to the 936-member Academy, and any level of restaurant, from bistro on up, is technically eligible. It's all about "the impression felt," but obviously no charming little bistros get enough votes to make it into the top 100. The entire list, in fact, is tasting-menu-type restaurants where you can easily drop $200 per head.
Jury members, especially the journalists, can kind of be bought. Unlike Michelin, this isn't anonymous. And the average journalist can not afford to eat in most of these places. Drew gets defensive about this, though, saying that while there might be free meals and publicist lobbying involved, journalists like himself are not swayed by such things. He adds, "Even when we are … drizzled with champagne, we are still able to discern the best. These are not some champagne buying a vote." [Editor's note: We're using Google Translate to translate Drew's presumably English answers back to English from French, so excuse the awkward construction.]
Everyone votes for their friends. With chefs and restaurateurs in this voting pool, what's stopping them from voting for only their friends? The only rule is that they can't vote for their own restaurants. Drew isn't asked to comment on this point.
No one is checking to make sure the jurors obey the rules. Drew admits that it's basically an honor system, and "We trust our jurors." He says that the jurors must provide the date of their last visit to each restaurant they vote for, but he sounds a little iffy when it comes to the checks and balances around this, saying, "When we think it's necessary, we do [check]" up on a juror's restaurant visit. But do they, really? With 936 jurors and 6,552 total restaurant votes, it seems unlikely.
The jury can't adequately and fairly cover the Western hemisphere's food scene. French foodists poo-poo this list in part because there's not one French restaurant in the top ten. Californians cry foul about the fact that The French Laundry and Manresa get recognized but not The Restaurant at Meadowood, which has held three Michelin stars for three years. So are these jurors actually dining around as much as they should be to serve on this jury? It's hard to say what percentage of the voting pool — especially younger chefs who rarely take vacations or leave their own kitchens — are really traveling around to cover their respective territories.
And because restaurants come in and out of fashion and buzz, it stands to reason that the trendiest places get the most visits, and therefore the most votes. The French Laundry slipped from the number one spot, which it held ten years ago when it was at its height of international buzz, to number 47 this year. But has it really slipped that much? And is its sister restaurant in New York, Per Se, so vastly different that it deserves the eleventh-place spot?
Anyway, it's just another flawed list.
William Drew, organizer of the World's 50 Best Restaurants, "We are a positive force in the world of gastronomy" [Atabula via The Braiser]
Earlier: Here's the List of the World's 50 Best Restaurants: Noma Drops to No. 2; Eleven Madison Park Is No. 5 [Grub Street NY]