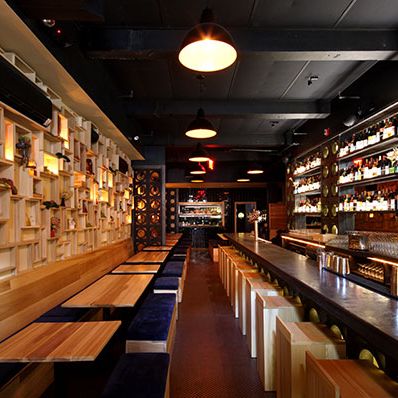 Order Pearl & Ash's tea-cured salmon.
Photo: Melissa Hom
Adam Platt reviewed Carbone this week and dubbed the new-school Italian restaurant "Il Mulino for hipsters." Get the veal Parmesan and ravioli "Caruso," he advised, giving the restaurant one star. See what the other critics thought of their meals after the jump.
This week Pete Wells flew across the country to dine at Saison, the Michelin-starred San Francisco restaurant. His "Critic on the Road" feature will continue, though these columns won't award stars.
Tejal Rao reviewed Kajitsu, the restaurant that serves Japanese vegan food in the shojin-ryori style and is now located in Murray Hill. "You won't miss animal products" with small, elegant dishes. The menu features ingredients from "tiny seasons within seasons." The current offerings highlight cherry blossoms and young bamboo shoots ("tender and delicious").
Jordana Rothman reviewed Pearl & Ash, where she found the tea-cured salmon ("petals of silky fish") paired with goat cheese to be "exquisite." The Fernet Branca ice cream sandwich was "brainy and delicious," but not all dishes on the menu hit these high notes. Shrimp, octopus, and veal cheeks were less successful, as the chef, Richard Kuo, "has a way of sabotaging his proteins with too many flights of fancy." Two stars.
Robert Sietsema enjoyed soup dumplings at Full House on Bowery. The crab variety comes "highly recommended." He also found the West Lake beef soup to be "paradoxically light and pungent."
Steve Cuozzo found Stella 34 to be a "sparkling amenity" in the "culinary barron" part of midtown. The restaurant on Macy's sixth floor offers "artfully composed salads and pastas." The "barbabietole" salad (beets, lentils, arugula, stracciatella, and candied pistachio) stood out, but the pizzas "could have been more distinct." Two stars.
Michael Kaminer enjoyed "well-executed pan-Asian fare" at the General. "Jewel-like" maki rolls "dazzle with unexpected flavor combinations" but portions were "comically miniscule." The Chinese chicken tacos were "frustratingly addictive" and chef Hung Huynh's fried rice was "complex in flavor and nearly greaseless." Three stars.
Silvia Killingsworth spent time at Prospect in Fort Greene. The restaurant changes its tasting menu regularly, and she called the Hudson Valley foie gras terrine "perfectly cool and buttery." The spinach-and-ricotta gnudi was "a consistent hit," and its brown-butter sauce made it "impossible not to lick the bowl."