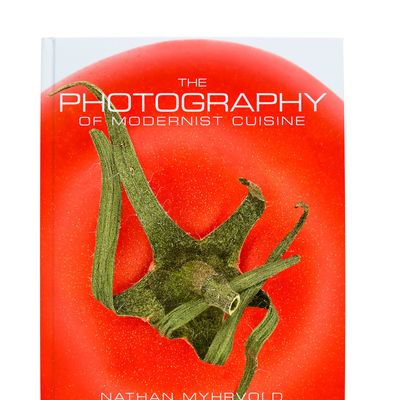 You'll never look at tomatoes the same way again.
Photo: Modernist Cuisine
"If you love food and appreciate beauty and ask yourself, 'How did they do that?'" the book trailer for the just-announced Photography of Modernist Cuisine starts off by asking, as the camera pans over a craggly moonscape of savoy cabbage and ridges of pink grapefruit. If you are kept awake by such questions, the short answer, of course, is that genius entrepreneur Nathan Myhrvold and company famously deployed a Sawzall and a lot of really, really expensive camera equipment to great effect for their groundbreaking cookbook.
The Seattle-based team also used basic enzymes, off-the-shelf vitamin C, and lots of other low-end hacks to make the photos happen. Each one has a backstory, Myhrvold says, and so with Modernist Cuisine and Modernist Cuisine at Home on shelves, the food futurist announced he's releasing a stand-alone volume of food photos on October 22, chockablock with cutaway Dutch ovens, full-bleed tomatoes, tight crops of lobster claws, and pornographically striped chioggia beets.
"We pored over our vast photo library and ultimately selected 399 photos for our book," Myhrvold writes. "Of those images, 161 are presented full-bleed across one or two full pages." The goal with this third volume is to rekindle a sense of "childlike wonder" readers report feeling when looking at food in new ways. As such, he explains, there won't be any recipes this time out.

Announcing Our New Book: The Photography of Modernist Cuisine [Modernist Cuisine]
Related: Modernist Cuisine Expands Into Kitchenware With a Baking Steel