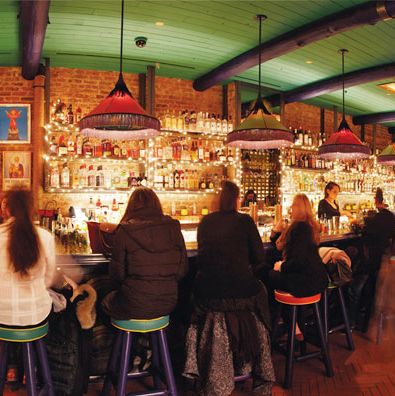 Wells isn't a fan of Bloomfield's tacos.
Photo: Victor Prado/New York
Our critics were off this week (to celebrate the unofficial start of summer), and although a few others didn't file, plenty conducted business as usual. Pete Wells panned April Bloomfield's Salvation Taco, and then sought out Taqueria Tlaxcalli for a better meal. In his final review for the Village Voice, Robert Sietsema completed his noble public service, finding "near-perfect" pho at Saiguette. Where did the other critics dine? Read on to find out.
At Salvation Taco, Pete Wells admitted that a "small taco can be a great taco," though he lamented the size of the tortillas, which are just "a little bigger than an English muffin." They were "topped so minimally and sauced so timidly" and filled with "tiny portions" that "cooled quickly." Wells found himself disappointed with most of the tacos he consumed in the "jammed and noisy" space, though he managed to praise the masa tortillas: "warm and seductively fragrant" to be filled with "lamb shoulder, so intensely flavorful it was as if three lambs had been distilled down to a single super-lamb." But still, no stars.
To redraw his "taco baseline," Wells went to Taqueria Tlaxcalli, where he found juicy fajitas, "even juicier alambres," and "tacos that filled out their warm corn tortillas the way a fat man fills out a hammock." He enjoyed the lamb-tongue torta and the "small, bright and cheerful space" — a long way from the "thunderous" noise level of Murray Hill. One star.
Robert Sietsema's final review for the Village Voice captured New York's "quest to close the pho gap." He says we are "slowly catching up" to other cities, and Saiguette can take credit. The Manhattan Valley restaurant's rendition of the dish is, in part, self-assembled. The broth is served separate from the soup's other components: rice noodles, shaved onions, and raw, thinly sliced steak each come in a separate bowl, and lime wedges, bean sprouts, and pungent basil leaves are meant to be "tossed or squeezed at your discretion." But after you make your DIY pho, a "near perfect combination of flavors and textures comes together." Sietsema also suggests ordering rice-paper-wrapped summer rolls and banh mi heroes.
The New Yorker's Andrea K. Scott wrote a review of Hanjan's "down-home cuisine." Hooni Kim's "pub grub with a pedigree" is "updating the rustic fare of the joomak, the traditional Korean tavern." The menu boasts traditional dishes, such as the "smoky, soy-glazed half mackerel and a radish-kimchi-and-brisket fried rice that's as silky as any risotto," and modern ones, like the fried chicken, "tender on the inside and crispy on the outside with a salt-to-spice ratio so ideal it could put a Kentucky colonel to shame." But Scott determined the best dish might be the pork trotters, which are "sliced thin and braised to a fragrant complexity."
Steve Cuozzo ventured to Cherry in the meatpacking district, noting the "freshly assembled and cleverly composed" sushi rolls. He enjoyed dishes such as the "toothsome, greaseless" crunchy almond shrimp and the "deftly marinated" miso-glazed Chilean sea bass, calling them "amalgams of Japanese and modern-American elements," which "feed your fun-craving face." And the crowd is bumping: Diners "act slightly more grown up" than the "insufferably buzzy" group at the Dream Downtown — "at least until a DJ kicks in Thursday nights at around 11." Two stars.
Michael Kaminer praised the city's "coolest vegan restaurant," the Butcher's Daughter. Calling chef Joya Carlton "a wizard of vegan cuisine," Kaminer raved about the ricotta mustard, a non-dairy spread that creates an illusion of "smooth, fluffy cheese," but is made of cashews, lemon, and salt. Though the food is served in one of the "most placid dining rooms below Houston," the restaurant is "gleefully smashing stereotypes about how vegan food can look and taste." White beans and fennel cleverly replaces traditional sausage in a spin on Bangers and Mash, and the sweet-potato soup, which occasionally graces the menu, is great, too. The signature juices are so delightful that they make for good, virtuous desserts. And the best part? It's all cooked with heart — "you can't fake the good vibrations." Four stars.