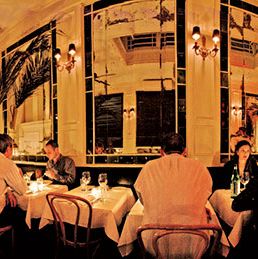 Beatrice Inn's steak tastes like latex, says Wells.
Photo: Jenny Westerhoff/New York Magazine
This week, Adam Platt gave Lafayette, a "big, spangled, category-killing brasserie," two stars. Stan Sagner gave the same rating on behalf of the New York Daily News, while Joshua David Stein praised what he called Andrew Carmellini's Great Gatsby of restaurants, an endeavor conducted in a "blessed" space. But despite the glowing reviews, a dark cloud hangs over the Other Critics this week: This is the second-to-last review from Robert Sietsema, and there will be no more from Tejal Rao, both of whom are no longer writing for the Village Voice. We will miss their weekly columns.
Pete Wells ventured to the Beatrice Inn and found the steakhouse to be "satisfactory" but largely "unremarkable." He likened the "band of fat" around his steak to a "latex protective sheath," noting it was "shot through with gristle." Despite the "debilitating" noise level, this West Village restaurant is a place to "look and listen" — but don't you dare photograph any of the notable diners. The menu explicitly states that "photography is not permitted." He liked the food better when Brian Nasworthy was cooking, but he's since been dismissed. No stars.
Joshua David Stein calls Lafayette the Great Gatsby of restaurants. The "blessed" space is the setting of "golden-glow maximalism" or a "magical first date." Yet, despite its "pageantry," the menu is surprisingly "sober," almost "cautious," and ultimately not "anything to write home about." He mentions the "perceptive" addition of raclette cheese to a brisket burger, the "tremendously undercooked" steak redeemed by good fries, and "excellent" foie gras terrine.
Stan Sagner also ventured to the "nightly pandemonium" at Lafayette, calling the menu "inconsistent — sometimes wildy so," with many dishes "tasting like versions 1.0." He notes the "disconcertingly cold, raw centers" of the scallops à la plancha and the black fettucine, "likewise, prematurely snatched from the pot." Yet Sagner was impressed by the "marvelous" Fleur de Soleil pasta (a favorite of Platt as well), which he likens to "spring in a bowl." Lafayette is the place to go "if stargazing trumps food," though Sagner will be back "when the Carmellini-worthy restaurant that's trapped within emerges." Two stars.
Robert Sietsema wrote his penultimate review for the Village Voice on the "iconic conjoinment" of chicken and waffles revived by Williamsburg's Sweet Chick. Sietsema calls the "thickish crust" and "pillowy flesh" of the fried chicken "perfect of its type" and the waffle "sweet without being too sweet" and "light in texture without floating off the plate." Though some of the apps (like a pickle plate and a kale BLT) are "remarkably good," Sietsema suggests avoiding non-chicken-and-waffle entrées and the cocktails "aimed at 12-year-olds," which don't pair well with the signature dish.
The New Yorker's Nick Paumgarten filed on Carbone this week. He found even relatively lighter dishes like the bass Alison to be "hefty." Of the starters, he liked the garlic bread and "excellent" Caesar salad." But ultimately, Paumgarten declares the endeavor as "over-move-y," writing, "the portions and the prices are as formidable as the pretense and the patter." This is exemplified by his description of the tiramisu surrounded by lady fingers, a dessert which resembles a "Twinkie fort."
Jordana Rothman callled Nightingale 9's atmosphere "awfully dour." The food isn't much prettier, but it is good. "You want to know about the pho," she says, as it's "herbaceous and bright." Rothman praises an "ugly" yet "funky" salad topped in papaya dressing "that might be the most interesting salad in Kings County." Like much of the menu, that papaya dressing includes nuoc cham, a condiment that chef Robert Newton has made about as ubiquitous in his restaurant as it is in Vietnam; its "recklessly potent aroma" mingle with that of street food and noodle dishes, "dashes of it enhance just about everything." Three stars.
Ryan Sutton reviewed Montmartre, "a French brasserie in a city with too many French brasseries," though this one is the concept of Tien Ho and "New York's next Danny Meyer," Gabriel Stulman. Sutton calls the food at Montmartre "luxurious," albeit in a "non-luxurious" space. He likens the dining room to a "commuter train car." The moules-frites include a "heavy handful of clams to double the brine," leading Sutton to declare, "I don't want mussels any other way, anywhere else." And though the duck-for-two "is code for duck tacos," you'll leave Montmartre "not just well-fed, but happy." Two stars.
In lieu of a formal review, Steve Cuozzo wrote a guide to his favorite summer spots, including Cafe Boulud, Blue Water Grill, and New Leaf Cafe.