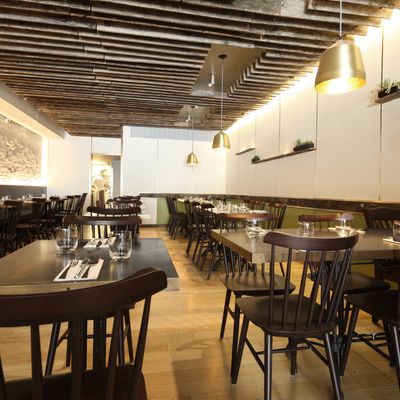 Alder!
Photo: Melissa Hom
In the latest issue of New York, Adam Platt sized up the revamped menu at Montmarte. The critic gave two stars for the standouts at Gabriel Stulman and Tien Ho's Chelsea brasserie, like the fusion-y "pot-au-phô" with slices of "rosy pink sirloin" dispatched in a rich, deftly spiced oxtail broth, and an "elegant" kale tart. Where did the other critics dine? Find out, straight ahead.
Ryan Sutton revisits Corton and updates his three-star review from 2008. The critic finds a wide range of influences, "mindful consumption," and brilliance to spare at Paul Liebrandt and Drew Nieporent's fine dining Tribeca restaurant. Sutton marvels at the chef's light touch with "custards and creams," which demonstrate a sturdy old-growth of classic French technique beneath the vast assortment of newfangled ingedients like sea buckthorn and kaffir lime crips that taste like Trix cereal, "but in a good way." Four stars.
Pete Wells ventures to the UES and visits Caravaggio, which alternates between a calamitous mess with poor service and "depressingly earthbound" ricotta, and transcendent civilized dining with chicken meatballs and fine osso buco that keep him coming back. The appeal of "the fickle and expensive" restaurant is enough to warrant Wells future return, and be awarded a star.
Tejal Rao dined at Alder, the long-awaited second project from wd~50 chef-owner Wylie Dufresne. Rao says the iconoclastic chef and chef de cusine John Bignelli have a brand-new bag new bag of modernist tricks. Some, like the New England clam chowder, succeed by reinventing the dish and streamlining flavors like clams, bacon, and bay leaf. Others, like the tough dehydrated hot dog roll that firmly encases the nouveau pigs in a blanket, can essentially "be more curious than delightful." Rao also praises Alder's inventive cocktails. "Get a drink or three," she writes.
Steve Cuozzo praises Matthew Aita's simultaneous headiness and light touch at Le Philosophe. The place reminds him of "the less touristy, outer arrondisements." He digs the blanc manger and black bass, awarding the restaurant two stars — despite "under-schooled waiters" — and says the restaurant is a welcome respite from the Brooklyn scene.
Robert Sietsema pays a visit to Cole's in the old Lyon space. The Village Voice critic thinks that the presence of lentils in the potato leek soup is "annoying," and elsewhere, the plancha-roasted chicken arrives appealingly burnished but tastes nondescript. The fries at the new bistro are decent; however, the strozzapreti in pork broth is stellar, and the wine list features a few worthy bargain bottles.
Jordana Rothman heads to the Pines in Gowanus, a place where "poetic meals are now easier to find." The locale may be remote but Rothman believes it's worth the trek. Roberta's alumni chef Angelo Romano serves a variety of enticing entrees, like the "gamey and rich" lambs neck. If the "folding chairs, amid peeling tin walls" aesthetic doesn't bother you, then Rothman says you're in for a treat and awards 4 out of 5 stars.
Hannah Goldfield reviews M. Wells Dinette for The New Yorker, encountering what one server described with "Valley Girl affectation" as an "outrageous" slew of dishes. Quebecois chef Hugue Dufour continually seeks to impose a meaty revolution on New York's cuisine with dishes like a "hunk of pork belly" married with duck-fat-fried pancake drenched in maple syrup. It's a menu that reminds us of the axiom that French-Canadian blood is one part gravy and one part syrup, of which Goldfield approves.
Michael Kaminer of the Daily News is bummed about the lack of any standouts on the sprawling sushi and small plates-loaded menu offered at Sag Harbor-import Sen in Flatiron. Fried snapper that's supposed to be crispy tastes like "fishy bread," maki rolls are "insipid," yakitori is "gristly," and the incongruous imposition of store-bought ice cream at dessert time is "lame." A single, "sweet-sour cube of rice-vinegar gelee" is the only high point for the critic, which reluctantly gives the restaurant one star.