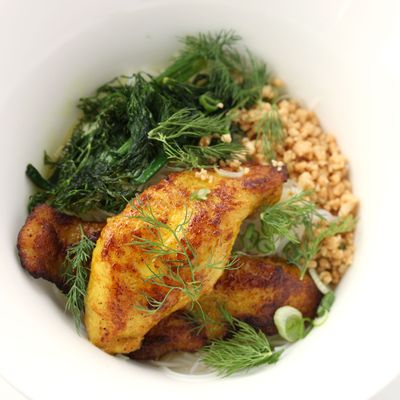 You'll be able to get the crispy cha ca catfish on a sandwich.
Photo: Melissa Hom
Chef-owner Rob Newton and partner Kerry Diamond send word that lunch service is just about ready to blast off at Nightingale 9 in Carroll Gardens. The menu, which is straight ahead, is broken down into a selection of street food noodles and salads, rice dishes, noodle soups, and a roster of six Vietnamese sandwiches made with the same hybrid of Southeast Asian flavors and U.S. Southern ingredients found on its dinner menu. Virginia country ham is used to make the pâté that's sliced and layered onto the sandwich loaded with peanuts, cilantro, and garlic mayo, for example, and that's Hudson Valley duck confit on another sandwich loaded with annato-chile mayo and Vietnamese coriander. But that's not all.
Newton and sous-chef Champ Jones's menu also covers pho, porridge, and lard fried rice with country ham. Vegetarian options include a salad of shaved collards with fried shallots and coconut, and a mushroom bánh mì with pickled mustard greens and benne seed dressing.
The new menu debuts next Tuesday, May 7, and will be offered Tuesdays through Sundays between noon and 4 p.m. In the meantime, the restaurant has changed its hours and will be closed on Mondays only, and it is now also accepting credit cards.
Menu [PDF]
Earlier: What to Eat at Nightingale 9, Bringing Vietnamese Sandwiches and Hanoi-Style Turnovers to Carroll Gardens
Check Out More of the Food at Nightingale 9, Carroll Gardens' New Vietnamese Restaurant