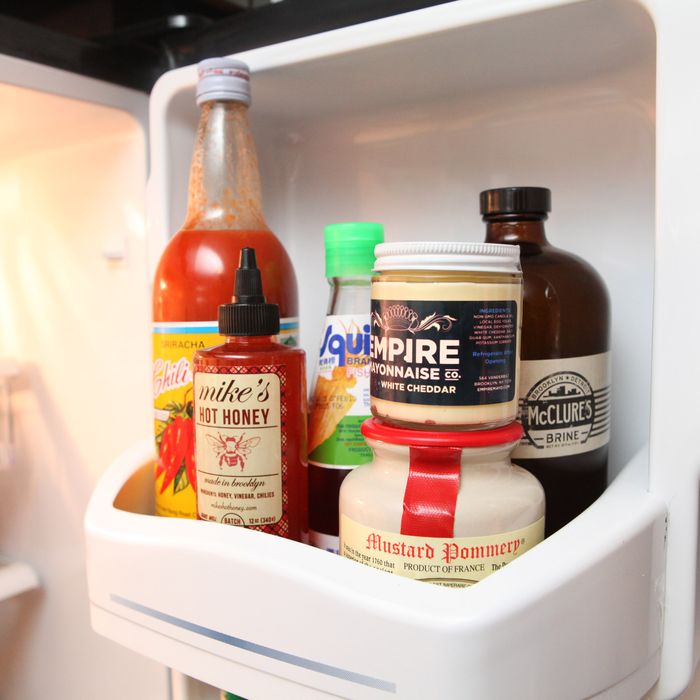 For several years now, Sriracha has been the go-to, green-capped bottle to grab if you want to add both spice to your food and chef cred to your fridge door. (The California-made sauce is so popular that the company's founder told the L.A. Times that "every bottle of sauce produced already has been sold.") But it's not the only product of choice chefs turn to on a daily basis. Here are all of the other condiments you should stock up on, stat.
Colatura Anchovy Sauce and Scalia Paste
To make the brightly colored Colatura Anchovy Sauce, the little fish are marinated and pressed down with sea salt in chestnut wood barrels for five months. It's an ancient recipe that originated on Italy's Amalfi coast. Add a bit of olive oil and garlic to make a great pasta sauce.
The thicker Scalia Anchovy Paste is super easy to use: You only need a few squirts to make an excellent, salty, umami-packed Caesar dressing or marinade.
Fancy Mayonnaise
Ditch the always unappetizing jar of Hellmann's in favor of a mayo that's more exotic and flavorful. Sam Mason uses local eggs and ingredients in Empire Mayo: It comes in fancy flavors like rosemary and black garlic, but go for the classic variation.
Kewpie Mayo is an umami-packed Japanese condiment that tastes great on tacos, vegetables, and mixed into salad dressings. Chefs dig it, and David Chang has even said it's "the best mayonnaise in the world."
Sir Kensington's also makes a good highbrow, all-natural mayo. It's smooth, silky, and the first and only mayo made without GMOs, if that matters to you.
Saucy by Nature Kimchee Relish
Saucy by Nature (greatest condiment brand name ever) makes its Polish Kimchee Relish by stewing locally sourced pickled cabbage and mushrooms with tomatoes and prunes. This is a great item to have on hand during summer barbecues: It pairs well with hot dogs and bratwursts.
Better French Mustards
Zingerman's imports Violet Mustard from Western France. It has a distinct crunch (from the ground mustard seeds), and its purple color comes from grape must. Slather it on cheese.
Pommery Moutarde de Meaux is a good option, too — and it's more versatile and easier to find. The whole-grain mustard is produced in Meaux in Île-de-France by the original Pommery family.
Scott's Barbecue Sauce
If it's been around in North Carolina since 1917, it's pretty damn trustworthy. What makes Scott's Barbecue Sauce even more impressive is that it contains no sugar, unlike most sticky-sweet barbecue sauces produced these days.
Fish Sauce
Fish sauce is an absolute must: Red Boat is the go-to brand for chefs, but Squid's might be even better. While anchovy paste is typically used in Italian kitchens, this similar condiment's Thai. If you want to play it safe, add a few drops into a soup or curry for an umami boost. But some folks even like it on fried chicken.
Mazi Piri Piri Sauce
Mazi makes its hella-spicy Portuguese hot sauce in small batches of 100 bottles. It's at its best when used as a marinade and brushed onto meats and vegetables.
Yuzu Kosho
This traditional Japanese condiment is composed of three ingredients: the zest of the yozu citrus fruit, ground chile peppers, and sea salt. The Red flavor is enhanced with red chiles, and Green has, well, green chiles. Both taste great on eggs, oysters, and buttered bread.
Shark Brand Sriracha
It's Andy Ricker's Sriracha of choice, and we trust the man. Shark is less sweet and a little thinner than the ubiquitous Huy Fong version you definitely already own.
Gochujang
You've tasted this Korean fermented red chili paste used in bibimbap, but it's good in all kinds of dishes, adding rich flavor to stews, salads, and marinated meats. It's delightful when mixed with other condiments, if you want to make mayo, ketchup, or barbecue sauce a bit spicier.
Pure Indian Foods' Ghee
This clarified butter is a mainstay in Indian households, and it has a long shelf life. Spread it on naan and idlis, mix it into a simple dinner of rice and lentils, or use it as a fat to fry food. Pure Indian Foods' organic ghee is made out of milk from grass-fed, pastured cows: feel-good ghee!
Lao Gan Ma Chili Crisp Sauce
Chefs often use this Chinese hot sauce because it goes with a wide range of Asian dishes: ramen, dumplings, and rice hot-pots. Lao Gan Ma's ingredients include fermented soybeans, peanuts, and Sichuan peppercorns.
ABC Kecap Manis Sweet Soy Sauce
Don't mindlessly add this to sushi: ABC's sweet soy sauce is Indonesian, not Japanese. It's on the thicker side and made with fermented soybeans, palm sugar, star anise, galangal, and other aromatics. When in doubt, add it to noodles (the golden rule of exotic condiments).
McClure's Spicy Brine
The Brooklyn-meets-Detroit company offers its pickles in liquid form. Use the product to brine artichokes, marinate steak, or make a stellar Southern mac and cheese.
Chulita's Famous Sofrito
This Latin American cooking base is a mixture of aromatic vegetables, herbs, and spices. The owners of Chulita's Famous wanted a healthy, preservative-free alternative to other sofritos on the market, like Goya's. Try it out on scrambled eggs.
Mina Harissa
Moroccan cooking is made easier with this spicy red pepper sauce, which can really be added to anything: couscous, meatballs, lamb, rice, whatever. Mina's gourmet, all-natural version is a strong update on the more traditional ones.
Chinkiang Black Vinegar
Rice vinegar is listed in many Asian recipes, and Chinkiang's, made from black glutinous rice, is excellent.
BLiS Bourbon Barrel Matured Pure Maple Syrup
Chef Steven Stallard is the one-man band behind this fancy company, which also sells upscale versions of caviar, vinegar, truffle oil, and sea salt. This smokey, Grade A dark-amber syrup is obviously good on pancakes and oatmeal, but it's also great to add when roasting savory foods, like Brussels sprouts.
Mike's Hot Honey
Possibly the toughest condiment to purchase on the list: The Brooklyn-based honey is only available via mail order or at the bar at Paulie Gee's in Greenpoint, where it's used on pizza. It's hard to find an ingredient that can make vanilla ice cream, salmon, ribs, and booze all taste even better.
Heinz
As far as ketchup goes, don't toss what you've got or replace it with expensive artisan stuff. Heinz is the best, always and forever.