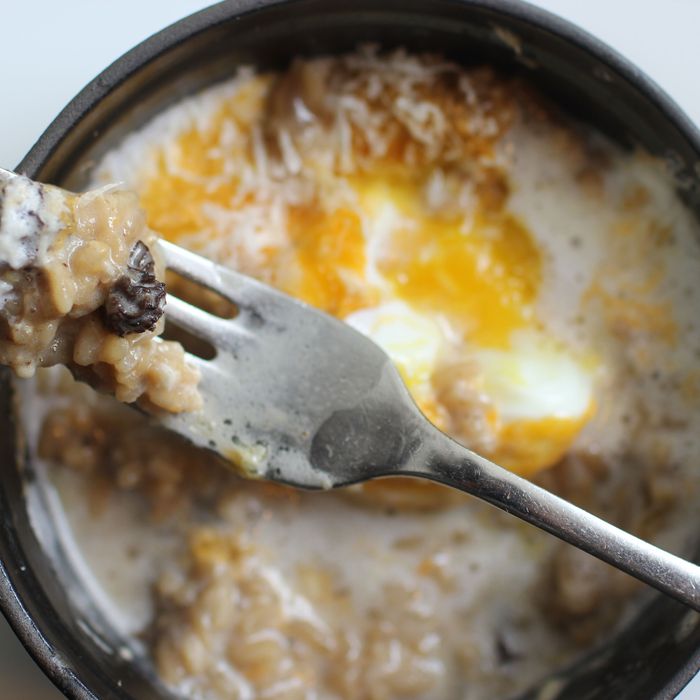 At Café Cluny, Phillip Kirschen-Clark tops his rich morel risotto with a poached egg.
Photo: Melissa Hom
'Tis the season for morels! This year, it's taken longer for foragers to find these honeycomblike mushrooms in the Northeast. "Because they're wild, it's all weather dependent," says John Magazino, a food purveyor at Baldor Specialty Foods who hooks up restaurants like ABC Kitchen and Le Bernardin with morels from around the country. "They'll usually start in California, north of San Francisco, and then, they'll move outside of Portland and Washington as early as late March if it's a warm year. This year, it was a later start. There's not enough in the Northeast." On Saturday, pro forager Evan Strusinski told Grub that he began seeing morels locally, fielding requests from David Chang and many other chefs. The elusive 'shroom adds an earthy, nutty flavor to simple pasta and egg dishes, and it also pairs nicely with spring vegetables like asparagus and fava beans. We've rounded up twenty restaurants that are cooking morels, because by now, you're probably experiencing serious ramp fatigue.
Marietta
The Dish: This new Southern restaurant is serving a small casserole dish with fresh spring peas, sliced country ham, and big pieces of morels — all on top of toasted bread. At $6, it's a steal.
Café Cluny
The Dish: Phillip Kirschen-Clark makes his morel mushroom risotto even richer by adding a poached egg, fresh horseradish, and mimolette cheese. You can make it at home; New York's got the recipe.
Kajitsu
The Dish: The vegan restaurant's serving a complex dish of onion gratin with crunchy fried spring vegetables and morel mushroom sukiyaki (it's like a hot pot). The bowl is packed with onion, yuba, carrot, celery, white asparagus, spinach, gosho-fu, avocado, dijon mustard, wood eat mushrooms, and … morels. That's a mouthful.
Lafayette
The Dish: If you can manage to score a table here, try Andrew Carmellini's scallops a la plancha with spring peas, morels, and tarragon.
The Dutch
The Dish: You might have an easier time getting into the Dutch, where Carmellini's serving an excellent appetizer of white asparagus carbonara with Oregon morels and a smoked egg.
Colonie
The Dish: Head over to Brooklyn Heights for English pea ravioli, which is served in a rich morel crème sauce and garnished with roasted morels, glazed peas, and pea shoots. Double the morel action.
Marea
The Dish: Morels accent salsa-verde-crusted Alaskan halibut, which also comes with spring onions, potatoes, and peas.
L'Apicio:
The Dish: Gabe Thompson's restaurant now has outdoor seating — the perfect setting to enjoy gnocchi with morels. It tastes as good as warm weather feels.
Le Bernardin
The Dish: Eric Ripert's making pan-roasted monkfish with morels, ramps, pickled cabbage, and armagnac-black pepper sauce. Hold up: Morels and ramps in the same dish? Time to freak out.
Lure Fish Bar
The Dish: Skip the standard sushi and order the toasted Skuna Bay salmon, which is roasted with morels and apple puree.
Scarpetta
The Dish: Morels and scallops are a popular combination. Here, pan-seared diver scallops are accompanied by pea puree, English peas, morels, pickled shallots, garlic chips, and a fancy-shmancy lemon emulsion.
Gotham Bar and Grill
The Dish: The Union Square mainstay has two dishes featuring morels on its menu: halibut served on top of potato puree, morels, pickled ramps, and English peas in a morel and white wine emulsion sauce; and a goat cheese agnolotti with fava beans, baby leeks, morels, and parmigiano reggiano in a chicken broth.
Edi & the Wolf
The Dish: White asparagus — another friend of morels. The vegetables are covered in ramp hollandaise and Austrian speck.
Market Table
The Dish: The West Village restaurant's living up to its moniker: There are two morel dishes on the menu. Housemade cavatelli is accompanied by morels, ramps, and a slow-cooked organic egg. A 'shroomy skate entree comes with spring onion puree, morels, maitakes, royal trumpets, and a parsley vinaigrette.
ABC Cocina
The Dish: Jean-Georges, Dan Kluger, and new chef de cuisine Ian Coogan collaborated on a spring vegetables dish with brown rice and spicy salsa verde: Fennel, asparagus, spring onions, English peas, carrots, fava beans, morels, and ramps are served over steamed rice.
ABC Kitchen
The Dish: Kluger's cooking morels next door, too. Steamed halibut comes with carrot puree, blanched fava beans, and a morel vinaigrette that has a touch of jalapeño. Morels are also served straight-up in a dish of sauteed mushrooms, fava beans, pecorino cheese, and a spring onion vinaigrette.
Marc Forgione
The Dish: The Tribeca restaurant's serving an asparagus "yolk" ravioli with morels, white asparagus, and sugar snap peas; instead of an egg yolk in the center, it's asparagus puree. The morels are sauteed and glazed with sherry.
Momofuku Ssäm Bar
The Dish: Of course several of the Momofuku outposts are serving morels. Ssäm's offering alkaline (the dough typically used to make ramen) tagliatelle with a pesto made of nettles, arugula, and sunflower seeds. Morels, braised in shallots and white wine, are folded in, and the pasta's topped with pickled pearl onions, sunflower seeds, fried iriko (tiny anchovies), and a housemade fish bushi.
Momofuku Ko
The Dish: The tasting menu at Ko currently includes a slow-cooked loup de mer with shishito pepper dashi, roasted morels, roasted fiddlehead ferns, and citronette.
Momofuku Noodle Bar
The Dish: Over at Noodle Bar, there's a green asparagus dish with morels, poached egg, and tarragon. Anyone want to lead a Momofuku morel crawl?