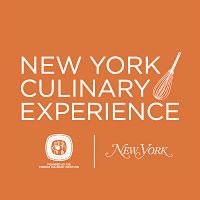 Photo: New York Culinary Experience
On Monday, we asked for your best steak-eating experience, and you delivered. It was tough to pick a winner: You shared entertaining, thoughtful stories about freezing steak by hanging it outside a 44-story hotel window, cooking it in a dorm and eating it while sitting on the floor, and aging steak for weeks. But after a long deliberation, we're awarding OHTHAAATGIRL two tickets for Naomi Pomeroy's class "Rites of Spring" at the New York Culinary Experience, taking place from May 4 to 5. Read her touching story about ordering room service rib eye with her mother, straight ahead.
My best steak-eating memory is without a doubt my first steak-eating memory. When I was 7 years old, my mom arrived home from work one Friday evening and announced that the two of us would be going on our first girls-only roadtrip. She was a lawyer, and worked hard and late, she wanted some time with her girl. So the next afternoon she packed the car and the two of us made the 90 minute trip into Boston, leaving my father and younger brother to fend for themselves. There was absolutely no itinerary for this overnight adventure, other than for the two of us to spend one night in the lap of luxury, ordering room service and chatting, like two old friends, at the landmark Copley Plaza hotel. We arrived, both of us immediately changing into the plush bathrobes hanging in the bathroom, and ordered two bone-in rib-eyes (per my precocious suggestion). I will never forget watching the bellman wheel in that cloth-covered cart and lifting my plate's silver lid to reveal that giant cut of meat, sitting alongside a heaping pile of creamy mashed potatoes and a chocolate milk (red wine for mom). I felt like such a grown-up, despite struggling to maneuver my steak knife. The two of us feasted and fell immediately asleep, with rib-eye stuck to our ribs.
Congrats, OHTHAAATGIRL. Make sure to check the e-mail linked to your commenter account for details.
Earlier: Win Tickets to the New York Culinary Experience's 'Rites of Spring' Class, Taught by Naomi Pomeroy