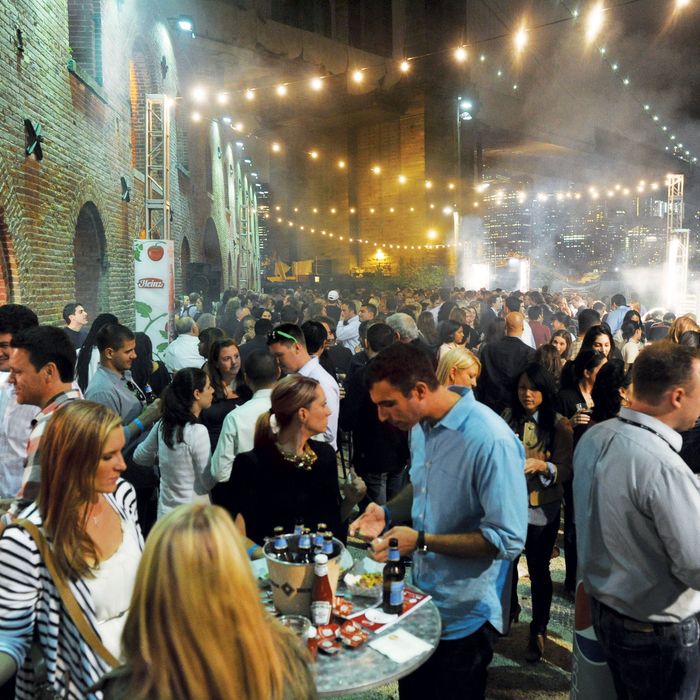 The Burger Bash is moving to Pier 92 this year.
Photo: Courtesy of Neil Rasmus & Owen Kolasinski/BFANYC.com
This year's sixth annual NYC Wine & Food Festival, sponsored by Food Network and presented by Food & Wine , will take place from October 17 through 20, but this morning we have a sneak preview of this year's programming and lineup of visiting chefs. The big news is that the chef-blockbuster event is moving, for the most part, to midtown, specifically to Pier 92 and Pier 94. Events will also take place at the Hudson hotel, and a dinner series featuring chefs such as Alex Atala, Ivan Orkin, Daniel Humm, and David Kinch will go down at various locations throughout the city. Pretty much all of the Festival's signature events are back. Sadly, there won't be another epic roast of Anthony Bourdain this time out, but don't let that stop you from checking out some more details, and information on how to get tickets, straight ahead.
There will once again be a critical mass of Food Network hosts, namely Guy Fieri — who is hosting a Rock of Ages party — Anne Burrell, Paula Deen, Rachael Ray, and Giada De Laurentiis, who is hosting an event dubbed the "Italian Paradise Dinner." Ray will once again preside over the Blue Moon Burger Bash, which is presented, once again, by Pat LaFrieda Meats — this year, however, the late-night meat frenzy will take place at Pier 92.
The event's Bank of America Dinner Series will take place at at venues throughout New York City, and includes an incredible roster of talent:
• "I Love NY" hosted by Daniel Humm & Will Guidara

• Yardbird Hong Kong Dinner hosted by Matt Abergel

• Inside the Empire: Dinner hosted by Pubbelly

• Classico E Moderno hosted by Michael White & The Altamarea Group Chefs

• Taste of Tokyo: Dinner hosted by Ivan Orkin

• Farm-to-Table Dinner presented by Wine Spectator hosted by Bill Telepan & Andrea Reusing

• Manresa: An Edible Reflection hosted by David Kinch

• The Chef and the Doctor hosted by David Bouley & Dr. Mark Hyman

• Cross-Country Dinner hosted by Sean Brock, George Mendes & Daniel Patterson

• A Night in the D.O.M. hosted by Alex Atala

• Flavors of the West Coast - Tyler Florence Brings Wayfare Tavern to New York City presented by Wine Spectator

• The Silver Standard Dinner hosted by Dan Silverman & Michael Schlow

• The Ultimate Catch hosted by Ben Sargent

• Italian Paradise Dinner hosted by Giada De Laurentiis

• One Plate at a Time presented by Wine Spectator hosted by Rick Bayless

• A Night in the D.O.M. hosted by Alex Atala

• Reimagined Classics: Dinner hosted by Quince's Michael Tusk

• Exploring the Mediterranean: Dinner hosted by Yotam Ottolenghi & Sami Tamimi

The complete lineup, which features a few dozen more incredible events, is now live here. Festivities once again benefit the Food Bank for New York City and Share Our Strength's No Kid Hungry campaign. And while the event isn't happening for a few months, it's almost time to get tickets: Starting Monday, June 10, MasterCard members will have access to presales; general ticket sales go wide starting on Monday, June 24, online at www.nycwff.org or by calling 866-969-2933.