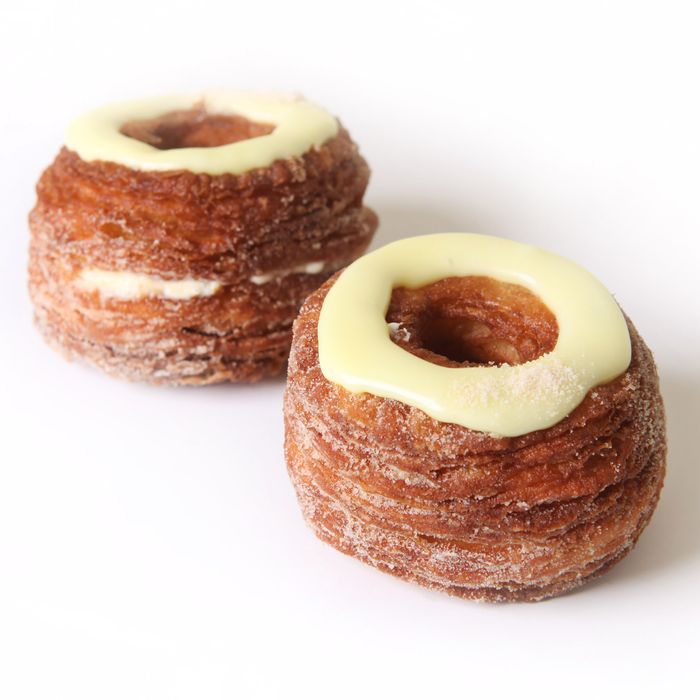 Yes, that is lemon-maple glaze.
Photo: Konstantin Sergeyev/New York Magazine
"This will never be a cronut shop!" says Dominique Ansel, looking slightly overworked but still smiling at 8 a.m. His namesake Spring Street bakery has sold out of the inventive, now-world-famous half-doughnut, half-croissant rose-glazed cronuts every day since their May 10 debut. Grub Street had the very first look at the cronut just before its initial release earlier this month, and now, as promised, the flavor will switch on Saturday morning, from rose-vanilla to lemon-maple for the month of June. Get a closer look at the new cronut, straight ahead.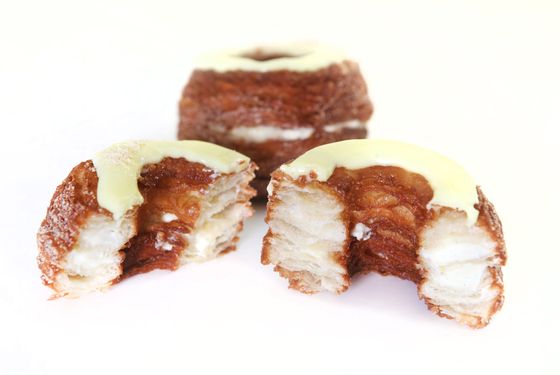 Ansel says he wanted the cream to be less sweet and more "zesty."Photo: Konstantin Sergeyev/New York Magazine

This time around, the cream filling is "very light," Ansel says, and is made with fresh zest. It's fragrant but not tart. Once it's out of the fryer, the cronut is rolled in coarse maple sugar. Ansel says the pastel lemon glaze is lighter.
Some cronut talking points (and purchasing strategies), for the uninitiated:
• The line starts forming outside the Spring Street bakery every morning after 6 a.m. and is often 30-deep by the time the bakery opens at 8 a.m. If you show up around 7:15 a.m., you should be guaranteed a cronut. The wait's not that bad: Ansel and his staff have taken to handing out free warm madeleines and coffee samples to customers.
• The bakery has officially produced 200 cronuts a day for the last twenty days, but considering presales, Ansel estimates he has made 5,000 cronuts total. Production remains labor intensive, but the bakers say the price will remain $5.
• Cronut scalping, Bloomberg critic Ryan Sutton points out, is a real thing. Prices vary by destination, but it costs $200 to have someone wait in line, pick up five cronuts, then deliver them to Brooklyn, for example. (The delivery person keeps one cronut as a sort of surcharge.)
• If you are a celebrity, you still have to wait in line like everyone else. Anderson Cooper tried to get a special order for his birthday, but was denied owing to the ongoing demand from the public. Hugh Jackman, however, has allegedly waited in line for a cronut.
• Ansel says he's "staffing up" to keep up with demand. In the meantime, the bakery sells 30 other items, which have their own devoted fan bases. (Try the Kouign Amann.)
Dominique Ansel Bakery, 189 Spring St., nr. Thompson St.; 212-219-2773
Earlier: Introducing the Cronut, a Doughnut-Croissant Hybrid That May Very Well Change Your Life
Earlier: Dominique Ansel Says There's No Need for Cronut Aggression
Earlier: Dominique Ansel's Cronuts Have Left the Building