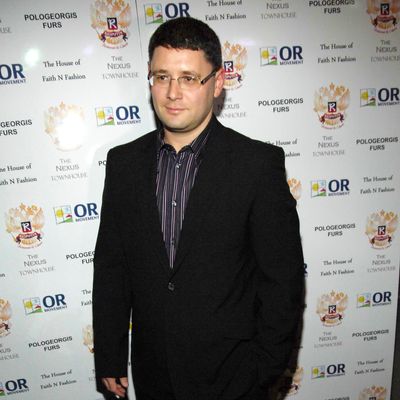 Levitis, in 2011.
Photo: Liam McMullan/PatrickMcMullan.com
He's a partier, reality television enabler, Brooklyn restaurateur, and nightclub impresario. Also, according to Manhattan U.S. Attorney Preet Bharara, Rasputin co-owner Michael Levitis is a criminal: The D.A. and U.S. Postal Inspection Service New York Inspector-in-Charge Philip R. Bartlett announced yesterday that the 36-year-old former lawyer and three others had been indicted for defrauding 1,200 customers out of more than $2.2 million through a bogus debt relief group called Mission Settlement Agency over the last four years.
At a news conference, Bharara detailed how the debt relief company claimed to be a government-sanctioned agency in mailers and cold calls, then proceeded to take $2.2 million in upfront fees from enlisted customers. Approximately 2,200 customers paid Mission Settlement Agency more than $6.6 million with $49 monthly fees and disbursements purportedly intended to assuage creditors. But for about 1,200 people seeking a way out of debt, prosecutors allege that Levitis and his associates "never paid a penny" to credit card companies and others. Instead, court documents state, that money was used to fund restaurant operations, used to lease payments for "two different luxury Mercedes cars," and also to pay Levitis's mom's credit-card bills.
The Attorney's Office said it will move to seize Levitis's share of the 7,000-square-foot Coney Island Avenue big box party spot, where high-kicking dancers wear boas and the fish is cold-smoked. Sheepshead Bites has more information on Levitis's area homes, which may also be seized. Charges against the restaurateur and three others — two of whom have pleaded guilty — include conspiracy to commit wire fraud and conspiracy to commit mail fraud. Indictments and information about the case are here, here, and here.
Levitis was previously indicted in 2011 for lying to the FBI in connection with the pay-to-play dealings of former state senator Carl Kruger, for which he was fined and placed on probation. Yesterday, he pleaded not guilty and was released on $1 million bond. His lawyer told the press he had been cooperating with authorities and was not complicit. "The frustrating part about this is we repeatedly attempted to present evidence to the government that there were rogue employees that were working at Mission and were engaging in the sort of fraud that we now see in the indictment," he tells the Times.
Here's Levitis in happier times, explaining the business and opulence at Rasputin. "In a prix fixe banquet," he says, "you're going to have close to thirty dishes."
Manhattan U.S. Attorney Charges Debt Settlement Company And Six Individuals For Multi-Million Dollar Scheme That Targeted Debt-Ridden Consumers [U.S. Attorney's Office]

Prosecutors Move To Seize Bank Accounts, Properties Of Rasputin Owner Michael Levitis [Sheepshead Bites]
Earlier: Rasputin Owner Lands Spot on Brighton Beach Reality Show