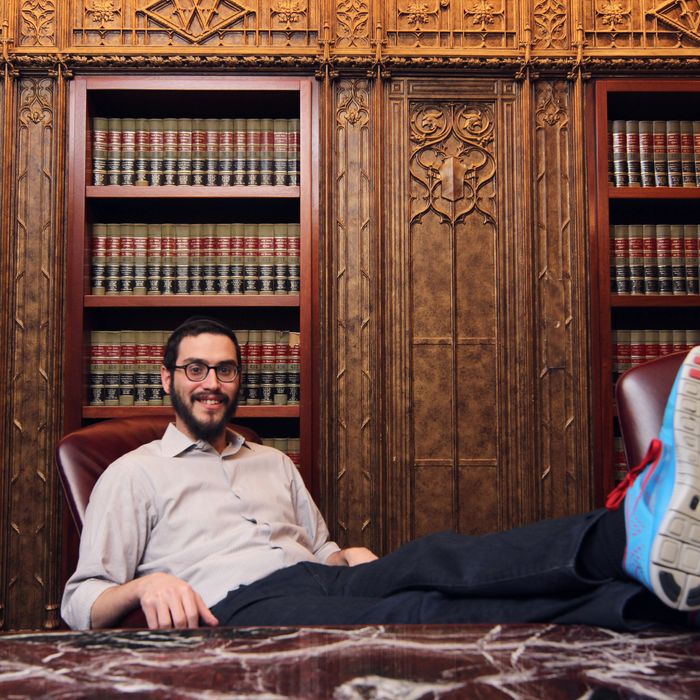 Maimon Kirschenbaum, at his office.
Photo: Melissa Hom
If you follow restaurants in New York at all, you've seen or heard Maimon Kirschenbaum's name. It's synonymous with — some would say infamous for — a steady stream of wage-violation lawsuits brought against star chefs such as Mario Batali, Daniel Boulud, and Keith McNally (he's won settlements from all three), and he's targeted restaurants like Nobu, Philippe, and Le Bernardin. Depending on your point of view, he's either a modern-day Robin Hood, fighting for workers' rights in a business full of corruption, or an ambulance-chasing bully determined to put the city's restaurants out of business.
Sitting in his office in the Woolworth Building near City Hall, Maimon Kirschenbaum doesn't look like the man whose lawsuits Joe Bastianich once accused of "shaking the very foundation of Manhattan's restaurant industry." Dressed in a Gap hoodie, jeans, and Nikes, the 34-year-old looks more like a kid just out of yeshiva. He even has a signed David Tyree photo on his wall.
But by his own count he's filed somewhere between 100 and 200 suits on behalf of restaurant employees (he filed one against SD26 in mid-March). He's been called things like the "scourge of restaurateurs" or, less dramatically, a thorn in the industry's side — one that's cost New York restaurateurs north of $40 million in legal settlements.
Kirschenbaum actually grew up in the restaurant industry. His mother, a caterer and chef, was the namesake of Levana's, a pioneering upscale kosher restaurant run by Kirschenbaum's uncles. He also grew up attending the same Upper West Side synagogue as Charles Joseph, who would later become his partner at the law firm Joseph, Herzfeld, Hester & Kirschenbaum. Kirschenbuam worked at Joseph's law firm before, during, and after graduating from Fordham law school in 2005. The following year, he recalls, a plaintiff suing Smith & Wollensky for wage violations got in touch after hearing about him from a mutual acquaintance.
Kirschenbaum says, "I didn't even know there were these kind of cases." After news of the Smith & Wollensky suit reached the press, Kirschenbaum was contacted by Shameless Restaurants, a now-defunct website that catered to disgruntled service-industry professionals, and asked if he'd post his contact information publicly. Kirschenbaum agreed and got a few more cases that way. "We had a pretty open policy, which was if you have a case against a restaurant, no matter how big or how small, we're going to take it. It gives you an edge." Similar wage-violation lawsuits against Heartland Brewery, B.B. King Blues Club & Grill, Nobu, and Jean Georges followed; the latter two, Kirschenbaum recalls, "got insane press."
The timing coincided perfectly with the rise of the celebrity chef: Between 2006 and 2008, there was a large surge in restaurant lawsuits, a phenomenon Kirschenbaum partially attributes to the increased visibility of chefs on reality cooking shows. Every editor knows legal woes of the rich and famous make good copy, and now chefs could be targets, too. "I was a young kid, and I dress like a schlump, and I didn't have, like, a fancy office or I didn't look the part or whatever," Kirschenbaum says. "But we started suing people, and it made a big splash, like, 'Oh, I'm suing famous celebrity chef A.'"
Here's how the suits work. The complaints address any of three types of violations: restaurant owners who require staff to share tips with managers or back-of-the-house staff, fail to pay employees for all hours worked (altering time cards to avoid overtime pay, for example), or charge mandatory tips at private events without properly distributing them to the staff.
When a potential plaintiff comes to Kirschenbaum with a complaint, his team files a class-action suit so that anyone who says they were victims of a restaurant's violations can be a part of the case. Kirschenbaum's most prescient move was realizing that the increased media attention empowered his clients, not the chefs. So Kirschenbaum himself announces his suits via media releases. The publicity that attended his better-known cases drew potential plaintiffs out of the woodwork. "By the time the defendant would hire a lawyer and call me, I'd already have 35 plaintiffs signed on," he says. "So instead of their lawyer calling me and saying, 'You've got one guy, I'm going to offer him $15,000 and shut this thing down,' it would be like, 'Okay, now I have 37 people, what are you going to do?' They have to essentially settle it as a class action."
Owners have said that settling is just cheaper than letting a suit drag out through the legal system, but since the cases don't go to court, it raises the main question surrounding Kirschenbaum's practice: Are the restaurants being sued really doing anything illegal, or has Kirschenbaum identified a legal gray area that he can exploit?
Carolyn Richmond, a lawyer for numerous restaurateurs, told the Post that suits like Kirschenbaum's are "a disaster for many small operators" and remarked to Crain's that "from our perspective, [such lawsuits are] a scam." In the same article, Andrew Rigie, the executive vice-president of the city chapter of the New York Restaurant Association, claimed that "the litigious atmosphere in New York" was compelling operators to open establishments in other cities.
Clark Wolf, a hospitality-industry consultant for nearly 30 years who has worked with restaurants like the Monkey Bar and (coincidentally) Smith & Wollensky, sees it another way: The wage-violation suits are "usually directed at people who can afford it, and it gives a heads-up to the rest of the industry." Of Kirschenbaum's media-leaning tactics, he says, "Just because someone is a little bit obnoxious doesn't mean he's wrong."
One thing that isn't up for debate are Kirschenbaum's results: In April 2012, Kirschenbaum won an $8.5 million class-action settlement against Pier Sixty banquet hall, which is believed to be the largest settlement of its kind (workers claimed they weren't receiving their share of service charges); in 2009, Kirschenbaum won $2.5 million for Nobu workers who sued the sushi restaurant for tip and wage violations; and in 2008, he filed yet another wage and tip violation against Pastis and Balthazar, eventually winning a settlement of $1.5 million.
The most famous victory was against Mario Batali and Joe Bastiniach, whom Kirschenbaum issued a class-action complaint alleging wage and tip violations in 2010 that eventually led to a $5.25 million settlement that was distributed among 117 plaintiffs and others who worked for the eight restaurants in question between 2004 and 2012.
Of course, a huge chunk of any settlement goes right back to lawyers, but Kirschenbaum won't say how much money he's made off the suits. The Post points out that in the case of Kirschenbaum's $2.5 million Nobu settlement, $833,333 went to his and other law firms, while the 500 workers got an average of $3,300. "That's including workers who worked there for one day," Kirschenbaum says. "People who worked there for a long time are making a significant sum of money. Obviously, they're not making as much money as the attorneys who are recovering money for hundreds of similar individuals."
"When we started, it was like they were petrified of suing restaurants," Kirschenbaum says. "And now it's like every restaurant owner is walking around in fear of his employees, which is good, I think."
Kirschenbaum clearly has New York's chefs and restaurant owners spooked. Every single chef we approached for this story wouldn't speak on-record, except one: Moshe Wendel, the chef-owner of Pardes, a kosher restaurant in Boerum Hill where Kirschenbaum is a regular. "I find him to be a very sweet, personable guy," Wendel says. "But I don't know him on the wrong end of the gun."