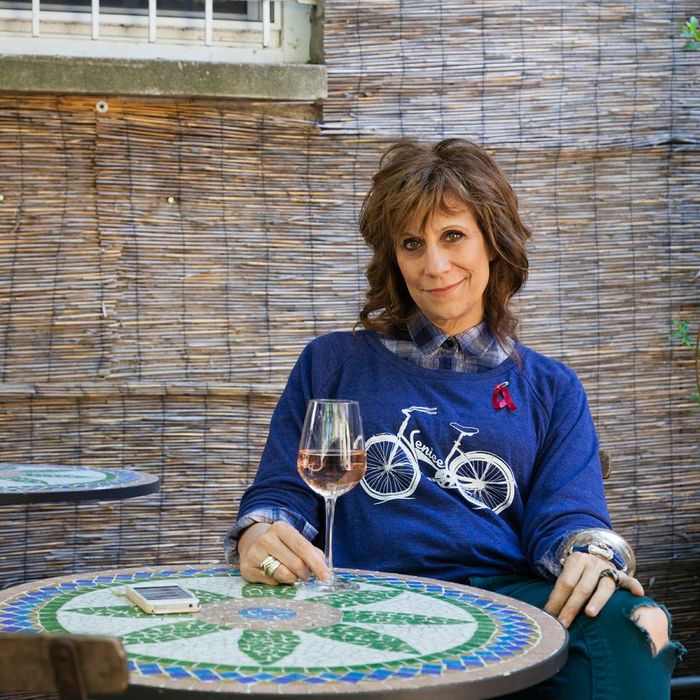 Winstead, with some breakfast rosé at Bacchus.
Photo: Dominic Perri
Lizz Winstead is best known as the co-creator of The Daily Show, but lately she's focused on her book, Lizz Free or Die (which will be available in paperback May 7), performing, and the charity A Is For … . "It's kind of crazy this week because I had all this work," she says. "For the most part, I'm pretty good until about one — and then everything kind of shits the bed." What that means: A morning routine broken up with preshow white pizza, dinner at Prime Meats, and, naturally, late-night beers and a BLT. Doesn't sound too bad. Read it all in this week's Grub Street Diet.
Friday, April 26
My mornings are pretty much the same variation of berries and yogurt and Special K. Special K was made by some gastroenterologist that has an ax to grind. Seriously. It's kind of incredible. One must be judicious with their Special K. I use it more as a condiment rather than an entire meal — and I recommend that for everyone. Unless you have a colonoscopy scheduled.
That morning I had a slip, though. I was at MSNBC and the Ed Show people showed me their new offices — they had all these Krispy Kreme doughnuts, so I had three halves of doughnuts. They were the leftover halves, so I was basically cleaning up the box. My OCD kicked in and I'm like, Well, you can't have this mess with all these pretty round things. I had a chocolate one and two different halves of glazed doughnuts. That was unsettling because it meant someone left half a glazed doughnut, and some other person who wanted half a glazed doughnut couldn't just take that half — they had to make a new half. Don't you think that's selfish? I think it's weird.
I went to Brooklyn Fare and I got a really good, healthy lunch: Broccoli with roasted garlic, and roasted Brussels sprouts, and grilled chicken breast that was really delicious.
Oh, but dinner was sad. I had the breakfast thing: blueberries, strawberries, and yogurt.
Then I treated myself to five Girl Scout cookies: Savannah Smiles. Those are the lemon ones with the powder on them. They are the unsung heroes of Girl Scout cookies. Everyone always fucking yammers on about the goddamn Thin Mints, but these lemon ones with the powder and sugar are delicious. They are tart and delicious.
Saturday, April 27
I didn't have breakfast because I was doing a photo shoot for someone else, but I ended up eating a turkey sandwich that had some cheese I didn't understand. Instead of saying, Maybe I shouldn't eat that cheese, I ate it. It might not have been cheese — it might have been sauce that was a little thicker that I was identifying as cheese.
I have a tendency sometimes to eat without comprehension. You know, when you kind of just eat and then all of a sudden, it's gone and you didn't really have … an experience. And then you're like, I ate all those Goldfish.
Anyway, Saturday night was kind of a crazy shitshow because after the sandwich with the mystery cheese or sauce I had to go to Beacon to do a show and I didn't eat anything, so I had a piece of what you'd call white pizza, just a giant pizza with "white" on it, and broccoli.
So that held me down until I had some beer at my show. The pizza should have been enough, but after the show, the very talented David Rees dragged me to a bar with the promise of food, but the only food that was there was guacamole and chips. We couldn't really do "dinner" after that, but, hey, if you eat it after midnight it's technically the next day, so it's breakfast …
Sunday, April 28
… So what I had for breakfast at 1:30 in the morning was more drinks, more beer, and an appetizer of onion rings followed by a BLT with fries, and a salad. This was at the I-84 Diner, by the way, which is sort of like calling yourself the Long Island Expressway Diner. David Rees was trying to make liver and onions sound really good, and I do like liver and onions, but not at 1:30 in the morning.
The good news is that when you get home at 3:30 in the morning with a stomach full of what-have-you, you wake up late for lunch. So it's like you've had breakfast, you took a nap, and then you wake up and you're ready for lunch. I was still in the same clothes at David Rees's place when I woke up on his couch. We headed out to brunch and I tried to play it cool, so I had a turkey sandwich on brioche with chipotle mayonnaise. And I got a salad because I knew I was doing this Diet.
I left Beacon full and came home and ate sushi with brown rice. I had chirashi, so I didin't go to town on any kind of mayonnaise-y sushi situation.
Monday, April 29
So, Monday I had my regular fruit and yogurt and Special K. And then for midday I had the same thing for lunch because I'd been reading the box and it said you can lose six pounds if you've been eating a Special K breakfast, a Special K lunch, and a sensible dinner.
Well, my sensible dinner was a chicken salad sandwich at a radio show and then I went to Prime Meats with a friend and had the tilefish that was fucking unbelievable. It was on parsnip puree with a ramp vinaigrette. And shishito peppers, and there was a roasted-beet salad. I think if it's "roasted," it's not a salad, but they called it salad so I went with it. And we shared a bottle of wine and coconut cream pie, and then it was midnight.
Tuesday, April 30
I did the Special K - Special K, double-double because later I was having pasta at John's on 12th. I love that place.
So I went and shoved my face with spaghetti. I love mushroom sauce. And if somebody reading this could find out what that salad dressing is at John's, I would be eternally grateful. It's some kind of walnut-y, vinaigrette-y, thyme-y thing, and it's fucking awesome.
Wednesday, May 1
It was lunch when I had my Special K because that morning I had a glass of rosé for breakfast at Bacchus — but that was just for a photo for this story. But I love that restaurant because they always have rosé for cheap, so I had that at 11 a.m.
I have a roundtable at the 92nd Street Y with Andy Borowitz and Jeff Toobin, and I'm going to eat somewhere on the Upper East Side, which is challenging. And those 92nd Street Y people can be … determined. They have a lot to say. I'm thinking I'll do JG Melon, because I'm going to need a burger before I can deal with that.