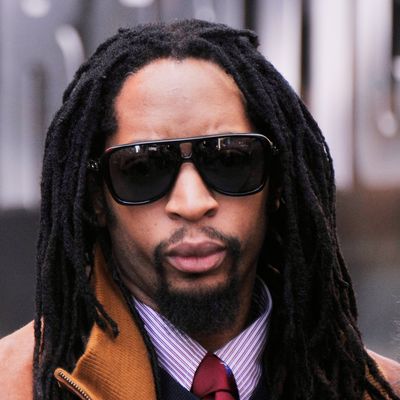 He gifted the owner a bottle of Don Julio.
Photo: Stephen Lovekin/Getty Images
Celebrities who weren't vying for tickets to Leonardo DiCaprio's $4 million space voyage spent their money on sustenance this week. Lady Gaga continued her apparently endless healing process at Haru Sushi, Cameron Diaz and Nicki Minaj took a break from filming The Other Woman for lunch at Mulberry & Vine, and Rebel Wilson was on her best behavior at the General. This, and more, in our weekly roundup of celebrity dining.
Cheetah's Gentlemen's Club: Dennis Rodman celebrated his birthday here, refusing to comment on the fact that his pal Kim Jong-un was not in attendance. It's a shame: Strippers might have helped the North Korean dictator loosen up a bit. [NYDN]
Dos Caminos: Teen-mom-cum-porn-star Farrah Abraham chose the Mexican restaurant for lunch with an unidentified male. She looked "demure!" [US Weekly]
The General: Rebel Wilson "looked to be on a mission to make a good impression," chatting with Anne Sweeney at a party. Yes, Daily News, "Rebel with a cause." [NYDN].
The Great GoogaMooga: Maggie Gyllenhaal watched the Flaming Lips with Peter Sarsgaard, before the food festival got rained out. [Page Six/NYP]
Greenwich Project: Jamie Foxx choose the newish restaurant for a few friends' birthday celebrations. [NYDN]
Haru Sushi: We thought Juice Generation cured Lady Gaga, but Mother Monster is still mending. She was able to climb stairs at the Gramercy sushi spot. [NYDN]
Pepela: Bill Clinton stopped at the Upper East Side restaurant for salad with the president of Georgia, Mikheil Saakashvili. [NYDN]
Mulberry & Vine: Cameron Diaz stopped in the new Tribeca café after filming The Other Woman; her co-star Nicki Minaj was spotted out front. [Page Six/NYP]
Philip Marie: The Office's Ellie Kemper left Scranton for the West Village. [Page Six/NYP]
Stanton Social: The cast of The East, including Ellen Page and pro-cook Alexander Skarsgård, celebrated with red snapper tacos, beef carpaccio, and spicy lamb souvlaki. [People]
Sen: Lil Jon discussed tequila with the restaurant's owner, Tora Matsuoka, and had his assistant deliver a Christian Dior bag of Don Julio mid-meal to give to his new friend. Pimp status. [NYDN]