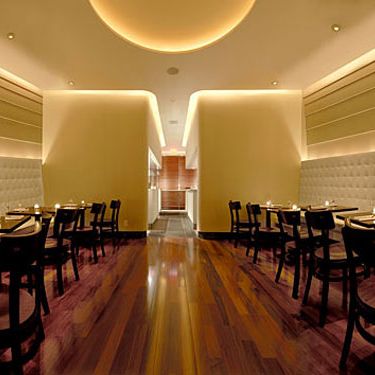 The dessert bar recently launched a line of prepared sweets.
Photo: Jerry Errico
Bakery and restaurant Kyotofu has closed permanently. Former investment bankers Nicole Bermensolo and Michael Berl opened the twelve-table restaurant in 2006, at a high time for refined sugar, when chefs like Sam Mason, Pichet Ong, and Will Goldfarb were also expanding the breadth of sweets with dessert-focused restaurants and multicourse tasting menus. Kyotofu quickly developed a reputation for stellar Japanese parfaits, jellies, and sweets made with soy, including a silky pumpkin cheesecake made from tofu. Bermensolo tells Grub Street that the demands of Kyotofu's growing wholesale business influenced the decision to close the restaurant; its contents will be auctioned off tomorrow.* ("Must Vacate Immediately," states a notice on the auctioneer's website.) So while the well-loved restaurant is closing, its brand will live on in retail form: Kyotofu's owners appeared in a video made by Whole Foods's Dark Rye in March, and the grocery store now carries a line of its packaged products. Additionally, the bakery and desserts company signed on as a vendor at Smorgasburg earlier this season.
Update: Nicole Bermensolo writes with more information about Kyotofu's growing retail line:
We've set up a commissary kitchen in Brooklyn and have decided to focus on the wholesale business, particularly Whole Foods. We're also working on setting up a West Coast kitchen. Besides Smorgasburg and Whole Foods, you can also find us at Dean & Deluca, William-Sonoma online, and our own online store as well. We've loved our 7 years in Hell's Kitchen and will definitely miss all of our customers!! Thank you for all of your support!!
Listings [Amodeo Auctions]
Whole Foods Union Square![Kyotofu/Facebook]
Earlier: Got Soy Milk?
*This post has been updated with new information.