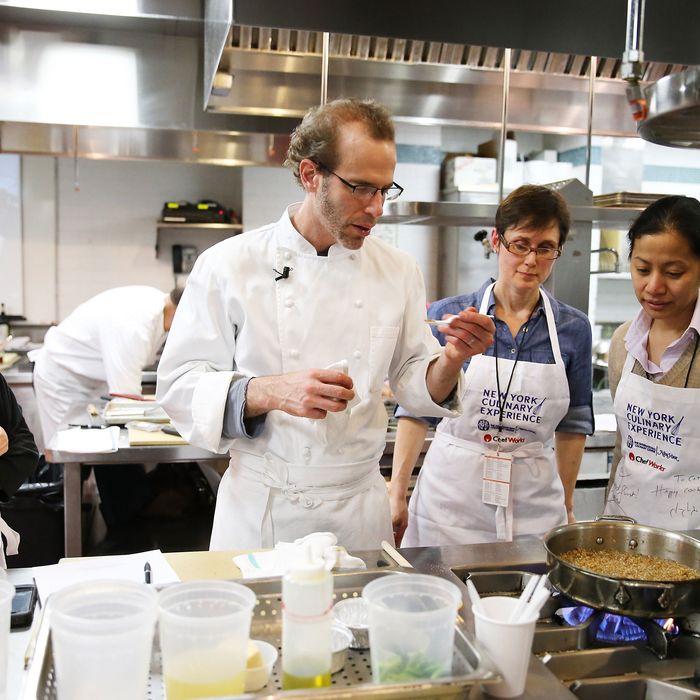 Dan Barber, dropping serious grain science.
Photo: Neilson Barnard/Getty Images for The New York Culinary Experience.
Over the weekend, more than 30 chefs from New York City and beyond assembled at the International Culinary Center for the New York Culinary Experience, hosted by the International Culinary Center and New York Magazine. True to traditions of pairing off stock whisperers and fondant masters with small groups of home cooks, Dominique Ansel took one group through the architectural grunt work of perfect croquembouche, Masaharu Morimoto broke down a whole tuna, and Michael Anthony shared a few secrets from the inner sanctum at Gramercy Tavern. From Jean-Georges Vongerichten's one-liners to Dan Barber's quips on freekah, here are the fifteen best things we learned this weekend.
1. "Cooking is 40 percent technique, 60 percent flavor!" —Jean-Georges Vongerichten, about to lead a class through the intricacies of asparagus with morels in a hollandaise sauce.
2. Christina Tosi: Cereal Milk helped make Momofuku Milk Bar a destination bakery, but what do you do with all those leftover milk-sogged Corn Flakes at home? Fold them into pancake batter, muffins, or cookie dough. You can even use them for stuffing.
3. "Whenever a sauce breaks, just add a little water to it and it comes right back." —Jean-Georges Vongerichten, on how to fix emulsified sauces like hollandaise.
4. Dan Barber, on freekah and emmer: Throw your grains in the freezer for ten minutes before you use them. The flavor and nutrition are lost when they're warm and ground.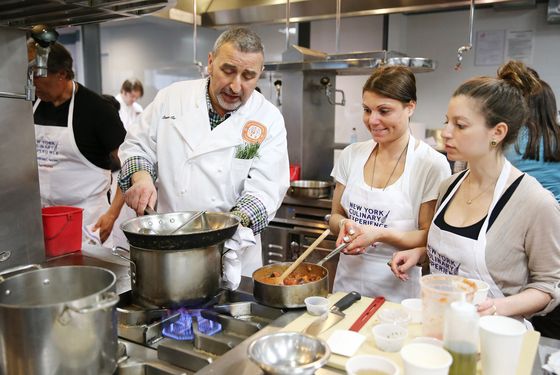 No lid for your pasta pat? Cesare Casella says use a saute pan.Photo: Neilson Barnard/Getty Images for The New York Culinary Experience.

5. Jean-Georges Vongerichten: When cooking fish, stick a thin metal pin right down to the center then touch it to your chin. If the stick is cold, the fish isn't done. If it's warm, that means the fish is cooked all the way to the center and ready to plate.
6. "Milk powder is the MSG of pastry chefs." —Christina Tosi, who says she uses the stuff in "everything" because it makes pie fillings creamier.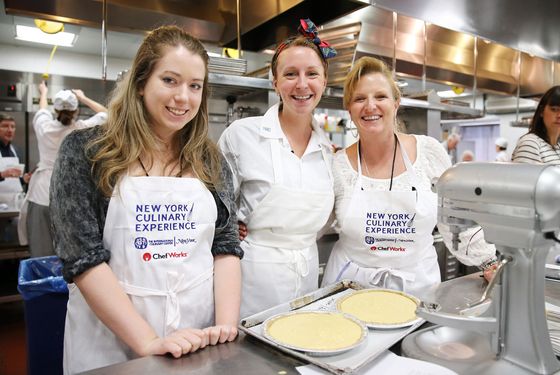 Tosi, with crack pie fans.Photo: Neilson Barnard/Getty Images for The New York Culinary Experience.

7. Dan Barber: When baking with grains, use 75 percent all-purpose flour and 25 percent whole grains like emmer or freekah.
8. Michael Anthony: When making chicken stock, use the skimmed chicken fat to make croutons with a sprig of thyme and a crushed clove of garlic.
9. Dan Barber: The perfect and only ratio you'll ever need for pickling brine is (by volume) nine parts rice wine vinegar, five parts sugar, one part salt.
10. Dan Barber: After you blanch greens, shock them in an ice bath and "dry them like you dry a baby's bottom" to keep the super bright green color. Soggy greens mean faded greens!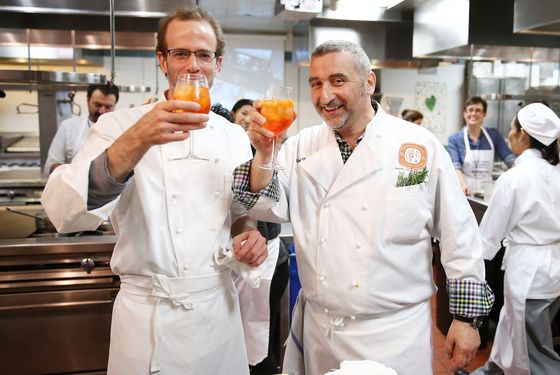 Barber and Casella take a breather.Photo: Neilson Barnard/Getty Images for The New York Culinary Experience

11. None of this "seed your tomatoes and discard the pulp" nonsense for Cesare Casella. "When you find a perfectly ripe tomato," he says, "the seeds are the most flavorful part."
12. Try this one if you cut the nob off a drumstick and roast it, the skin will roll up on its own, and the chicken will come out looking like a fancy lollipop, says Michael Anthony, who also suggests using the tail end of the knife near the bolster for this job.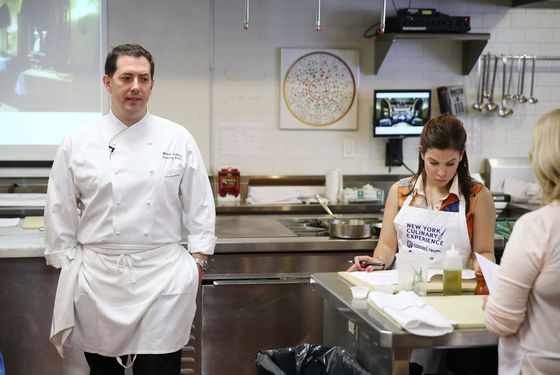 Mike Anthony says leftover bones from roasted chicken make the best stock.Photo: Neilson Barnard/Getty Images for The New York Culinary Experience.

13. Use whole oats when baking instead of quick oats. If you use quick oats, you'll end up making instant oatmeal, which turns to mush when baked. "We learned that the hard way," says Christina Tosi.
14. "Roasting a chicken is a bit of a Barbie complex," says Mike Anthony, who's clearly never gone tanning."You want the skin to be seared but you also want the thighs to be moist and the breasts not to be overcooked." Cook the chicken in a pan on its sides first, then its back. Then throw it in the oven.
15. When peeling asparagus, most cooks throw away the peels. Save them to make a puree to pour onto a place. "At Jean-Georges, we don't waste anything," says Jean-Georges Vongerichten, on root-to-stalk vegetable cooking.
Earlier: We Have Our New York Culinary Experience Giveaway Winner