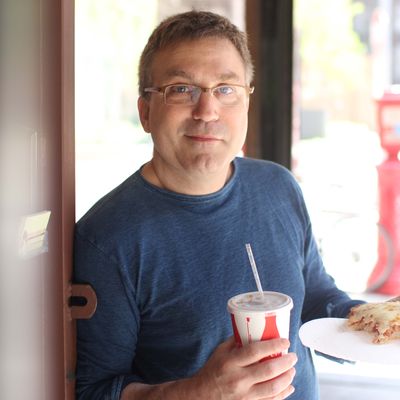 Orkin grabs a Sicilian slice before he splits for Japan.
Photo: Melissa Hom
Ivan Orkin's return to New York has been met with a response you might call rapturous fanfare as people await the opening of his Ivan Ramen shop on Clinton Street, now scheduled for mid-July. ("Hopefully," Orkin says of the date. "We're going through the throes of the build-out.") Even still, he says his own heart is still in Japan: "I didn't leave because I didn't like it. I left because it was time to do a new project." And so, while he gets his New York project together, he still found some time this week to head to Tokyo with his new chef. The goal: "We're gonna eat like motherfuckers." To read all about sushi and intestine hot pots in Japan, a Mission Chinese feast in New York, and lots and lots of ice-cream cake, read on in this week's Grub Street Diet.
Friday, May 17
Morning. Chobani pineapple yogurt — was in a hurry to get out the door.
I stopped at the Essex Street Market on the way to the shop and and bought a 35-cent banana to tide me over until lunch at Mission Chinese Food.
Met friends at Mission and we benefited from Danny's upcoming menu change. We got treated to amazing new dishes: cabbage salad with anchovy dressing, schmaltz-fried rice, unbelieveable rice noodles wtih sausage, and all the other classics. I ate so much I waddled out of the shop.
Power-walked from my shop to get a cortado at Abraço on First Ave and 7th Street. My favorite place for a cup — so deliciously bitter.
Walked through Union Square on my way to Paragon to use a gift certificate I got for my birthday and bought a Martin's Pretzel, probably one of my favorite things to eat. I once schlepped an eight-pound box on the plane back to Tokyo.
My boy turned 13, so we went to the local expat Japanese restaurant and had sushi for 20 bucks — and it's not bad, fun mix of expat Japanese and local Americans. Somehow I think of myself as expat Japanese …
Got home and had Cold Stone Creamery chocolate ice-cream cake. Never much liked their ice cream, but I love their cakes.
Saturday, May 18
Woke up and had a freshly ground cup of Peet's coffee, which I've been drinking religiously since the eighties — have every morning.
Make my wife and 4-year-old — the big kids are still sleeping — breakfast quesadillas with cheese, avocados, and roast turkey. It sounds stupidly simple, but it is delicious.
Lunchtime it's Caeser salad, which I've been playing around with for the shop. It's a silky tofu dressing with a baby anchovy frico. I'm in love with it. More ice-cream cake for dessert.
A lull between meals, so a bowl of Berry Fruitful Kashi cereal with soy milk as a snack. My wife got five boxes for a buck apiece, and it's sort of healthy-ish, so I've been eating it every day, practically.
Fiftieth-birthday dinner for me at my sister's house. They knocked it out of the park with steak, shrimp, and chicken tacos cooked on the grill. And, of course, Cold Stone Creamery birthday cake. This time strawberry — a sacrifice, because chocolate is alway the first choice, but my older sister can't eat it.
Sunday, May 19
Natto and a raw farm egg whipped together on rice with a little scallion. It's one of my favorite breakfasts: creamy, gooey — everything a Western breakfast isn't. I could eat this everyday, but you have to buy special eggs at the Japanese market. In Japan you can eat any egg raw without worry.
I go to Ren's buddy Drew's birthday party, and they have lunch! Roast veg and portobello sandwiches, salad, mac and cheese, and chocolate chip cookies, Pretty fancy for a 4-year-old's birthday party.
Started to reach for a slice of ice-cream cake but found resolve and had a bowl of Kashi cereal with banana and soy milk. Later, my wife made everyone fruit smoothies, and I participated.
Headed to the Bronx with the fam for pho on Jerome Avenue. Great noodles and really funky, delicious bahn mi.
Came home, watched the new Star Trek for the umpteenth time, and succumbed to more ice-cream cake.
Monday, May 20
Grabbed an apple and a Fiber Plus bar — another massive coupon explosion at 60 cents a box. I hope I'll have time for real food later.
Was in the NYU neighborhood eating with the kids. Had a Sicilian slice, which is the first Sicilian I've had since I moved away. It was simple neighborhood pizza but nice and tasty. Meeting in between then, ate at an Asian café and had a grilled shiitake salad. Nice portion and refreshing — exactly what I wanted.
Went to Eataly and looked at a pasta cooker I want to use at the restaurant. I figured I needed some ice cream, and I ended up getting apricot and anisette cookie sorbetto. It was good, but my GM Bill was along for the expedition, and I realized too late I should have gone for the chocolate hazelnut after tasting his.
Walked through Union Square on the way to the train and guzzled an ice-cold cup of apple cider. Not really the season, but refreshing anyway.
Walked through the door and there were three Cryovac'd prime rib eyes that were thawing and ready for the grill. Fired up the Weber, pressure-cooked some potatoes, and made a salad.
Each steak was a pound and a half, but with a bunch of boys staring at me with hungry eyes I wasn't worried about finishing them. With potatoes smashed and slathered with butter and Japanese ginger-carrot dressing, which will make some type of appearance on the menu at the shop — fabulous.
Ice-cream cake for dessert. Somebody help me finish this! It was only me and Ren this time. His had an addition of fresh strawberries, and he was very articulate about how they should be cut and placed on the plate.
Tuesday, May 21
Travel day to Japan.
Yogurt for breakfast: Started with Chobani apple but switched halfway through and finished my wife's apricot Active plus. Also had half an everything bagel with butter and cream cheese.
Had a fantasy of stopping somewhere in Queens for an awesome bite, but the Whitestone was backed up and I just made it to JFK with a few minutes to spare. We went to Terminal 4, where of course three days later Shake Shack was going to open. I settled for a ham and cheese heated in a magic oven.
On the plane I wolfed down peanuts and pretzels and an OJ. Then I broke into my Trader Joe's 78 percent dark chocolate tin.
"Chicken or beef?" Chicken it was, and as usual, I ate my food with embarrassing gusto, carefully slathering my stale roll with Land o Lakes butter, and ranch dressing on my iceberg. I left my shrimp salad untouched, as I always do. Never trust shrimp in coach.
I finished by carefully unwrapping my brownie and enjoying it more than I should have.
Seven hours into the flight I was handed a bag with a tiny ham-and-cheese sandwich and Milano cookies. The banana gets shoved aside; Hellman's squeezed all over my tiny sandwich, which I ate in two bites and followed with the Milanos.
"Shrimp-fried rice or omelette?" I stuck with the no-shrimp rule and took the omelette. Devoured the egg, sausage, and potato with the knowledge that good food was only a couple of hours away.
Wednesday, May 22
Back in Tokyo, and after cleaning up, we went out to my neighborhood sushi shop, which would be a four-star shop in NYC. I was greeted warmly, which is so nice, and we ordered the omakase, which among other things included a konbu-wrapped snapper, perfectly briny uni, and probably the most amazing sardines I've had in many years. After many more items and a delicious cask-aged shochu, we needed more!
We went to a great down-and-dirty restaurant specializing in motsu, or intestines. We got the montsu nabe (hot pot) that simmered in front of us, and as soon as the vegetables wilted, we dug in.
It would have been prudent to stop then, but I hadn't had ice cream yet, and I certainly hadn't had ice cream in Japan yet. I ended up at Family Mart, one of the big chains, and settled in front of the freezer bin. Gari Gari Kun is my favorite ice pop: The middle is chunks of flavored ice wrapped in popsicle ice. My favorite flavor, chocolate, was not there, and the new flavor corn potage is just not for me. So I went for the strawberry mochi monaka. Monaka is a wafflelike thing stuffed with vanilla ice cream, mochi, and strawberry jam. It was good, and finally I was ready to call it a day.