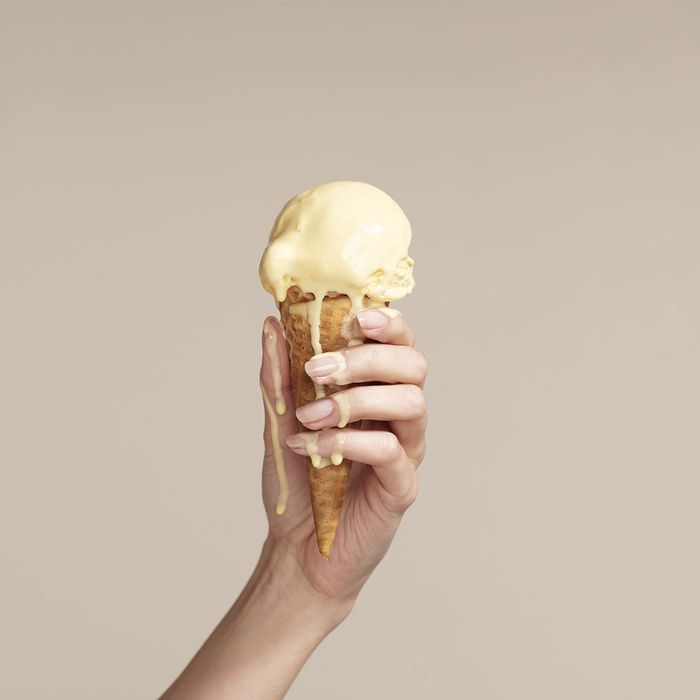 Not cool, ice-cream man. And no, I don't need any Oxy.
Photo: Ocean/Corbis
Yesterday the ice-cream turf wars escalated to a troubling new level when it was reported that two upstate New York Sno Cone Joe vendors were charged with harassment and stalking the competition. The pair had allegedly become entrenched in a bitter feud with rival Mr. Ding-a-Ling and were reportedly "playing their music at high volume and trying to lure away customers with promises of free ice cream." Joshua Malatino and Amanda Scott are even said to have chased Mr. Ding-A-Ling while shouting things like, "This is my town!" and "I own this town!" So, basically, they're amateurs — we've unearthed truly grim ice-cream crimes that involve frozen pee, terrorism, jaywalkers, and more, straight ahead.
April 2013: An ice-cream vendor in Washington state was arrested for using his truck as a love mobile, telling a teenager that she had "the perfect body" for his son. She channeled her inner Liam Neeson, threw her ice cream at him, and ran away.
August 2012: A makeshift ice-cream truck (actually a van with "hand-painted spots") was discovered in Pennsylvania after police received complaints from parents. Lurking among the ice cream were toppings like drugs, needles, syringes, and a decidedly inedible tourniquet.
August 2012: L.A.-based tattoo artist and graffiti artist Mister Cartoon debuts an ice-cream truck that prominently features a homie-clown pouring a 40 over the exposed derrière of a lady named Vanilla who has a waffle cone bra, while another clown pulls her hair and a rottweiler looks on stoically.
August 2012: Rival kosher ice cream men start an all-out war in the Catskills. Intimidation, threats, and vandalism are the weapons of this cold war. Camp kids everywhere lose out.
July 2012: Mount Pleasant police arrest Wisconsin ice-cream man Albert Amaya for drunk-driving after neighbors complained he was blasting his jingle on a residential block at 1:52 in the morning. When responding officers asked what he was doing, Amaya responded, "I'm selling ice cream."
March 2012: A Florida ice-cream man was arrested for having sex with a prostitute in his truck. Things got even stickier during the arrest: She insisted on $30 for her services, but the driver claimed that he agreed to pay her a measly $10, or the equivalent of three cherry-pineapple Astro Pops.
May 2011: An ice-cream man in Philadelphia was busted for driving drunk with boxes of wine and bottles of urine in his freezer. Specialty: yellow sno-cones!
May 2011: Two Pennsylvania ice-cream men try to run each other off the road after one vendor yelled out a friendly hello and the other retaliated with expletives.
March 2011: A Staten Island drug-trafficking ring used an ice-cream truck to push oxycodone. Customers in the loop asked for the "special" sprinkles.
December 2011: A Utah woman sprayed her friendly neighborhood ice-cream man with "industrial-strength cleaning solution" to protest his high prices. She proceeded to threaten to kick an arresting officer "in the balls."
August 2010: A speeding ice-cream truck slammed into a dancing jaywalker. The man survives, which he attributes to being "overweight." (Warning: The video below gets real violent as soon as the ice cream truck comes into the picture.)
September 2010: A Sacramento man selling ice cream from his bike was doused in bleach by a woman who claimed she'd been short-changed; she was arrested for assault with "caustic chemicals." Sacramento has a weird history of violence of ice-cream vendors involving whiteners: In 2009, a 14-year-old boy was arrested for throwing chlorine into an ice-cream truck.
July 2009: Police realize that a Leavenworth ice-cream truck that sold weed also happened to be filled with feces.
January 2009: Dwight Bell of Pennsylvania's Daddy D's Sweets & Treats was ticketed $50 for causing a public disturbance with his grating jingles.
September 2008: The Anarchist Ice Cream Truck hits the Upper East Side of Manhattan. Somewhat deplorable sample flavors include "Black Panthers," "Know Your Rights," and "Graffiti Liberation." Scoops and leaflets on subjects like how to "confront the rhetoric of 'Big Brother'" are free.
June 2008: Creepiest ice-cream truck ever observed and filmed; eerie van even makes house cats freak out. (Warning: strong language in video.)
November 2005: A tipsy ice-cream man was arrested in Wisconsin for driving his truck while intoxicated; he later showed up to his court date "reeking" of alcohol and was arrested yet again.
August 2005: An improbable fact is revealed during an investigation of counterfeit Mr. Softee trucks. "Some private truck drivers have held tape recorders up to our trucks," says James Conway Jr., an ice-cream-company executive, "and stolen our jingle to play on their own trucks."
September 2005: A Detroit ice-cream man was arrested for offering free cones to kids in exchange for obscene photos. He also showed nude photos of himself to customers and asked female patrons to kiss one another so he could take pictures.
February 2005: Kuwaiti officials unearthed a militant plot to load ice-cream trucks with explosives, detonating them as U.S. convoys passed by. Luckily, the plot was foiled.
April 2004: In the Bronx, Fernando Esparza used a wrench to beat sixtysomething husband-and-wife ice-cream vendors for encroaching on his turf, causing multiple skull fractures and internal bleeding.
July 2000: A Florida couple was arrested for severely abusing their son — including stripping him, whipping him with an extension cord, locking him in a bathroom, and forcing him to eat raw onions. They also ran a popular neighborhood ice-cream truck.
May 1984: Mister Softee driver Michael Larson wins $110,237 by gaming the show Press Your Luck, setting a bad example for future ice-cream men everywhere.
Related: Dark Meat: A Brief History of Pork-Chop-Related Violence