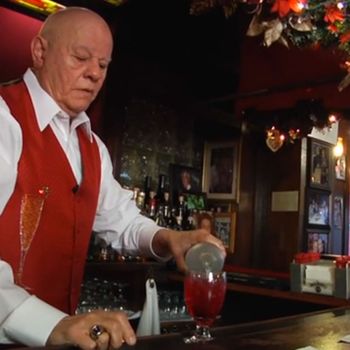 Filmmaker Douglas Tirola spent nearly three years chronicling bartender culture around the country, not only talking to icons Sasha Petraske, Jim Meehan of PDT, and Julie Reiner of Clover Club, but also to the old guard, such as Nicky "the Vest" Zaloumis of Rao's, and personalities like the always thoughtful Graydon Carter. Tirola's new documentary, Hey Bartender, which begins playing next month at Village East Cinema, gets into the heads of those behind-the-bar luminaries, who in the process revealed a very close look at the inner workings of New York's late-night cocktail subculture.
Tirola and his crew arrived at the bars before they opened for the evening and would stay there well after they closed for the night, and one of the first things he noticed was a brazen flouting of the city's anti-smoking policy. "They're in there smoking till 5:59 p.m. and then again at 4:01 a.m.," he says. "The guys behind the bar get to work at two or three o'clock. It would not be unusual at that time to see the guy is cutting a lemon or lime and smoking a cigarette." Also: Tater tots at Daddy-O on Bedford Street are the post-shift-drink cure-all for some Employees Only bartenders, who also get a big boost from the hearty chicken soup their own bar breaks out nightly at 3:30 a.m. and serves to patrons. "The idea of it is: have a good night, get home safely," said Tirola.
In the exclusive clip below, various cocktail luminaries weigh in on what other qualities make for a ideal bartender, other than a very hard shake.
Hey Bartender screens in New York starting June 7 at Village East Cinema. Buy tickets here.