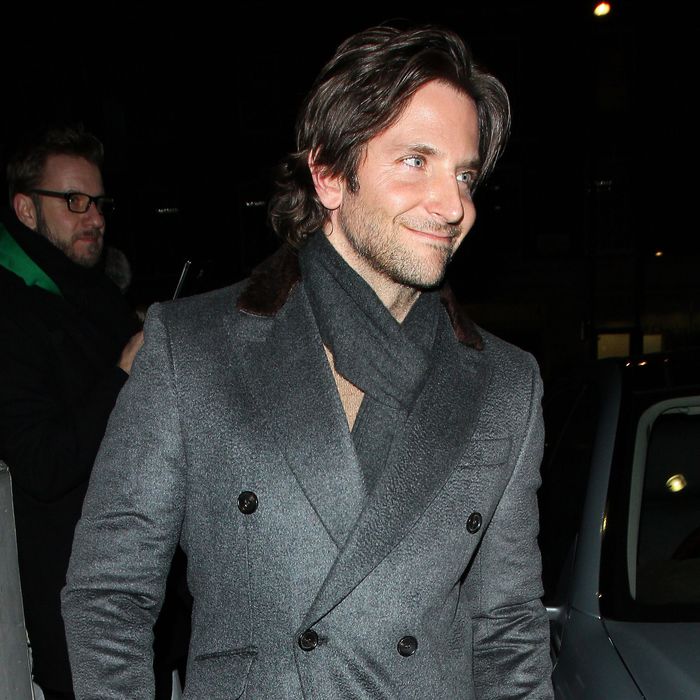 Time to shed those layers.
Photo: Mark Milan/FilmMagic
The Met Ball got celebrities in a tizzy for its "Punk: Chaos to Couture" theme: Exes Ryan Seacrest and Julianne Hough had a tearful bump-in, Leo DiCaprio "kept his distance" from former girlfriend Gisele Bundchen, and a broken-up Rihanna and Chris Brown tried to out-party each other in disastrous ways. The madness continued as Lauren Hutton freaked out at a D.J. and Gerard Butler chatted up married Miranda Kerr. Once again, our weekly roundup of celebrity insanity — er, dining.
1Oak: Jay-Z, Jake Gyllenhaal, Lil Jon, and Leo DiCaprio hit the Chelsea bar at 3 a.m. after a Gatsby screening at Lincoln Center. [NYDN]
40/40: Following her breakup with Chris Brown, Rihanna watched the Mayweather boxing match at the flatiron club. Later, Psy partied with a Korean posse and lots of Johnny Walker Blue. [Page Six/NYP]
The Ainsworth: Joe Jonas caught a game and snacked on sliders at the Chelsea sports bar. [Page Six/NYP]
The Beatrice Inn: Anna Wintour and Graydon Carter hosted cocktails before a screening of the Venus and Serena Williams documentary. Swanky. [Page Six/NYP]
The Bowery Hotel: Lauren Hutton attended a benefit and got testy with a D,J. "Turn the [bleep]ing music down … I can't hear myself think," she said. [Page Six/NYP]
El Toro Blanco: Mario Batali and Rachael Ray toasted Cinco de Mayo at the West Village restaurant. [Page Six/NYP]
Foragers Market: Anne Hathaway waited outside the Dumbo food emporium in the rain while her husband bought her juice inside. [People]
The General: Sting dropped by the Lower East Side spot for a screening of daughter Mickey Sumner's film. [NYDN]
Gemma: Robert Pattinson and Katy Perry shared some laughs with two friends at the Bowery wine bar. No word on whether there were "fireworks." [HollywoodLife]
The Griffin: Chris Brown did his usual repulsive thing at the meatpacking club, buying several $15,000 Champagne bottles for twenty pals and dancing shirtless on a table. [Page Six/NYP]
The Jane: Like a page right out of The Great Gatsby, Leo DiCaprio attended a pre-Met Ball party flanked by a bunch of models as his ex Gisele Bundchen stood at the opposite side of the room with husband Tom Brady. [Page Six/NYP]
The Lambs Club: Gerard Butler chatted up married Miranda Kerr at the Times Square restaurant. He asked photographers to erase shots of them together. [Page Six/NYP]
Mark Bar: Brits Sienna Miller, Tom Sturridge, and Michelle Dockery hit the Upper East Side hotel bar before the Met Ball. Scarlett Johansson later waved a flag for America by partying at the hotel till 3 a.m. [Page Six/NYP]
McCormick & Schmick's: Bradley Cooper, Ed Helms, and Zach Galifianakis reunited at the midtown seafood restaurant. [Page Six/NYP]
Old Homestead Steakhouse: The Mad Men cast went Method once again, this time dining at the meatpacking steakhouse and downing martinis before stepping out for a smoke. [PageSix/NYP]
Soho House: Julianne Hough had a tearful encounter with ex Ryan Seacrest at the meatpacking members' club. [Page Six/NYP]
The Standard Grill: Florence Welch's Met Ball gown almost caused public endangerment at the meatpacking restaurant. [Page Six/NYP]
Top of the Standard: After acting like a wet blanket, Tiger Woods got his groove on with date Lindsey Vonn thanks to mojo-whisperer Tyson Beckford. Madonna and Kirsten Dunst were also in attendance at the hotel's Met Ball rooftop after-party. [Page Six/NYP]
Willow Road: Emma Roberts and Jessica Stam celebrated the birthday of the Chelsea restaurant's owner, Will Malnati. [Page Six/NYP]
The Windsor: Chace Crawford downed vodka sodas while watching the Knicks game at the West Village sports bar. [NYDN]