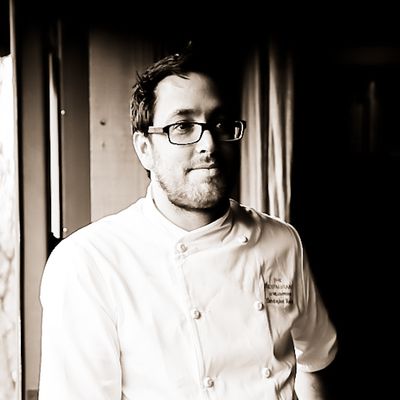 Coming to NYC
Photo: Courtesy of Christopher Kostow/Great GoogaMooga
On Tuesday, we asked readers to tell us why they should get free tickets a special Chef's Counter event at GoogaMooga, to be cooked by the three-Michelin-starred, and JBF-award-winning California-based chef Christopher Kostow during the event. We heard a lot of entertaining reasons and various bits of rationale — one reader wanted to make Aziz Ansari jealous, for example, and another mentioned a grandmother who made a GoogaMooga-esque drink called the "Guggle Muggle." In the end, however, there are seven lucky winners, who will each be able to bring one guest to Kostow's Chef's Counter for a 45-minute tasting on May 18. Some of their best lines, straight ahead.
• CHase55, who has worked in restaurants for a long time and quoted Kostow speaking about his his enduring respect for the lowest cooks on the line.
• sfsf142, who is originally from California, and wrote, "I rarely get to leave this concrete jungle now to fly out West due to work but would love love love to have a little taste of home out East. Pretty pretty please!"
• baconsteakeggs, who is studying food service management, who says, "I admire farm to table chefs and the combination of an all day concert and being able to watch a professional chef sounds amazing. I want to be a chef one day and this is a great inspiration for me."
• HungryInNewark, a young industry professional, who wrote that the chef's counter would be a "truly remarkable and memorable learning experience."
• bkguy83, who killed it with this poem:
A seat at his counter is the ultimate is the ultimate prize,

Don't be swayed by pity stories and assorted lies.

A resort in Napa is a far cry from the Borough of Kings,

But Kostow will still be transcendant a few blocks from where Beyonce sings.

As the Meadowood chef comes flaunting his Beard,

Showcasing classic California instead of Brooklyn weird.

A young master already with three stars,

With the looks of someone who could clean up in hipster bars.

So choose the entry that matches this chef's lore,

And if he's good as advertised, I'll head out west and sample some more!
• Galaxygirl, who took a holistic approach and wrote about food being an "all-encompassing experience."
• Finally, ncy2nyc, who kept it short and sweet with this list:
1) I will still be hungry after five hours of GoogaMooga perusing and binge-eating.

2) I've always dreamed of eating Michelin three-star food in the middle of an urban park.

3) I will love the opportunity to force my foodie friends to hold a humiliating contest to see who will be joining me at the tasting

4) I've already used up all my 2013 tasting menu money with Blanca. That shit is expensive. This shit is free.

5) I spent a decent portion of my work day coming up with what to say in these five sentences.
Congrats to the lucky ones above. Make sure to check the e-mail linked to your commenter account for details on how to confirm your reservation.
Earlier: Win Tickets to Chef Christopher Kostow's Chef's Counter at the Great GoogaMooga
Earlier: Here's What Everyone Will Be Serving at the Great GoogaMooga