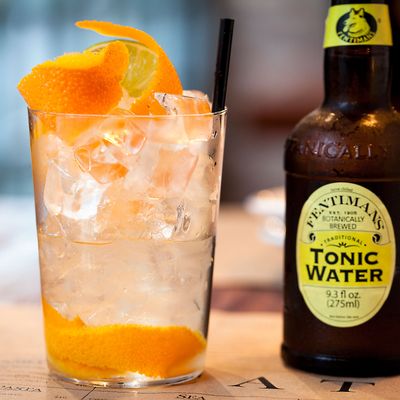 Cata specializes in Spanish gin and tonics. This one has orange peels, Spring 44 gin, and Fentimans tonic.
Photo: Dominic Perri
If it's nine o'clock on a Saturday, you should be making love to your tonic and gin. The cocktail, which is super popular in Spain right now, is also having a major resurgence in New York City. Good-quality gin and tonic water are essential, but bartenders are adding an arsenal of custom garnishes, too: You'll find additions like muddled raspberries, coconut water, and even horseradish in the drink. We've rounded up exotic versions of the classic cocktail at bars and restaurants around the city, ensuring that you'll have a strong buzz all spring and summer long.
La Vara
What's in It: Well, there are two great choices: Tanqueray Gin is mixed with homemade quinine syrup in one, and there's also the equally stellar and definitive Spanish roadside version served here, made with Plymouth gin and Fever-Tree tonic, and a horse's-neck lemon peel that topples over the rim of the ice-filled glass.
ABC Cocina
What's in It: The Gin and Coconut Water is a tad healthier than your regular order, boasting electrolytes as well as the buzz. It's made with Warwick gin, lime, and pressed ginger.
Cata
What's in It: There are 24 gin and tonics on the menu here, made with ingredients like Thai basil, horseradish, cinnamon, licorice root, cilantro, and star anise. Fever-Tree tonic is used in most of the drinks, and the gin lineup includes Beefeater, Martin Miller's, Death's Door, and Farmer's Organic. Adam Platt's a fan.
Alder
What's in It: The "Zereshk Is History" cocktail is crafted with gin, zereshk berry (a sun-dried super-fruit that's cooked in molasses here), grape-must, and, of course, tonic. Evoking the restaurant's name, this one comes with a birch straw.
Tertulia
What's in It: Shishito-pepper-infused gin, organic tonic water, fresh lime, and sea salt are in the Tertulia G&T.; It's not always on the seasonal cocktail menu, but the bartender will make it if you ask.
Dead Rabbit
What's in It: Downstairs, the tap room uses its exclusive Orinoco bitters (made in Aberdeen, Scotland), as well as Beefeater gin, lime essence, and Fentimans tonic water for its Gallus Mag drink, a riff on the G&T.;
Milk & Honey
What's in It: In Murray Hill, you'll find an expertly made cocktail called the "Florodora," with raspberries, lime, and ginger added to gin and soda.
Gin Palace
What's in It: Of course this East Village bar has a gin and tonic on tap. It's accented with grapefruit bitters and Bittermen's Commonwealth, a tonic liqueur.
Jarro
What's in It: The bartenders at this Boerum Hill restaurant add fresh mint, lime, and sugar cane to a gin and tonic for the "Fresh Dream" cocktail. The additions are simple, but make a difference.
Casa Pomona
What's in It: The Upper West Side has three savory, sweet, and sporty versions of the drink on its menu. "Fruity" comes with Death's Door gin, muddled blueberries, agave, and lemon; "Citrus" with Bulldog gin, mandarin orange puree, tonic, and cava; and the "Vegetal," with Hendrick's gin, tomato, pickled pepper, and cucumber.
Boqueria
What's in It: Two gin and tonics are on the menu at the Soho and flatiron locations of the Spanish restaurant. One is made with Junipero Gin, Q Tonic, lime, and basil. The other has G'Vine Nouaison small-batch gin, tonic, grapes, and oranges.
Whitehall
What's in It: The Whitehall G&T; is super fancy — Greenalls Gin, seasonal jam, apricot, lemon, sparkling wine, and "handcrafted" Tomr's Tonic.
The Breslin
What's in It: A "Lavender Tonic" is composed of Beefeater Gin with lavender bitters, mint, and bitter lemon tonic. And the equally springtime-appropriate "Garden Tonic" includes Hendrick's Gin, cucumber, celery bitters, and tonic.