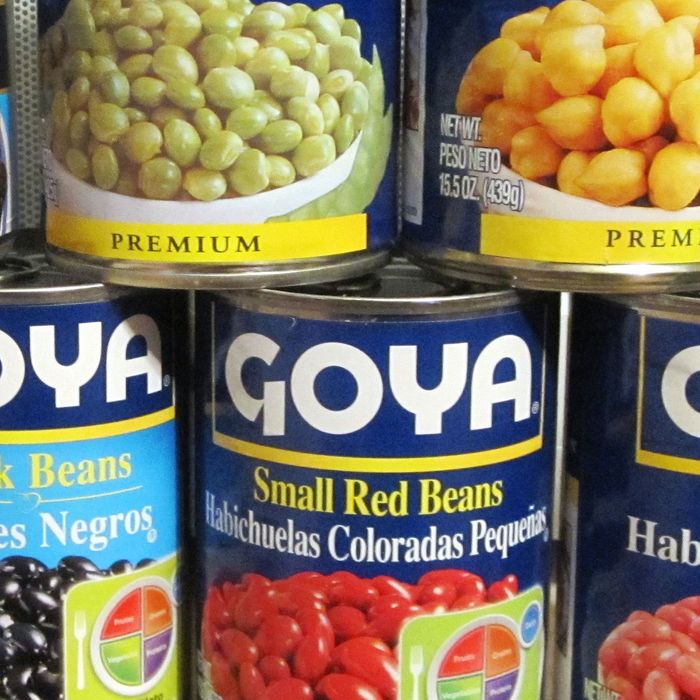 Billions and billions of beans.
Photo: Tobyotter/Flickr
The May issue of Forbes includes a fascinating story on Goya Foods, the biggest Hispanic-owned food company in the U.S. The New Jersey-based company makes a killing selling products like canned corn, low-sodium beans, and chipotle peppers. It's actually one of the fastest-growing companies in the nation, and a decision made a couple of years ago to market to non-Hispanics has paid off. If you're an entrepreneur or just a big fan of Adobo seasoning, read on.
1. The founder purchased the name Goya from a Moroccan sardine-importer for $1 in 1936. He was a fan of the artist Francisco Goya. It's unfortunate that the company does not sell sardines. Hello, heritage?*
2. Marketing directly to non-Hispanics caused the company to go from successful to super successful: Revenues reached $1.3 billion in 2012. That's a lot of refried beans.
3. Goya keeps it in the family: Fifteen relatives work at the 3,500-person company. But none of the family members have appeared on The Real Housewives of New Jersey. This is a disappointment.
4. The company is doing a good job at expanding without alienating its Latino customer base. Goya is currently building a distribution facility in Texas to bring more products to Mexicans and Mexican-Americans. Smart business strategy.
5. A poster of Eva Longoria hangs in the company's lobby. We're pretty sure it's this cover. We'd like someone at Goya to put a sign below this that reads, "Body by frozen mixed vegetables."
How Goya Became One Of America's Fastest-Growing Food Companies [Forbes]
*This post has been corrected to show that Goya does in fact make sardines. Hooray!