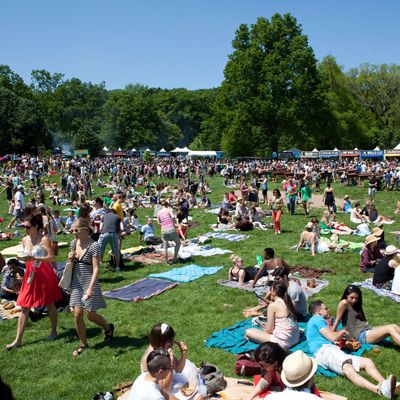 Hopefully it won't be as crowded this year.
Photo: Nicole Franzen
Big daddy of food festivals the Great GoogaMooga beats its belly at Prospect Park from May 17 through May 19. While event highlights include a discussion on food porn and a Flaming Lips performance, let's direct our lips to the food, shall we? Highlights include porky melts from Pork Slope, oysters bolognese from M. Wells, and a snail paella from Boston-based Toro (which will open in New York in May or June). With a whopping 80 or so food vendors on Googa grounds, an eat-inerary is necessary. Luckily, we've got a list of what everyone's serving so you can allocate your stomach space accordingly.
Back Forty: Harissa-smoked lamb served over a pickled vegetable and grain salad, with spiced yogurt
Baked: Brookster, a chocolate chunk cookie baked inside a deep dark brownie, and Sweet & Salty Brownie, a salted-caramel-infused deep dark brownie with fleur de sel
BaconLand: Bacon flights
Baohaus: Fried coffin bao bread stuffed with double fried all-natural chicken, chili condensed milk, crushed peanuts, Taiwanese red sugar, and fresh cilantro
Beecher's Handmade Cheese: "World's Best" mac and cheese
The Big Banana: Chocolate-dipped frozen bananas with peanut and sea salt, toasted coconut, and dark chocolate
Big Gay Ice Cream: Ice cream cups — vanilla with bourbon butterscotch and coffee with cocoa nibs
Blue Marble Ice Cream: Single scoops in four flavors, including a vegan option
Blueprint Juice: Green juice and pineapple, apple, and mint juice
Bromberg Bros.: Blue Ribbon fried chicken wings
Brindle Room: Cheeseburger made from house-ground deckle
Brooklyn Soda Works: Carbonated fresh juices; small-batch handcrafted sodas on draft, all made with fresh seasonal fruit and herbs
Burger Joint: "The Works," a juicy cheeseburger with white and yellow Cheddar, lettuce, tomato, pickles, onions, ketchup, mayo, mustard
Calexico: Grilled quesadilla with roasted mushroom, goat cheese, sweet corn, and huitlacoche
Caracas Rockaway: La Mamasita, grilled wild mushrooms, roasted corn, Venezuelan chile "aji dulce", cotija cheese, sweet plantains, and avocado
Char No. 4 : Grilled Cajun shrimp over dirty rice with Andouille aîoli
Colicchio & Sons: Pork belly tacos on corn tortillas with cabbage slaw and crema
Craftbar : Confit and cured beef tongue pastrami with Swiss cheese, beer mustard, crispy potatoes served on a bun with dill pickles
Crawfish Monica®: Crawfish tails in a spiced cream reduction sauce over pasta
Crif Dogs: Chihuahua Dog, a bacon-wrapped beef and pork dog, with avocado and sour cream paired with marinated beets
DBGB Kitchen and Bar: Käsekrainer sausage on a Kaiser roll with ramps, spring onion, and mustard
Dinosaur Bar-B-Que: Hand-pulled pork on a roll with barbecue sauce, served with barbeque beans, pork, and cole slaw
Dirty Bird To Go: Free-range buttermilk-dipped fried chicken strips with honey dijon and barbecue sauce
Do or Dine: Foie-gras-filled jelly doughnuts (doughnuts provided by Dough)
DuMont Burger & Shakes: Mini-burgers (beef with house marinade) on brioche buns with American cheese, housemade pickles, tomato, onion; vanilla milkshake
Eataly: Arancini
Fatty Cue: Bastard barbecue pulled pork sandwich, pickles, Fatty Cue's bastard barbecue sauce, potato roll, housemade chips
Free Bread: Toasted gluten-free cashew butter and blackberry jam sandwiches on signature gluten-free roll
Gwynnett St.: Traditional whiskey bread with Vermont cultured butter and assorted spreads
Hill Country Barbeque Market: Beef Brisket, smoked with post-oak wood shipped straight from Texas and accompanied by a cucumber and onion salad
James: Duck Corn Dog, a rich duck sausage coated with cornbread, and then deep-fried
Jeepney : Pinoy Corn Slider with bagoong, mayo, queso puti, and toasted garlic; Chori Slider with beef and longganisa, spicy Jufran, and magi aïoli
Jeffrey's Grocery: Crab-cake sandwich with soy-ginger mayo, pickled jalapeños, and iceberg lettuce on a potato roll
Joe: Iced cold-brew coffee; iced cold-brew lattes
Joe's Pub : Sweet 'n' Sour St. Louis ribs; pork spare ribs rubbed with spice, slow-cooked for six hours, glazed in Asian inspired sauce, and finished with sesame seeds and scallions
Joseph Leonard: Fried-chicken sandwich with cucumbers, radish, honey tabasco, and mayonnaise on a ciabatta roll
Kasadela: Tebasaki wings (Japanese-style chicken wings)
La Newyorkina: Paletas and Paletitas (Mexican-style ice pops)
Landhaus: Grilled maple-bacon skewers with pickled vegetable slaw
Liddabit Sweets: Cotton candy with organic maple sugar, spun on a pretzel rod; caramel corn with bourbon, maple, coffee, and candied bits of real bacon; caramel corn with pecans and a dark chocolate drizzle
Little Muenster: Grilled cheese sandwiches with Gruyère or muenster, served with pickled caramelized onions and arugula
The Lobster Place: Half split-grilled lobster; Maine lobster, split-grilled and served with hot drawn butter
Luke's Lobster: Lobster Roll, Maine style, served chilled atop a buttered and toasted New England split-top bun with a swipe of mayo, sprinkle of lemon butter, and a dash of secret spices
M. Wells: Oysters Bolognese; surf-and-ground turf
Maison Premiere: Grilled oysters with sauce verte
Max Brenner Chocolate Bar : Dark chocolate fondue with fresh strawberries, marshmallows, and shortbread drops; Milk Chocolate Syringes, a milk-chocolate-ganache-filled syringe
Melt Bakery: Ice cream cookie sandwiches, authentic old-fashioned cookies paired with creamy and delicious, premium ice cream
Mile End: Smoked meat sandwich with potato salad and sour pickles, all-natural Certified Angus Beef brisket, dry-cured for twelve days in house spice blend, smoked for sixteen hours over white oak, hand-sliced, and served on seeded rye bread with deli mustard
Mille-Feuille Bakery Cafe: Almond croissants and macarons
Miss Lily's Jerk Hut: Triple jerk chicken, chicken (leg and thigh) grilled with Miss Lily's jerk marinade
Momofuku Milk Bar: Crack Pie, Compost cookies, Cornflake-Marshmallow-Chocolate-Chip cookies, Blueberry & Cream cookies, Birthday Truffles, Rainbow Cake Crumble and Sprinkles, Ice Milk, Cereal milk, and Italian Ices
Mother-in-Law's Kimchi : Mother-in-Law's Cold Kimchi Noodle Salad, soba noodles with Mother-in-Law's spicy kimchi sauce
Northern Spy Food Co.: The Egg Beggley Jr., fried eggs, kale, potato hash, and Chimichurri with pickled peppers and onions on a bun
Num Pang Sandwich Shop: Duroc pulled pork Sandwich — pulled pork served on toasted baguette with pickled carrots, cucumbers, cilantro, and signature chili mayo
Pat LaFrieda Meat Purveyors: Pat LaFrieda's original filet mignon steak sandwich — Pat LaFrieda's reserve, 100 percent black angus, hand-cut beef, Vermont Monterey jack cheese, sautéed sweet vidalia onions, and beef au jus on a locally baked and toasted french baguette
People's Pops : Fruit Ice pops and shave iced
Pig & Khao: Spare ribs with Asian barbecue sauce and coleslaw
PizzaMoto: Wood-fired Margherita pizza by the slice
Pok Pok Phat Thai: Phat Thai Thamadaa — thin rice noodles cooked in rendered pork fat with tamarind, fish sauce, palm sugar, peanuts, dried tofu, dried shrimp, preserved radish, egg, garlic chives, bean sprouts, and chili powder
Porchetta: Porchetta Roll — slow-roasted pork loin wrapped in pork belly stuffed with garlic, sage, rosemary, wild fennel pollen Sicilian sea salt, and black pepper, and then roasted for six to eight hours and served on a Grandaisy ciabatta roll
Pork Slope: Porky Melt — Cheddarwurst patty and caramelized onions on marble rye with yellow mustard
Prospect: Foie gras hot dogs
Red Hook El Olomega Pupusas: Pork and cheese pupusas, a traditional Salvadoran dish made of a thick, handmade corn flour filled with a blend of meats, vegetables, and cheeses
Red Hook Lobster Pound: Crustacean Elation Maine Lobster Roll, quarter-pound authentic Maine Lobster served on a top-split grilled bun
Rippers: Beach Burger, a combo of bun, patty, pickles, lettuce, onions, sauce
Roberta's Pizza: Margherita Pizza — mozzarella, tomato, basil, olive oil; famous original with pepperoni — mozzarella, caciocavallo, parmigiano, tomato, oregano, chili flake, Biellese pepperoni
Robicelli's: Car Bomb Parfait — Guinness stout brownie made with Bailey's ricotta crème, Jameson whiskey chocolate sauce, and beer nut praline
Rosemary's Enoteca and Trattoria : Vegetable antipasti — Brussels sprouts with balsamic mostarda, chickpeas with smoked onions and sundried tomatoes, and spicy cabbage with pecorino and almonds
Salvation Taco: Cochinito tacos with wood-fired, roasted pineapple and avocado salsa
Saxelby Cheesemongers: Salvatore ricotta crostini — Brooklyn-made ricotta on Sullivan Street bread, drizzled with honey and sea-salt
Seersucker: Black-eyed-pea falafel with New York argyle yogurt and benne seeds
SlantShack Jerky: Beef Jerky — 100 percent grass-fed beef; jerky is handmade on a family farm in Northern Vermont
South Brooklyn Pizza: Margherita pizza
Sun In Bloom: Earth Cup of coconut-kefir and granola parfait with fresh fruit
The Meat Hook: Barbecue bacon sandwich — house-cured and smoked bacon on a Martin's roll with spicy slaw and barbecue sauce
The Meatball Shop: BBL — spicy pork balls, bacon, lettuce, and tomato on an Il Forno ciabatta roll with arugula salad, apples, chives, and an apple cider vinaigrette
Third Rail Coffee: Espresso, cortado, latte, cappucino (iced or hot)
Tia Pol: Crispy calamari with lemon and aïoli
Toro (Boston): Braised rabbit with burgundy snail paella with green garlic, romesco, and spring vegetables
Umami Burger: Truffle Burger — signature beef patty, housemade truffle cheese, truffle glaze
Vinegar Hill House: Fried soft-shell crab sandwich with mayo negra and shaved iceberg lettuce on a Martin's potato bun
Willow Road: Charred bean salad with mustard seed, pepitas, and smoked paprika