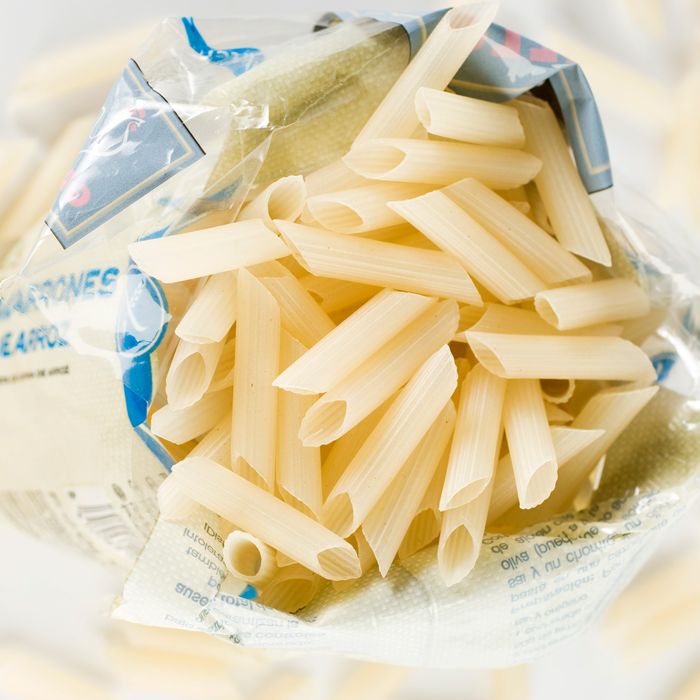 Even the most traditional, old-school Italian groceries stock gluten-free pasta.
Photo: Laurence Mouton/PhotoAlto/Corbis
"Gluten-free" is one of those phrases that drive food people crazy. Like pescetarians and people who believe vodka to be less caloric than other alcohol, diners who avoid gluten often seem to be following a fuzzy health craze that has more to do with opportunistic marketing than real science. But chefs and bakers still have to confront the reality of gluten-averse customers, and surprisingly, their efforts to satisfy this growing demographic are transforming "gluten-free" food options from stigmatized substitutions into everyday menu items.
For the uninitiated: When people talk about gluten, they're referring to a protein in grains that form strong bonds in dough. It's what makes a pasta shape like orecchiette hold its shape when it's boiled: Naturally occurring gluten is what gives pasta its form.
Some people really do have a medically diagnosed intolerance to gluten — a condition called celiac disease that affects less than 1 percent of the U.S. population — and coming into contact with it causes their immune system to act up, and they can become terribly ill. But a growing number of diners who don't suffer from that ailment, which is actually an autoimmune disorder that is often very difficult to diagnose, are claiming that cutting gluten out of their diets improves their energy level and generally makes them feel better. Studies don't seem to show much benefit, but that doesn't matter: Whether it's a placebo effect or not, plenty of diners believe gluten is an enemy of healthy living — and chefs have realized that they need to cater to this clientele.
"I first noticed it in 2008," says Nick Anderer, now the chef at Danny Meyer's Maialino, who was working in Rome at the time. "I was working in a couple different restaurants, and in both kitchens I'd go downstairs into the pantry areas and they'd have all these boxes of gluten-free pasta. We'd sell fifteen to twenty a night, maybe out of a hundred covers." It wasn't a fluke: "At first I thought it was an anomaly, but then I'd go work at the second restaurant and see the same thing."
Interestingly, gluten-free pasta has even been catching on in Italy. ("Telling an Italian that they can't eat pasta is like telling someone they can't breathe," Anderer says.) The pasta aisle at the old-guard Italian grocer D. Coluccio & Sons in Borough Park is now stocked with things like imported cappellini and rigatoni that are made with rice bran, potato starch, chestnut flour, spirulina, and spelt instead of traditional flour.
When Anderer opened Maialino in 2009, he offered Rustichella d'Abruzzo, an organic corn-based spaghetti, to guests with gluten sensitivities. "We kept it really under the radar for a while," he says. After all, the restaurant's showpiece bread station is practically a monument to the wonders of gluten, with its piles of housemade focaccia and fresh-baked country bread.
But as demand for the gluten-free product grew, Anderer noticed that corn-based pasta didn't go well with many of the restaurant's sauces. So he started experimenting by making gluten-free pasta in-house. Maialino now uses a special rice flour blend from Caputo to make fettuccine and two other pasta shapes that are matched to twelve or so sauces on the menu. (Anderer admits that no matter how rigorously they keep the gluten-free product separate from the rest of the food, there is still too much gluten in the kitchen for some people: "Anyone who's supersensitive can't eat this.")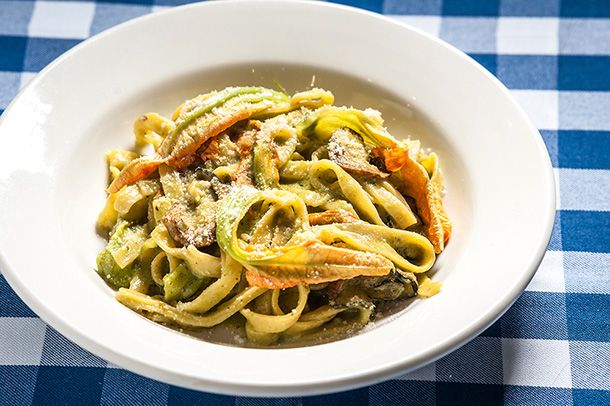 A plate of gluten-free pasta at Maialino.Photo: Noah Fecks + Paul Wagtouicz

And Maialino is far from the only high-end Italian restaurant working with gluten-free pasta. Customers at Mario Batali and Joe Bastianich's Del Posto typically get two servings of pasta during any single meal. After an uptick in requests — from up to 30 guests a night — for gluten-free pastas, chef Mark Ladner's kitchen tinkered with alternative flours, including ones milled from beans. "We felt it unfair for some guests to have uneven or less soulful pasta experiences than the others in their group," he says. Eventually, Del Posto settled on using a product called Cup4Cup, a gluten-free flour alternative developed by Thomas Keller protégée Lena Kwak. (Some call Cup4Cup — a combination of ingredients like rice flour, milk powder, and xanthan gum — a game changer; critics point out that three pounds cost $19.95 at Williams-Sonoma, which is about a 700 percent price markup over regular all-purpose flour.)
But regardless of how they make it, chefs like Ladner and Anderer have proven that gluten-free pasta can stand up against the regular stuff. As a result, the category commands far more respect than it did five or six years ago.
Interestingly, the next battlefield for gluten-free products is where the term first started to gain prominence: bakeries. At San Francisco's Tartine, owners Chad Robertson and Elisabeth Prueitt produce some of the nation's most highly regarded breads, scones, and croissants. Prueitt, however, is gluten-intolerant, which inspired Robertson to seek out several dozen obscure types of grains and begin experimenting with them. What began as an attempt to avoid gluten has unquestionably pushed Tartine's bread forward and turned heads in the professional baking community. A Wall Street Journal story called them "baking's power couple."
Karen Freer, a former office worker with celiac disease, started Free Bread last year after losing her job. Now her breads are carried by Whole Foods in New York (in the freezer section) and at several other high-end grocers. Freer also has a wholesale business, and her breads are also currently distributed through Tom Cat Bakery to restaurants throughout the city.
But gluten-free baked goods have proven more problematic than pastas, where inconsistencies can be masked with sauces and cheese. "In order for gluten-free to be delicious, a person really has to know how to bake," says Shuna Lydon, the talented pastry chef who now works at Bklyn Larder. "The thing about alternative baking is that if you're omitting flour or omitting sugar or eggs, those are foundational ingredients, and at the same time you need to know why these things are there in the first place."
Lydon says she'll start selling her own no-gluten baking mixes this fall, since products like Cup4Cup and other substitutes don't work as well for pastries. "Almost all of the mixes on the market have legume flours in them — fava flour, garbanzo flour," Lydon says. "So if you close your eyes and sort of think about it, do you really want to eat something with raw garbanzo beans or a chocolate cake that tastes like soy?"
Lydon and Anderer both emphasize the product can't just look like the one it's replacing, but it must also taste good. "I subscribe to the Chad Robertson and Tartine Bakery school of thought," Lydon says. "Flour should have a flavor. It's not just a background texture."
* This post has been updated with new information.