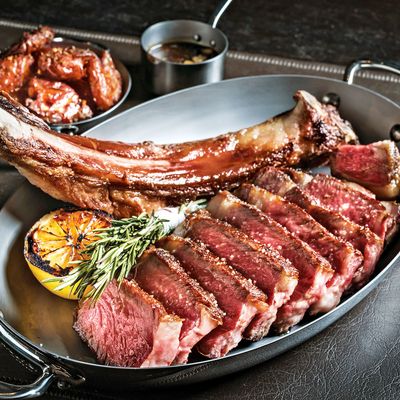 Photo: Gabriela Landazuri/New York Magazine
When Michael White opens his Italian steakhouse, Costata, later this week, it will be a homecoming of sorts: It was at this very Soho triplex that White made his New York debut eleven years ago as chef of Fiamma and first met (and fed) Ahmass Fakahany, the Merrill Lynch bigwig who would become his partner. They've named their fifth Manhattan venture after the Italian word for "rib eye," the signature cut of dry-aged beef (pictured) on a menu overseen by PJ Calapa, also executive chef of White's Ai Fiori. Steaks will be basted with rosemary, garnished with sauces and compound butters, and supplemented with dishes like bone-­marrow panzanella, lobster cocktail Amatriciana, and, with a whiff of nostalgia, garganelli alla Fiamma with prosciutto, peas, and truffle cream. Desserts like rum-raisin semifreddo come courtesy of corporate pastry chef Bob Truitt, and cocktail maven Eben Freeman has improvised variations on the gin-­martini theme (the "local" combines ramps, vermouth, Meyer-lemon bitters, and Greenpoint-distilled gin).
Costata, 206 Spring St., nr. Sixth Ave.; 212-334-3320
*This article originally appeared in the May 20, 2013 issue of New York Magazine.