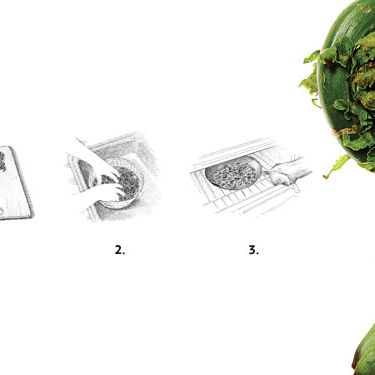 Photo: Bobby Doherty; Illustrations by John Burgoyne
These tightly wound shoots of the fern plant, plucked from the forest before they've had a chance to unfurl, have a flavor, when cooked, that's hard to pin down: green and grassy, asparagus-like or broccoli-esque but not quite. Which may be why detractors find them lacking. But ABC Kitchen chef Dan Kluger has a simple solution: Roasting, as opposed to the more common steaming or sautéeing, seems to intensify and fine-tune the little emerald scrolls' flavor profile and bring out their hidden depths.
Dan Kluger's Roasted Fiddlehead Ferns
4 cups fiddlehead ferns
4 tbs. extra-virgin olive oil
Kosher salt, to taste
4 tbs. thinly sliced green garlic (white and light-green part only)
Freshly ground black pepper, to taste
2 lemons (1 for zesting, 1 cut into 4 wedges)
Coarse sea salt, for finishing
Preheat oven to 500°F. (1) Trim away any brown or woody ends from the fiddleheads. (2) Wash them thoroughly in several changes of water, removing any papery husks, and dry them. Place a large oven-safe skillet or sauté pan in the oven, and heat for 3 minutes. Remove the pan from the oven, and add the oil. Add the fiddleheads to the pan and season with kosher salt. (3) Return the pan to the oven, and cook the fiddleheads until tender, approximately 5 to 7 minutes, stirring occasionally. Add the green garlic, toss with the fiddleheads, and cook in the oven for 30 more seconds. Remove the pan from the oven. Divide the fiddleheads among four plates and finish with pepper, lemon zest, and sea salt. Serve with lemon wedges.
*This article originally appeared in the May 20, 2013 issue of New York Magazine.