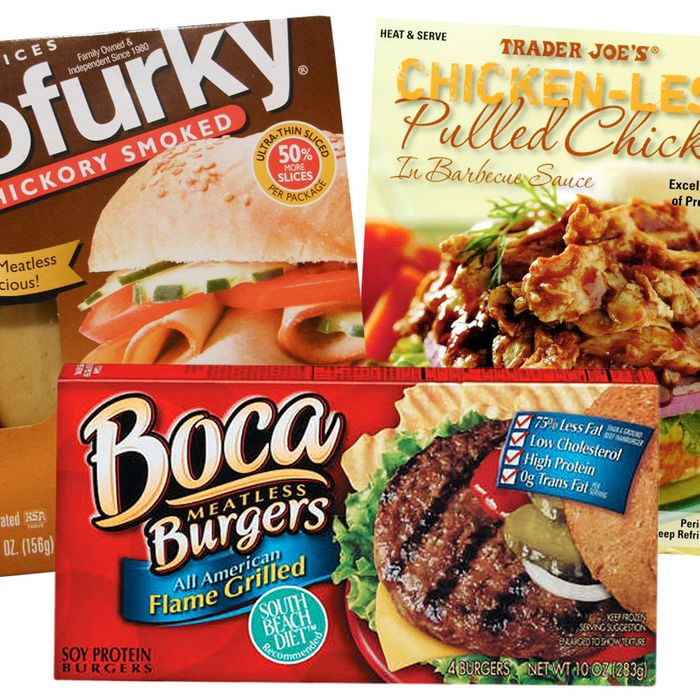 Meh.
Photo: Turtle Island Foods; Trader Joe's; Boca Burger
Beyond Meat, a Maryland-based company funded by Twitter co-founders Evan Williams and Biz Stone's investment firm, wants to transform the synthetic meat market. It's not producing some fancy, expensive, New York-only niche line of handcrafted tempeh: Beyond Meat wants to position plant-based "meat" products right next to chicken, turkey, and steak in grocery stores. CEO Ethan Brown thinks it's wrong that Boca Burgers and Tofurkies are hidden in the elusive vegetarian section of the supermarket.
Beyond Meat's faux-chicken strips, made out of soy protein, were developed by two scientists who spent fifteen years on and off working to achieve the texture and look of the real thing. Here's the inherent problem: One of the scientists, Harold Huff, says that the feel and look of the product is more important than taste. "In chili or fajitas, you don't taste the basic chicken, you taste all the seasonings," he says. "And one of the things this product does is it carries seasonings well." Isn't that why people are averse to tofu — because it's so bland and absorbant? Creating a fake meat product that mimics bad meat doesn't seem like a good idea.