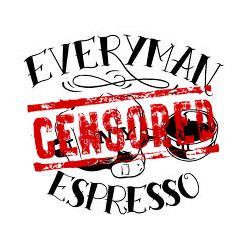 This logo is a big no-no.
Photo: Courtesy of Everyman Espresso
The iconic I ♥ NY logo is a hard-working bit of branding. It's instantly recognizable and world-famous, which is probably why representatives of New York State aren't exactly thrilled that Everyman Espresso replaced the heart with a coffee cup and used it as their logo. Not only were owners Jay Terrana and Sam Penix — who actually has the logo tattooed across his knuckles — sent a cease and desist from the agency charged with protecting the state's intellectual property, the Times reports, but the partners have also been informed they are facing a penalty for their "unauthorized and confusingly similar use."
The independent coffee shop's partners immediately redacted all iterations of the logo in stores after receiving the first warning from the lawyer from CMG Worldwide, the paper reports. Meanwhile, Everyman Espresso stopped selling merchandise that featured the logo, but that's apparently not enough. They've now been asked to provide "an accounting of all gross revenues generated during the period when the I ♥ NY® Trademark was used" so that the state can determine a specific penalty.
Terrana and Penix are busy doing everything they can to comply, but that doesn't mean the shop's baristas aren't weighing in on the sudden legal developments. "[T]o the gent from the NYC Small Business Services who dropped a 20 in the tip jar and told us to 'knock the effin ESDC on its ass,'" an Everyman employee tweeted this morning, "you rock."