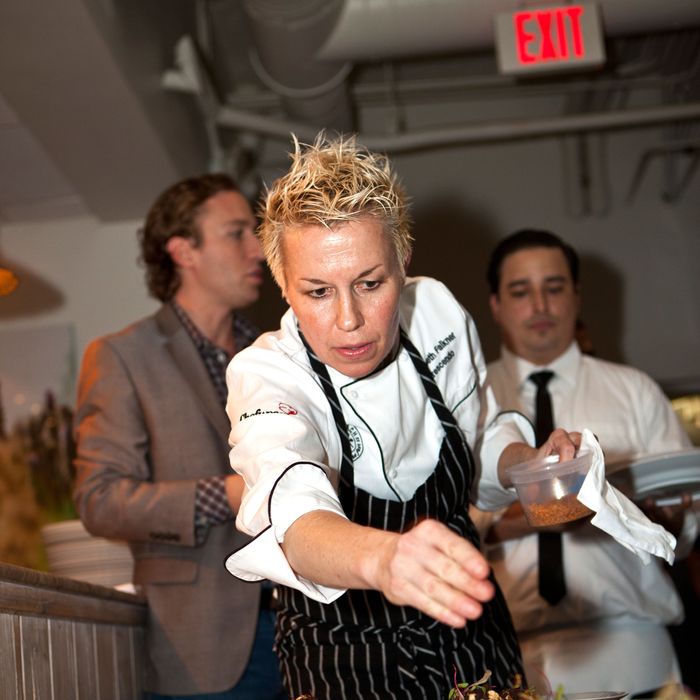 She'll stick around, just not on Atlantic Avenue.
Photo: Michael Pisarri/LILA PHOTO
Revered chef Elizabeth Falkner has split with business partner Nancy Puglisi at the six-month-old Krescendo in Boerum Hill, announcing the departure in a statement that also notes she has taken on various consulting gigs and will further her work with the Holland-America cruise ship line. "I'm staying in New York," she notes, adding that she'll be on at the modern Neopolitan pizza restaurant through the end of May.
When Hurricane Sandy delayed Krescendo's opening last fall, Falkner channeled her cooking skills into the relief effort. Two months after opening on Atlantic Avenue, the restaurant was the subject of an enthusiastic two-star New York Times review.
In her statement, the former San Francisco-based chef framed her role at the Brooklyn restaurant as consulting chef, rather than as a long-term position. "My goal after moving to New York was to help open Krescendo," she wrote.
Earlier: First Look at Krescendo, Opening November 1 in Boerum Hill
Earlier: Elizabeth Falkner Decamps to New York