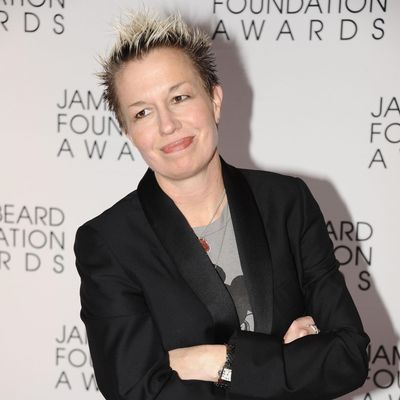 Falkner is headed uptown.
Photo: Clint Spaulding/PatrickMcMullan.com
Next Iron Chef finalist Elizabeth Falkner left Brooklyn's Krescendo earlier this month, and she has already found a new post — this time in Manhattan. The spikey-haired San Franciscan signed a deal this weekend to become chef at the long overdue Corvo Bianco on 81st Street and Columbus Avenue, now scheduled to open in July.
"I am just finalizing my deal today," Falkner told Grub this weekend. "I left because I had differences, which will become much clearer when I get to Corvo Bianco. This is not just pizza and pasta: I am excited to cook a bunch of food. It's still coastal Italian, but a bigger restaurant and a bigger menu."
Falkner will actually be cooking a preview of her food at tomorrow's Soirée in the Park as part of the New Taste of the Upper West Side festival. "I know a lot of chefs involved," she says of the fest, which will also include Jon Fraser, Maria Loi, and Cesare Casella. "I am making a fava-bean-and-strawberry salad with watercress, ricotta salata, and almond in a strawberry balsamic rose vinaigrette; it's great for the tail end of spring."
According to Falkner, she first agreed to come to Corvo Bianco as a dessert and brunch consultant, but then original chef Andrea Cobbe had a family emergency, so Falkner agreed to run the kitchen. "The space is insane; I love the design," she says. "It's got a big skylight like Nomad, and a wall of all reclaimed wood."