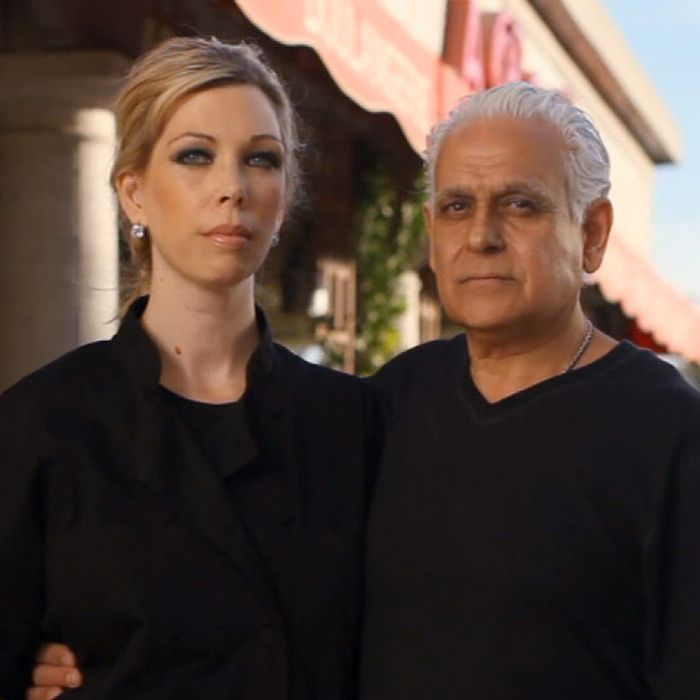 The infamous owners.
Photo: FOX
I reached the door of Amy's Baking Company in Scottsdale with no clue what to expect. In a few short weeks, owners Samy and Amy Bouzaglo had become infamous after behaving so poorly on Gordon Ramsay's Kitchen Nightmares that Ramsay gave up trying to save the restaurant. In short order, the Amy's Baking Company Facebook page exploded with unhinged rage (the owners claimed they were hacked), reports of legal woes for both Amy and Samy surfaced, and the two became national celebrities for all the wrong reasons. It was a perfect storm of undercooked pizza, tip-snatching, viscious profanity, and a total lack of self-awareness. Of course, I had to visit the restaurant after it reopened last week.
When I got there, Samy Bouzaglo greeted me outside. "Are you here for food?" he inquired. After he cleared us to enter, my friend and I seated ourselves at a table under a picture of the Bouzaglo duo as well as a letter from George W. Bush. It was the kind of letter that looks to be handwritten, but you receive it if you give any kind of donation.
Our lovely waitress greeted us. "We are so happy you're here," she smiled. "Thank you for choosing Amy's Baking Company."
The space, like Ramsay noted on the show, was super clean. Five servers floated around the dining room's checkerboard floor as Amy poked her head out of the kitchen every few minutes but never once left the kitchen. The atmosphere was stiff, but the flatbread was super. Our overly attentive server refilled our iced teas after every other sip. Even still, things felt … off.
I had arrived at 5 p.m. to a nearly empty restaurant, yet when customers would attempt to enter, Samy would object at the door and ask them to leave. There were only two other tables of patrons: Customers seated next to us were trying to snap a picture from their phone as they ate salad, and their stiff posture said it all. They were there in hopes of seeing the shit-show.
I was expecting the food to be terrible, but a plate of gnocchi with pesto wasn't so bad. After every course, our server checked in, asking for my thoughts on the dish, and swiftly reported back to Samy.
And then a shadow interrupted my meal. Samy stood above me, announcing, "See, it's not like what they say on the Internet. It's good!" It felt like my ninth-grade Latin teacher had caught us sexting or something. I couldn't help but nod — more in fear than in agreeement.
After finishing the final course — a sausage-and-pepperoni pizza — our server went to fetch our bill. I noticed that Samy was still in charge of handling the point-of-sale system, but Amy remained in the kitchen through the entire meal. With nine more iced tea refills and a to-go box for the pizza, the meal at Amy's Baking Company concluded. With my bill paid and business card in hand, I approached Samy near the exit. How could I not?
"What is it that you do?" Samy asked. I was honest: "I'm a freelance reporter." But I wasn't met with the vicious response I thought I'd receive.
"Write your review," Samy said. "Maybe we can talk more then. I want to call you and discuss the reality TV show I'm working on. I'm also doing a book. Do you know of a good writer? Are you a good writer?" I chuckled, shook his hand, and watched as he walked back into the kitchen, while Amy stared us both down from behind the pass.