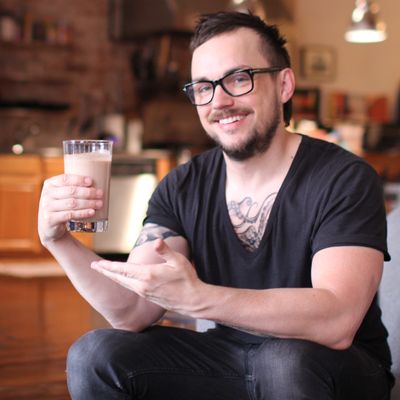 Higgins with some homemade smoked-peanut milk.
Photo: Melissa Hom
"I was actually raised as a pretty picky eater," says Damian Higgins, who when he's D.J.'ing goes by the stage name Dieselboy and just released a new mix called Beyond the Black Bassline. He says his love of food started when he was traveling for shows: "I would literally see nothing in a city, but by going to cool restaurants I was able to experience at least some element of each city that was unique." Now, Higgins says, "I'm probably into food as much as what I'm into musically." Given what he ate and drank this past week — brats and burgers in New Orleans, a pre-dinner beef rib from BrisketTown, everything (everything) that's served at both Betony and Melibea — its easy to believe Higgins. Read on for yourself to see what just might qualify as the most ambitious, grandiose Grub Street Diet of all time.
Friday, May 24
One night before, I had made smoked-peanut milk for a cocktail that I was going to be presenting later in the week at my friend's cocktail night at the Counting Room. So when I woke up in the morning, first thing I did was try some of that to test it out and I realized that it was too smoky. But I had to leave to fly to my friend's bachelor party in New Orleans.
By 11 a.m., I was at Newark airport and had a medium unsweetened tea and turkey-sausage breakfast sandwich from Dunkin' Donuts. I don't like fast food at all, but because I travel so much for my job I'm at the mercy of what airports have to offer.
When I got to New Orleans, I took a cab to the house I was staying at with eleven other guys. I'm 40, but it felt like I was entering the spring break house in, like, Ocean City, Maryland.
We hit a liquor store and I bought Gosling's rum and ginger beer to make myself a Dark and Stormy later. And I picked up a bunch of groceries so that at least that evening and in the morning we'd have food to eat. I also bought myself a bottle of Naked Juice. I was hoping to maybe capture some element of healthfulness that night. So I drank that then immediately made a double Dark and Stormy in a red plastic Solo cup. Drank them, then I made another one and drank that while I was cooking and grilling outside.
I had two Johnsonville Brats and I made a queso out of Velveeta and a can of green chiles and I crumbled Zapp's Cajun pickle potato chips on top. And I made a big pot of Busch's chili beans and spiked that with Cholula hot sauce. I ate that with a red plastic cup of Buffalo Trace and ice.
So, I drink a lot because of my job and at that point I wasn't really that drunk. I was just getting into the spirit of things. We packed up shop and headed off into New Orleans, where we did bachelor party things at bachelor party places. Suffice it to say I didn't get to bed until about four in the morning and I felt like shit.
Saturday, May 25
Most everyone had already left the house when I woke up and by noon were at a bar. I picked up a Powerade to give myself some hydration and after that went to a restaurant called Stanley. I ordered what was called a Stanley Classic — essentially just scrambled eggs, bacon, creole potatoes, and toast. It was pretty underwhelming. I also drank about ten glasses of water.
At that point we met up with everyone in the back of this bar called Krazy Korners. Terrible music. At one point during the day I picked up two Zico coconut waters and chugged them both.
I'd set up dinner for everyone at Lüke, one of John Besh's restaurants. We had a private room, which was a little weird because we were secluded from everyone else at the restaurant, but it was probably a good idea because people got pretty rowdy during dinner.
Our waiter referred to himself as having "aggressive hospitality." I thought he was kind of an asshole. But he did push a lot of food on us. I had a Manhattan made with Four Roses and dinner consisted of a bread-and butter-course, then we had a giant board of food that came out. We had a boar-and-rabbit terrine, housemade salami, headcheese, crawfish boudin that we had with pork cracklings as well as a crawfish bisque that was 75 percent butter and absolutely delicious. I had a half-dozen Gulf shrimp as an appetizer, then I had their Lüke burger, which the waiter explained was one of the ten best burgers ever, blah, blah, blah. I am a huge burger fan. It came with Swiss cheese, Tabasco, Benton's bacon, ketchup, and an egg.
After dinner we once again disappeared into the bowels of New Orleans and stayed out super late. I ended up checking myself back into the house around three o'clock in the morning.
Sunday, May 26
I was pretty much the last guy awake. I made breakfast, which was a red-bliss-potato hash that I made with Louisiana hot sausage, sprinkled in some goat cheese, put a fried egg on top, and Cholula hot sauce. And I drank an Abita root beer to kind of wash it down.
Went to the airport and has a small chocolate Lean One smoothie from Smoothie King, which I was desperately in need of. At the same time, the Smoothie King was right across from a Zatarain's Kitchen, which smelled absolutely amazing. I knew they had, like, red beans and rice and all kinds of delicious Creole cuisine. It was very difficult to pass up.
I got home around midnight completely shattered and tired, but hungry. So I ordered from a deli near my apartment that has 24-hour delivery. I got a roast-beef sandwich with cheddar and mustard on whole wheat and a couple giant coconut waters. I ended up eating half the sandwich and went to bed.
Monday, May 27
Woke up, finished the other half of the sandwich, and then ended up doing some work at home.
I was supposed to do the cocktail event that night, but my friend had thrown an event on Sunday so people were out of it and we figured it wouldn't be well attended. We'll do the cocktail event on June 10, so smoked-peanut milk will have to wait until then.
Ended up heading over to Maison Premiere around 4 p.m. with my wife and some friends. My wife and I had a couple of margaritas, then I ordered a shrimp cocktail and some bread and butter. Then I had a Thomas Handy Manhattan. Thomas Handy is 127-proof rye. It was a holiday. Don't judge me.
On the way out we ran into Daniel Delaney from BrisketTown. We were headed to Diner for dinner and he was as well, but we went to BrisketTown with him and he handed us this giant beef rib that we ate on the way to dinner. Super amazing.
Dinner at Diner was a pork chop served with romesco, potatoes, and a fried egg, and they ended up bringing us a strawberry shortcake at the end of the meal. And then I finished with a glass of Michter's on the rocks at the Shanty, which we went to afterward.
Tuesday, May 28
Woke up and headed over to the Meatball Shop, which is two blocks from where I live. It's one of those places that I usually check in on Foursquare and I'm usually battling for the mayorship. That day I had the chicken meatballs with a spicy meat sauce, and roasted fingerling potatoes on the side. That was quite good.
My wife and I had plans to go to dinner at Betony with Jordana Rothman and Daniel Krieger, who are just some of our favorite people to hang out with. And we had a fifth opening so we invited my friend Maksym Pazuniak. Then we proceeded to have this pretty epic meal.
The meal started with super-skinny salty bread sticks, and cheese crisps. I enjoyed a pisco sour and followed that up with a Templeton rye Manhattan. At that point, the first course came, which was tempura pickled ramps with Aleppo yogurt; a "tuna melt," which consisted of a Gruyere crisp and a piece of raw tuna; marinated red snapper that came with pumpkin-seed pesto; potato crisps with a smear of crème fraîche and chives; and then they served a palate cleanser, which was a compote of gooseberries with tomato snow and tarragon.
I had gnocchi that came with shaved baby corn, freeze-dried corn, corn pudding, sea cress, and Aleppo pepper, and my main course was an amazing beef short rib that had been cooked sous-vide in rendered beef fat for three days. It came with a fried sweetbread and a big hunk of grilled romaine.
For dessert they brought out a whole bunch of courses: frozen goat's-milk yogurt that was served with crispy buckwheat and buckwheat honey, a frozen chocolate stout macaron, a chocolate ganache, these small pink-peppercorn caramel chews, a blueberry mousse with oolong-tea ice cream and poppy-seed brittle, rosemary-roasted apricots, and a pistachio-and-dried-cherry divinity. Then we all finished with a round of Fernet to sort of settle our stomachs. Yeah, it was a good night.
Wednesday, May 29
I'm trying to get back on a health kick so I woke up and had a smoothie. I went to the gym and had a decent workout, but I knew dinner was going to be … intimidating. The night before at Betony, Daniel had asked me if I would join him at this newish spot in the West Village called Melibea. He was told to "skip lunch," advice which I also heeded. When I met Daniel at 7 p.m. I was starving.
And then the parade of dishes commenced.
Focaccia and olive oil; hummus, beets, shaved egg, and fried chickpeas; ricotta, preserved lemon, and Modena vinegar; falafel salad; fried green tomato, heirloom tomatoes, tomato marshmallow, tomato powder, and tomato gelée; salmon and scallops carpaccio with almond ice cream and olive tapenade; venison moussaka with potatoes; "freestyle" pasta with oxtail stew and octopus; lamb tagine; and chicken marinated in Syrian spices. Most of these dishes were half portions but as it stood this was a lot of food. It nearly killed me.
Then desserts: roasted fennel with white-chocolate mousses and powder; lavender crème brûlée; "1001 Nights," which was rose water, strawberry purée, orange blossom, anise milk, saffron mousse, a phyllo pastry nest, and olive oil cake; tiramisu; and chocolate cake with white chocolate, fresh ginger, and a chocolate cookie.
At this point Daniel and I were sweating. I only managed a couple bites of the chocolate cake and was down for the count. Am thinking maybe I should start a juice cleanse soon.