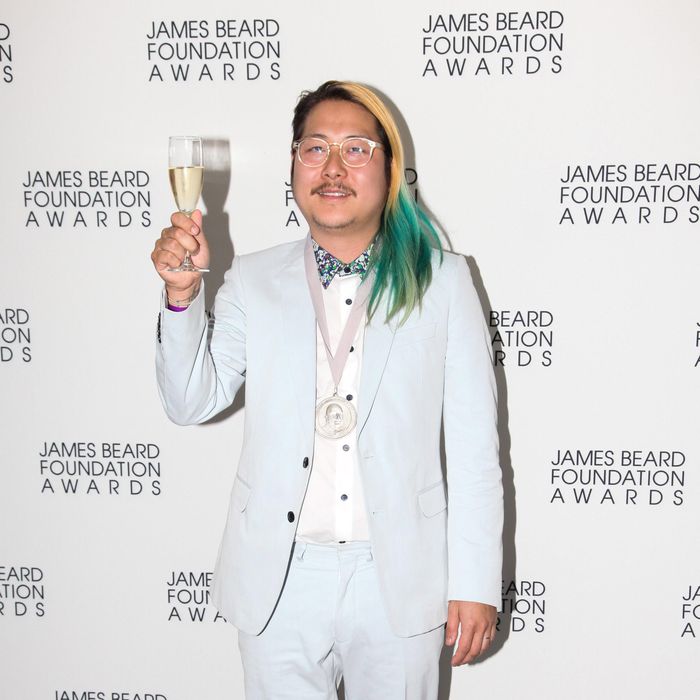 He's the most proud of his sneakers.
Photo: Paul Porter/BFAnyc.com
It's hard to believe it hasn't even been a year since Danny Bowien opened Mission Chinese Food in New York. A lot has happened to him since May 21, 2012: The New York Times compared him to Led Zeppelin, a supermodel danced around him in spandex, and, as of last night, he's the James Beard Foundation's Rising Star Chef of the Year. (He also won Best Dressed for the night, but that's only in our humble opinion.) Bowien took a few minutes to answer questions in the press room, opening up about his "twin concept restaurant," and humbly paying dues to his chef friends.
Did you have a good feeling about tonight?
I felt more relaxed than last year when this was going on, and we were opening the restaurant [Mission Chinese]. I was just a ball of nerves. I didn't know how to handle it. I was so happy that Christina Tosi won. If it weren't for her — and David Chang — those guys were all helping me. We'd meet in the daytime and I'd be like, "How do you open a restaurant?" Tosi's amazing and she's an inspiration. All those guys are. I asked Tosi yesterday, "Did you know when you won if you were going to win?" And she was like, "I had no idea!" I didn't expect it.
There are rumors of Mission Chinese expanding to Paris, Oklahoma City, and Brooklyn. Where's next?
We're opening another restaurant in New York, and then we're opening another restaurant in San Francisco. We put Paris and everything on hold. The restaurant in New York isn't even a year old yet. We've got to make sure that our infrastructure here is very strong before we leave. Plus, San Francisco needs some touching up. Our chef, Jesse Koide, he's worked with me for ten years now, and we're opening a restaurant together on our own, which will be a totally different thing.
Awesome outfit. Who are you wearing?
The suit is Dries Van Noten. The shirt is Raf Simons, and the shoes are Jordan 11s. The concept of these shoes is that Michael Jordan wanted basketball shoes that he could wear when he'd go to press conferences. His slacks would hit them low and it would be like he was wearing dress shoes. They're called the Space Jams. I wore these fifteen years ago, and I got them yesterday, because I thought, Why not? But they're really hard to find now. I'm the most proud of these.