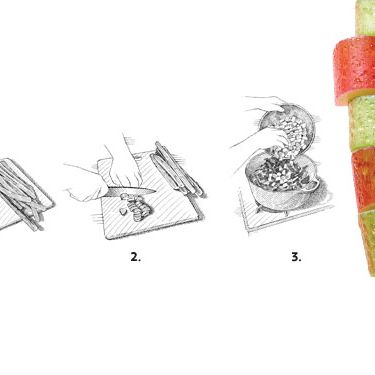 Photo: Bobby Doherty; Illustrations by John Burgoyne
The first stalks of rhubarb, in finely freckled shades of salmon pink and celery green and sticking out like glow sticks at a Phish concert, have made their way onto the folding tables at Greenmarket's Samascott Orchards stand. No need to tell you that they're delicious tempered with sugar and baked into a pie or crumble. But for some, the essence of the fruit (no, wait—make that vegetable) lies in its unadulterated, razor-sharp tartness. This supremely sour greens-and-rhubarb recipe from Daniel Boulud's cookbook Braise, recently reissued in paperback, is a perfect example.
Daniel Boulud's Mixed Greens With Rhubarb, Leeks, and Dill
1 pound rhubarb
2 tbs. extra-virgin olive oil
1 pounds leeks, white and green parts, washed and diced (about 4 cups)
2 pounds mixed greens (collard greens, kale, Swiss chard, mustard greens, beet leaves), trimmed
5 tbs. dried dill weed
1 tbs. coarse sea salt or kosher salt, plus additional to taste
1 tsp. Aleppo pepper (at Kalustyan's)
Freshly ground black pepper to taste
Preheat oven to 275. (1) Trim the rhubarb, and (2) slice the stalks into 1/2-inch-thick pieces. Reserve. In a medium cast-iron pot or Dutch oven over medium heat, warm the olive oil. Add the leeks and cook, stirring, for 4 to 5 minutes. Add the greens, cover, and cook just until they are slightly wilted, 2 to 3 minutes. (3) Add the rhubarb, dill, salt, Aleppo pepper, and black pepper, and continue to cook until the rhubarb is slightly softened, 12 to 15 minutes. Pour in 1 cup of water, and bring to a simmer. Cover, and transfer to the oven. Braise until greens have broken down and the liquid has reduced, about 1 1/2 hours. Adjust seasoning if necessary, and serve with yogurt. Serves 4 to 6. Adapted from Braise, by Daniel Boulud and Melissa Clark (Ecco; $19.99).

*This article originally appeared in the May 27, 2013 issue of New York Magazine.