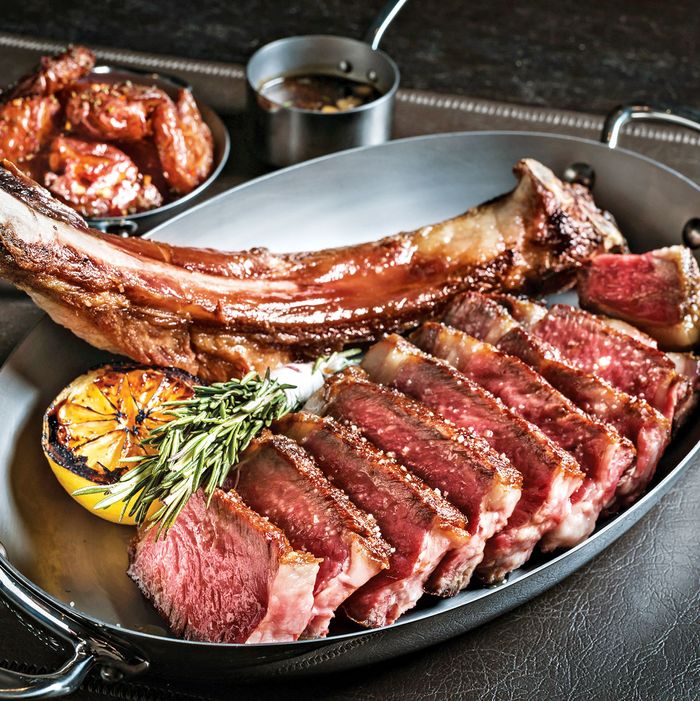 Meat is a must.
Photo: Gabriela Landazuri/New York Magazine
Michael White's much-anticipated Italian steakhouse, Costata, officially opens tonight in a triplex on Spring Street. Dry-aged rib eye is the specialty here, but White and executive chef PJ Calapa (who also oversees Ai Fiori) are making lighter crudo dishes (there are nine!) and fresh pastas, which are conveniently offered as both appetizers and entrées. But if you're coming here, it's steak you need to order — and you can choose from three different butters and four sauces to accompany filets, bone-in strip steaks, and prime porterhouse cuts. There's also a decadent selection of caviar and desserts like chocolate-cherry-marsala panna cotta and rum-raison-and-salted-caramel semifreddo. Take a look, straight ahead.
Dinner [PDF]
Dessert [PDF]
Costata, 206 Spring St., nr. Sixth Ave.; 212-334-3320
Open from 5 p.m. to 12 a.m., seven days a week.
What to Eat at Costata, Michael White's Italian Steakhouse [NYM]