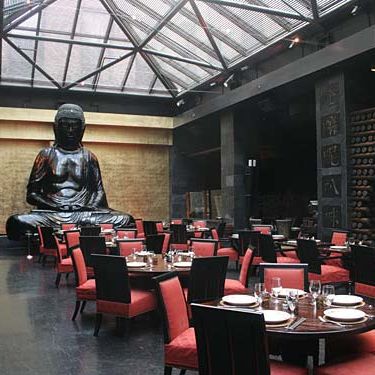 Hey, no more death serum! Quick! Get the handtruck!
Photo: Shanna Ravinda
The contents of the meatpacking district's Ajna Bar (née Buddha Bar) are being auctioned off right now. Yes, the former home of gratitude and withheld gratuities is casting off its once comfy sofas and old leather couches. It's selling all the battered ice bins and stacks sheet pans and D.J. equipment inside. Most important, however, the shuttered establishment is dispatching its entire array of enlightened ones to new owners. They've got reclining Buddhas! They've got standing and cross-legged Buddhas! There are Buddhas big and small; Buddhas of the past and Buddhas of the future. There are murals depicting Buddha doing various things, "Life Size Famous Buddha Statuettes," Bodhi trees to boot, as well as a vast assortment of hand-crafted works made from metal, wood, plaster, and stone.
Buddha Bar reopened as Ajna Bar in September 2009 as its partners continued to engage in an epic a battle over trademarks and money. Hung Huynh was in the kitchen trying to cook while the struggle for legal control over the club — which at one point even involved "death serum" employed by "KGB operatives as a metabolic poison killing human beings" — rambled along outside and played out in far-flung courtrooms. Ajna closed sometime in the last two months. We're a little sad to see it go, but are happy now that things seem to have become a bit more serene over on Little West 12th Street.
Listing [Amodeo Auctions]
Earlier: Ajna Bar Reopens Tonight, But Ownership Feud Continues