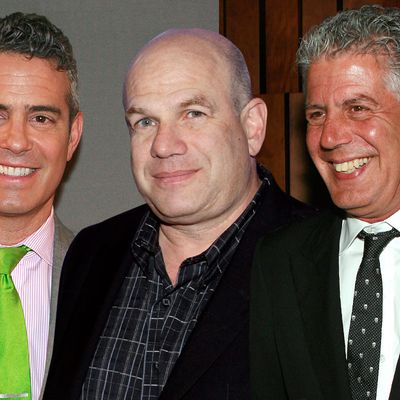 It's beginning to look a lot like a big, hot mess.
Photo: PatrickMcMullan.com
On Monday, the Times-Picayune reported — somewhat innocuously — that the forthcoming season of Top Chef, which is going into production soon in New Orleans, will benefit from $200,000 supplied by BP in conjunction with the 2010's Deepwater Horizon oil spill. This didn't sit well with Eater and Anthony Bourdain, who tweeted, "Maybe give the 200G back to Louisiana? Would be a nice thing to do," at Bravo network's Andy Cohen. The executive responded by imploring Bourdain to read the fine print about the money the oil company supplied to the state, which had been set aside expressly to fund tourism efforts. But Cohen also signed off with flip instructions to Bourdain to call him "abt Treme's tax credits from NOLA." Of course, this was sufficient to really piss off David Simon, who happened to create that New Orleans–set show. Simon was apparently "on the way to a nice dinner with wife and child" when he heard about the tweets. Needless to say, dinner was ruined.
Because Treme, which ended its third season last November, was all of a sudden an improbable but integral part of a fight over Top Chef's production methods, Simon reluctantly sorted through the detritus of the argument and then somehow managed to post a measured response on his blog. His laconic, "full answer to this gentleman's bullshit in three easy stomps" derides Cohen for fatuously comparing the ways the two shows were made, asserting that Top Chef negotiated for the BP money, while both shows got the same standardized tax incentives for filming in Louisiana — this, by the way, happens to be big, big business these days, since dozens of things are made there each year. Here's the gist of Simon's response:
Again, I really don't care what "Top Chef" or Bravo does or doesn't do. It isn't my business. But I do know that producers such as Laura Schweigman — who was specifically tasked with extending our charitable reach for the length of the show's run - were, along with many others in cast and crew, devoting extra time and resources for extramural fundraisers until the last weeks of production, culminating a four-year campaign to leave behind a substantive thank-you to New Orleans, its culture and its citizens for hosting us. For Mr. Cohen to flippantly imply that because HBO failed somehow to refuse the same tax rates that Louisiana offers to every production, we are in the same boat as "Top Chef" and its extended negotiations for a BP payout is just, well, horseshit. Snide works well and seems plausible in 140-character morsels. When laid out in detail, it's something altogether different. Sorry, but if Mr. Cohen is any kind of mensch and thinks about it for a little longer than it takes to type the first thing on his mind, he'll see that an apology is owed.
Cohen clearly owes Simon an apology. Making the BP money argument about culture is a distracting development, but it belies that at the center of this argument are two extremely smart and successful television personalities who are having a big public pissing match that's ostensibly about who can be the most socially conscious in an industry that's filled with inexorable amounts of sleaze. Both Bourdain and Cohen are provocative; both men routinely profit from being provocative.
Sure, the producers of Top Chef may return the $200,000 or devise some way to repatriate the money, which was, as the state of Lousiana wants everyone to know, set aside to attract visitors with things like TV shows. That sum is nothing considering the $42 billion already dispensed by BP in an attempt to reverse the effects of the oil spill.
At the end of the day, as Simon notes, Treme paid out $3.5 million in copyright payments and left half a million more to nonprofits in conjunction with production. As Tom Colicchio suggests, however, such haste to judge his own show's intentions for New Orleans may be premature.
Since its 2006 debut, Top Chef has excelled at bringing restaurants and chefs — however theatrically — to an audience that may not otherwise be too invested in that kind of thing. Local restaurants and food culture featured on Top Chef's New Orleans season definitely stand a chance to be strengthened by an overtly commercial enterprise that's spawned its own themed cruise-ship tour and one that deploys product placement for everything from soda to sedans to chicken broth every chance it gets. The show may be nowhere near as virtuous as Treme, but it may yet be good for business in New Orleans.
Treme's David Simon Takes Down Bravo's 'Bullshit' in 'Three Easy Stomps' [Eater]
Earlier: Thank the BP Oil Spill for the Forthcoming Top Chef New Orleans