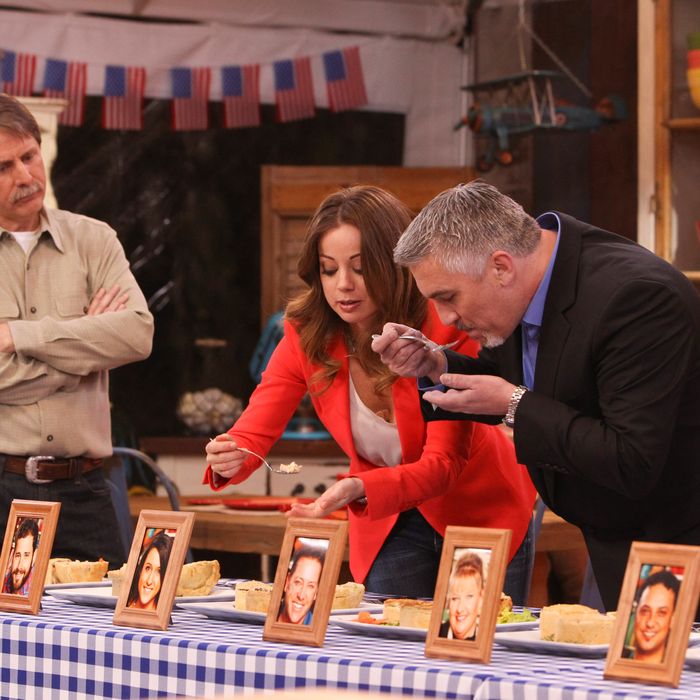 Host Jeff Foxworthy, with judges Marcela Valladolid and Paul Hollywood.
Photo: Monty Brinton/CBS ©2013
Here's the thing about The American Baking Competition: It may actually seem like a cookie-cutter version of every other competitive cooking TV show. Jeff Foxworthy of "You May Be a Redneck If … " and Are You Smarter Than a 5th Grader? fame brings a red state user-friendliness. Judge Marcela Valladolid is a chef-graduate of several previous reality television series, and Paul Hollywood, whose eyes are so vibrantly blue they're practically dulcet, saunters onscreen as the nattily dressed don of English baking. The show aired its first episode last night on CBS, and teasers promise what you'd expect: baking disasters in the form of burnt crusts, lopsided cakes, and tears. But at its goofy core, The American Baking Competition actually has a chance of changing food television for the better. Here's why.
First of all, it's following a proven formula. The CBS version is a remake of The Great British Bake Off, which debuts its fourth season in August and, in the meantime, has already led to thirteen international versions that air in places like Ukraine and Finland. There are Bake Off specials and books, and its U.K. judges are essentially household names in Europe. (O.G. queen bee Mary Berry is missing from the U.S. version, along with her frequent admonishment "No soggy bottoms," referring to undercooked pastry. Luckily, co-judge Hollywood has picked up the slack here.)
Second, unlike the two-tier challenge system used to great effect in Top Chef (Quickfire challenge leads to elimination challenge), both the original Great British Bake Off and its U.S. remake have three parts: the Signature Bake, where the bakers make one of their own recipes; the Technical Bake, where bakers are told to produce the Platonic ideal one of Paul Hollywood's recipes using a sheet of paper that lists ingredients but has no instructions; and finally, there's the Showstopper Bake, where the bakers are given the same basic task (last night it was to make 36 sweet tartlets in three hours) but with no specific limitations. As a result, a baker can bomb out twice and still be spared.
Here's a look behind the scenes:
You've seen and heard this before, right? Beautiful presentations, mouth-watering soufflés, cool flavor combinations, blah blah. What sets baking, and bakers, apart in real life, however, is that every ingredient has its own needs: Different millings of the same flour require different kinds of moisture. Sugar needs heat, egg whites need a good whipping, butter has all kinds of needs.
Tandoori chicken skewers are always what they are, but because of the discipline it takes to make a sponge cake look and taste good, bakers tend to either know how to pull off a perfect version. Or they don't. The real thrill of the original show is watching people who are gifted but often can't even articulate how the understand the underlying science. Their dedication (insert pile of 100 discarded muffins here) is often tragicomically misunderstood by family members, to whom they often come across like outcasts, like the X-Men of layer cakes. That persnickety retiree? Turns out he knows more about Swiss rolls than anyone else within a 100-mile radius of his hometown. As such, this is clearly his moment to shine. He may not get another.
In the American remake, you get a woman named Francine, who appears as the second coming of Paula Deen. "You never ate a chocolate cake with bacon?" she asks a stunned Hollywood, whom she praises as the "George Clooney of baking." (Hollywood, who reportedly left his wife of fifteen years to take up with Valladolid while taping the show, is all about proper crumpets and perfect croissants.) Of course, there's the stay-at-home mom, the firefighter who cooks for his station, a stay-at-home dad, and a cocky guy with a beard. They're caricatures, but the show doesn't dwell on drama or conflict between contestants. What seems at first like an shopworn premise turns out to be engaging. At the end of the day, after all, these people are just baking geeks, some more gifted than others.
The original Bake Off lingered on contestants when they failed, but judges never rubbed it in. They don't shout. Appropriately, for a British show, dismissals are done with sympathy. The remake barely differs from the original in this department.
At the end of last night's episode, when the contestant who'd compared his sad bird pie garnish to the Sistine Chapel was kicked off, Foxworthy put his hand on the guy's back and practically set him aside. "Do not stop baking," he said. "You're just too much fun." Compare this to the stern monotone issued by Padma Lakshmi at the close of each episode of Top Chef, which dispatches cooks with more than a whiff of shame and a repetitive screech sound effect.
Yes, the show is corny, and the Americana — bright-blue gingham, fake-aged Route 66 signs, barnyard décor à la T.J. Maxx — is cranked as far as it will go. But underneath that tired layer of populist pandering lies a baking competition that emphasizes baking over competition. With lots of shoptalk about technique and a focus on regional baking styles, this could be a cooking-competition show that food geeks can get behind. Especially if the season puts it focus on the cookies, and not the cookie cutter.