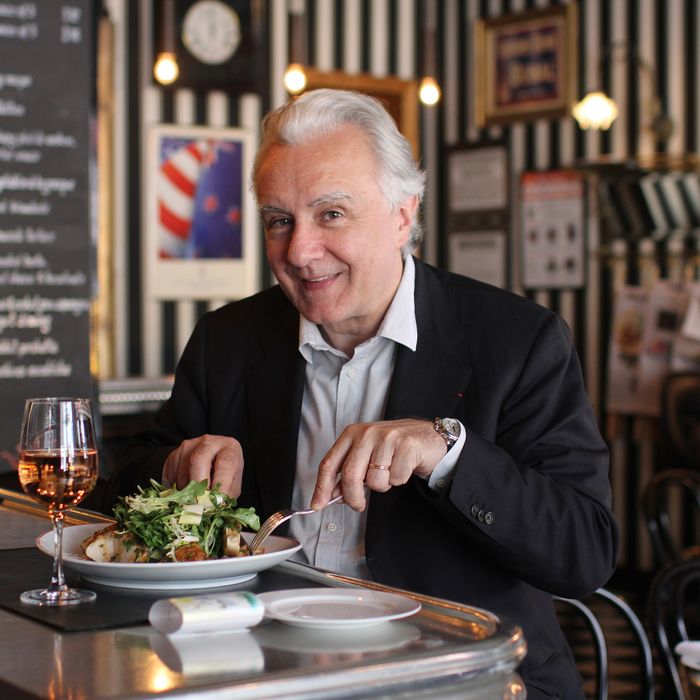 Ducasse checking in on the warm chicken salad at Benoit.
Photo: Melissa Hom
If there's anyone who can properly weigh in on New York's recent resurgence of French bistros, it's Alain Ducasse. The master of the cuisine is pleased with Calliope and Lafayette, even if the spots aren't exactly authentic: "These new French-American restaurants, or the ones I've experienced, have ambiances that are more American than French," he says. "But it's in harmony with the audience. Energy and accessibility are exactly what New Yorkers are looking for." He wasn't in town long, but Ducasse still managed to make the most of his short stay in the city, hitting Carbone, Marlow & Sons, and ABC Cocina. To read about toast sopped with marrow, antipasti feasts, truly Italian espresso, and a fluke tasting with Eric Ripert, check out this week's Grub Street Diet.
Friday, May 10
After flying transatlantic from Paris to New York, I joined my director of operations at the charming Calliope for a late lunch. I don't eat when I'm up in the air. I tasted the granola with Greek yogurt and apricot purée, and ordered the spicy tripe and was very happy with it. And I went with a glass of rosé. The prices are very accessible, and the space is organized so that you can go with a group or alone with a good book. I like the cast of characters.
I had heard great things about Marlow & Sons, so I decided to go for dinner. I can't remember what we had. While the menu is limited, the choice of seasonal dishes is excellent. I do remember that the food was quite ambrosial. Simple and flavorful. It has this wonderful rustic feel: low tables and flickering lights. Lovely atmosphere. It's very New York — efficient and professional without being overly showy.
I don't get out to Brooklyn enough. I've really enjoyed Franny's and Roberta's in the past. I like Four & Twenty Blackbirds. They are places where people live. They have soul.
Saturday, May 11
No breakfast, given the amount of eating that takes place on any given day. I did stop in for a macchiato at the narrow Zibetto Espresso Bar on my way to the office. The owner Anastassio has really honed his craft. It's very Italian to have that attention to detail. It was packed wall-to-wall.
For lunch, I had the warm chicken salad at the bar at Benoit. It's my executive chef Philippe Bertineau's specialty. It's a very generous portion. I tasted my new pastry chef Alexandre Macaud's crème caramel and rhubarb tart with yogurt sorbet.
For a working aperitif, my sommelier Andre Compeyre put together a wine pairing with some of the chocolate bars and bonbons that I now manufacture in Paris. We tasted a beautiful Maury fortified wine and a dry Zacapa rum from Guatemala.
I had the pleasure of spending some time in the kitchen at Le Bernardin with my good friend Eric Ripert, tasting a small plate of supremely exquisite slivers of fluke and then pen-shell clam "sashimi." What Eric does in his craft is perfectly uphold the quality of the fish. The partnership that Eric and Maguy have formed between the dining room and the kitchen is really powerful and welcoming.
Sunday, May 12
At lunch, I was filming a video clip with J'aime New York co-author Alex Vallis for the trailer for the launch of the e-book. We built up an appetite for lobster rolls from Luke's Lobster. I'm getting inspired to propose takeout seafood rolls at my Paris-based seafood restaurant, Rech.
And Blue Ribbon Sushi at dinner just because you can get delicious food at any hour. It's an institution. It's nice to graze and taste everything; there's a flexibility in the experience. I drink cold sake, but not warm sake — not even in Japan, where I go quite frequently for work. I'm usually adventurous when I go to a place like Blue Ribbon Sushi because I'm not an expert on the cuisine. I leave myself in the hands of the kitchen and the restaurant director to propose sake pairings and send out their selection of dishes.
Monday, May 13
My chef Philippe Bertineau and I hosted an interactive cooking class in the Benoit kitchen around the launch of My Culinary Encyclopedia app, which consisted of preparing a roasted asparagus, Parmesan, beef jus with olives and marrow. So this turned into a late lunch. Mid-recipe, we also snacked on toasted bread that had been used to soak up some of the fat from the sliced marrow medallions roasting in the oven.
Carbone is a great hole-in-the-wall restaurant! We sampled a selection of antipasti: fluke ceviche with ramps, uni, fried shallots, beef carpaccio Piemontese, sweetbreads Milanese, warm fresh buffalo mozzarella with bottarga and caviar, baked clams casino, and bread sticks with Parmigiano Reggiano. For the main course, a pasta with calamari. My colleague selected a Giacomo Conterno's Barbera d'Alba. The setting is tremendously generous. The theatrics are part of the story that they're telling. It's in harmony with everything else, from the servers to the setting to the portions.
Tuesday, May 14
My pastry chef at Benoit had me taste breakfast viennoiseries — croissant, pain au chocolat, and pain aux raisins — that he was preparing for a private dining client that same morning. I then proceeded to have two Filicori espressos in my office.
My director of PR and I wanted to make a quick trip down to Eataly for a bite, and every restaurant corner had a wait. So we opted for a glass of white wine and a farro risotto with spring asparagus and peas. The overall ambiance is amazing and picturesque. It can get crowded, but that's a positive sign that it's successful.
On the way to dinner, I was craving a cocktail and stopped in to catch up with Xavier Herit at the Experimental Cocktail Club. The atmosphere was very plush, and Xavier suggested a well-crafted and unique "The Milk of Sorrow" cocktail based on my preference for acidity.
I'm a huge fan of Andrew Carmellini, so we opted to try his latest restaurant, Lafayette. A grand place designed by the talented Robin Standefer and Stephen Alesch duo with a total New York vibe. We had a really nice meal over a charcuterie plate, a generous frisée salad, and a very good rotisserie chicken with potatoes and herbs. The wine list was very impressive with all French wines — thoughtfully put together and edgy. Andrew gets it. He's the golden boy right now in New York.
Wednesday, May 15
No breakfast, but closer to lunchtime, I had a quick Cobb salad with a colleague in the restaurant at Benoit. This is my main salad when I am Stateside: The contrast between the freshly chopped iceberg lettuce and chives, crispy bacon, creamy avocado, the acidity of the tomatoes and the red wine vinaigrette, strips of roast chicken … delicious!
Latin-American cuisine is top of mind in New York, unlike anywhere else. So Wednesday night, I wanted to taste Jean-George and his chef Dan Kluger's new ABC Cocina tapas menu. I was particularly impressed. It's even sexier than ABC Kitchen, if that's even possible. We nibbled on plates like the salty, delicious jamon Iberico, the tacos, and spring pea guacamole. Very relaxing.