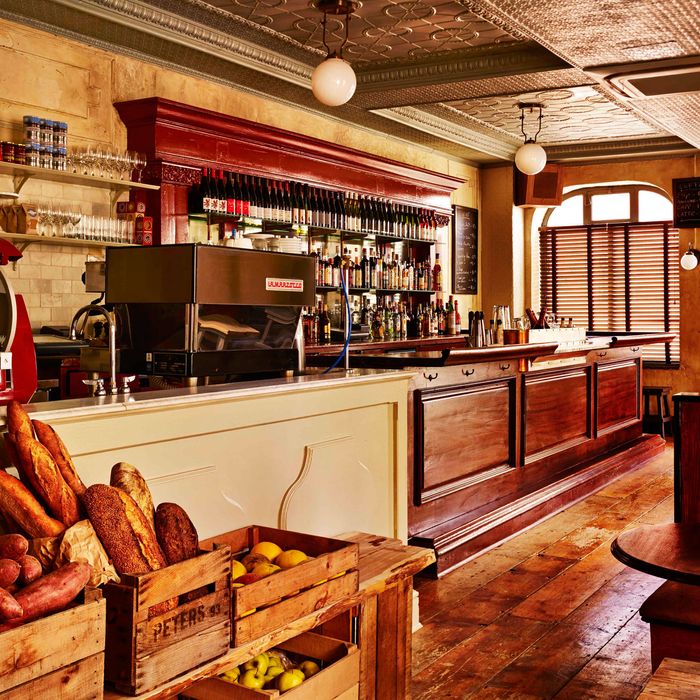 The bar and the mirrors are original.
Photo: Adrian Gaut
Brooklyn restaurateur Andrew Tarlow has opened Achilles Heel, a café and bar meant to evoke the always-open grocery and drinking spot that once sustained Greenpoint dockworkers at its West Street address between 1900 and 1960. Details like the hardwood bar and mirrors are original, and once he had signed on the space, Tarlow took a solitary bar stool he'd found straight to his carpenter and asked him to make a few more. There's a meat-slicer behind the counter for the domestic cured hams, wooden apple crates loaded with fresh produce for purchase, breads baked at Roman's for sale, and several hundred pounds of new equipment for the baristas to make George Howell pour-over coffee and espresso drinks. Finally, there's a piano on one side of the room. "I was inspired by this idea of what would have been there in the old grocery," says Tarlow, adding that rather than chart a specific game plan for Achilles Heel at the outset, he wants the bar's customers to help it evolve.
"I'd like to think of it as a bar with a consciousness for food," Tarlow says. "As opposed to a small plates restaurant." To wit: there's barely a kitchen, but Achilles Heel sells food sourced from its sister restaurants and shops, including pâté, rillettes, and liverwurst from Marlow & Daughters.
The New England-style clam chowder (dubbed "Martha's Vineyard" style) is almost ready to go, and while Tarlow says Achilles Heel will soon offer a small menu of sandwiches at lunch, customers will first be able to order tinned sardines with bread and butter, a make-your-own kind of thing. "It's butter that we make in-house," he says, "and bread we're baking ourselves. So in the end it's about the sardines from Portugal, but really it's also about this great bread, and great butter."
To drink, the Reynard, Marlow & Sons, and Diner restaurateur is pouring low-sulfate natural wines and a variety of rum cocktails, including a Hemingway daiquiri. Achilles Heel also has a menu of what Tarlow calls "Morning Highballs," which essentially means that those who work the late-late shift, perhaps even on the waterfront, can now treat themselves to an Aperol Spritz or a Harvey Wallbanger at breakfast time, just like Brando should have done in On the Waterfront.
Achilles Heel, 180 West St., at Green St., Greenpoint; 347-987-3666