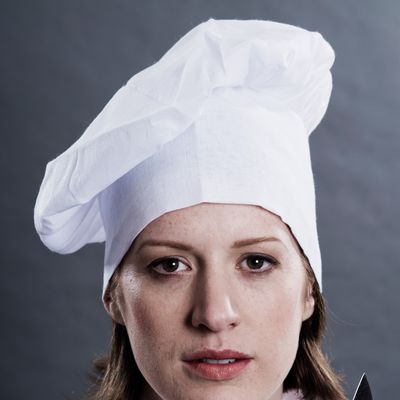 Cuts like a knife.
Photo: Leonora Saunders/cultura/Corbis
The World's 50 Best Restaurants, sponsored by S. Pellegrino and Acqua Panna, announced the recipient of its annual Veuve Clicquot World's Best Female Chef award this week, and if the superlatives freighted with product names don't tip you off about where the honor might lie of the broader spectrum of accolades, consider the ever-quippy feedback of Anthony Bourdain: "Why — at this point in history — do we need a 'Best Female Chef' special designation?" he tweeted. "As if they are curiosities?"

You'll notice that this year's winner, Nadia Santini of Dal Pescatore, isn't even described with the kinds of adjectives usually pinned to the roster of men whose restaurants populate the World's 50 Best List: brash, bold, genius. Instead, she is described as "chatty, warm and utterly unassuming." As if the female chef were in fact a curiousity.
Bourdain has previously addressed the separate standards that seemingly follow professional women cooks throughout their careers, the same issue Charlotte Druckman explores in her book Skirt Steak. Is there some strong and imperceptible difference between the chef who makes pillowy raviolis (Santini) and the one who makes ash-fried leeks (Redzepi)? Well, no, but women chefs are less celebrated than their counterparts.

Dirt Candy chef and owner Amanda Cohen argues that the multitude of honors and awards represent an deeply flawed but very necessary system. "As long as women are under recognized by most mainstream awards," she tweeted in response to Bourdain, "they need their own awards." Then, in a separate blog post, Cohen looks at the dearth of award-nominated and award-winning women chefs across the country and concludes that while Pellegrino's designation may appear hokey, but if we're to see more women chefs ascending and opening their own places, it's important, maybe even essential. "The less awards they win the more ignored they are," she writes. "And this has an impact on investors."
Tweet [Anthony Bourdain/Twitter]
For Anthony Bourdain [Dirt Candy]
Earlier: Bourdain, Ripert, Izard, and Others Ask: 'Where Are the Great Female Chefs?'
Earlier: How Tough Do Women Have It in Pro Kitchens?