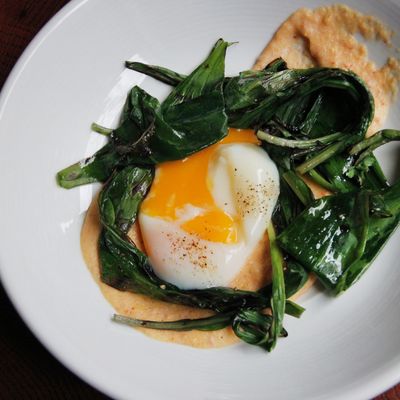 The Marrow pairs grilled ramps with polenta, njuda, and a steamed egg.
Photo: The Marrow
Ramps, glorious ramps, are in season for a few short weeks. Do you love them? Do you loathe the fact that something as silly as a wild onion can get people so worked up? Doesn't matter! It's spring, and even after 93 years, they still cause a scene when they arrive. But that's not because they're hard to find; they're all over town. Vinegar Hill House's new Long Island fluke dish has ramps (and uni, of course), Northern Spy Food Co. is making a pickled-ramp cocktail, and Allswell is cooking a flatbread with ramps, bacon, and ricotta. All this, and 21 more restaurants where you can order ramps right now.
ABC Kitchen


The Dishes: Ramp toast comes with both ramp butter and pickled bulbs, as well as goat cheese. Chef Dan Kluger is also making spaghetti with ramp-and-pistachio-pesto, and serving a side of grilled ramps with beurre fondue, candied sunflower seeds, jalapeño, and thyme.
Aldea


The Dishes: George Mendes is offering an appetizer of ramps, chanterelles, Peekytoe crab meat, crème fraîche, and shellfish jus. Plus: There's a main course of sea-salted cod with a poached egg, white asparagus, ramps, and pickled pearl onions. Springtime in your mouth.
Allswell


The Dishes: The Williamsburg restaurant's offering a flatbread with bacon, ramps, and ricotta, and potato gnocchi with ramps, hazelnuts, and black trumpet mushrooms.
Boulud Sud


The Dishes: Chef Aaron Chambers is serving three special ramp dishes at the uptown Mediterranean restaurant: housemade ricotta cavatelli with ramps, hen of the wood mushrooms, and radicchio; grilled Scottish salmon with a pickled ramp vinaigrette; and organic farrotto with ramp pesto.
Casa Mono


The Dish: Pork croquetas with peas, ramps, and shiitake mushrooms are now on the Gramercy restaurant's tapas-style menu.
Colonie


The Dish: At the Brooklyn Heights restaurant, you'll find a straightforward ramps dish with duck eggs, artichokes, and spelt.
DBGB


The Dish: Downtown, Team Boulud makes a pan-roasted flatiron steak with smoked salsify, dandelion greens, ramps, and rhubarb-red wine jus.
dell'Anima


The Dish: In the West Village, Gabe Thompson's cooking a side of charred ramps with spicy, calabrian chiles. The whole dish is topped with a fried egg.
Edi & the Wolf


The Dish: Ramps three ways at this Austrian spot means pickled-ramp remoulade, ramp slaw, and crispy ramp tempura.
Hearth


The Dishes: Marco Canora is pickling ramps as a garnish for charcuterie, adding them to an olive-oil-poached salmon salad (which also comes with snap peas and trout roe), and adding ramps to a triffoliti dish of porcini mushrooms grilled with gremolata and ricotta.
Má Pêche


The Dish: Chef Paul Carmichael's pork chop for two is served with ramps, bonito flakes, and Shishito peppers.
Market Table


The Dishes: The West Village restaurant lives up to its name by accenting both pancetta-wrapped-pork tenderloin and chilled lobster with pickled ramps. The latter dish also comes with fava beans and spring herbs.
The Marrow


The Dish: Harold Dieterle is currently offering a special of house-ground polenta, steamed egg, grilled ramps, and nduja — a spicy spreadable sausage made of pork. There's also a special of soft-shell crab with baby red mustard, pickled ramps, cocoa nibs, and a spicy almond sauce.
Mermaid Oyster Bar


The Dish: Pan-roasted arctic char is paired with grilled ramps, cherry tomatoes, and micro basil.
Momofuku Ssäm Bar


The Dishes: Of course David Chang's going hard with ramps. During lunch, you have the option of adding charred ramps to a rotisserie duck dish, and there are also fried duck dumplings with charred ramps, and a pulled duck bun with pickled ramps. At dinner time, it's oysters with ramp mignonette and a grilled flatiron steak with bulgur, romanesco sauce, and pickled ramps.
North End Grill


The Dishes: Like all things in life, ramps taste great on pizza, and even better where there's bacon involved. Floyd Cardoz is serving ramp-and-bacon pizza with oyster mushrooms, as well as a side of simple grilled ramps.
Northern Spy Food Co.


The Dishes: The vegetable appears in three different special menu items: An olive-oil-poached monkfish item comes with roasted ramps and is in a bouillabaisse sauce made with ramps; a swordfish stew include ramps; and there's Gougeres stuffed with ramp cheese sauce, with braised ramps folded in. Pickled ramps show up in a "Ramson" cocktail with juniper-infused sake and dry vermouth.
Otto


The Dishes: More ramp pizza! This time, there's a base of tomato, buffalo mozzarella, garlic, and chile — with charred ramps on top, and the optional addition of a sunny-side-up egg. The Ramps con Due Uova is also on the seasonal specials menu, and it's made of ramps with a fried egg and shaved bottarga.
Riverpark


The Dish: At Tom Colicchio's Kips Bay restaurant, crispy sweetbreads come with asparagus, ramps, and a hen egg.
Saxon + Parole


The Dish: If you're looking for straight-up luxury, order Brad Farmerie's 25-ounce bone-in rib eye, which comes with braised mushrooms and Madeira-cooked ramps.
Seersucker


The Dish: Another attempt at a ramp trifecta: In a ragu, pickled and fried as tempura, and in a custard. Bonus: Seersucker's already serving morels, too.
Tertulia


The Dishes: Seamus Mullen's cooking Spanish paella with ramps and other spring vegetables, and he's also adding ramps to a grilled squid dish.
The Vanderbilt


The Dishes: The Prospect Heights restaurant has pasta with ramps and smoked mozzarella, soup with pickled ramps, and, wait for it … rampwurst, a riff on sausage that combines ramps with snap peas and ham.
Vinegar Hill House


The Dish: Long Island fluke, a new item on the menu, comes with ramps, chorizo, uni, and yogurt.
Related: How Ramps Became Spring's Most Popular, and Divisive, Ingredient